Dark academia bedroom
| Bedroom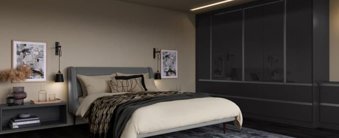 How to nail the dark academia trend in your bedroom
The dark academia trend has really taken the interior design world by storm since it was first made popular on TikTok last year, quickly gaining plenty of momentum and followers. This social media aesthetic movement uses dark, moody colours and plenty of depth, primarily associated with ancient art and classic literature.
As the trend continues to grow, we share with you some insights about the concept as well as how you can use it as inspiration for your own bedroom design.
What is dark academia all about?
You would be forgiven for not knowing what dark academia means, even if you've heard about it in passing over recent months. In short, it's the name given to an aesthetic and subculture based on the architecture and clothing styles of some of the world's most elite colleges – specifically, Oxford and Cambridge in the UK and Ivy League schools such as Brown, Harvard and Yale in the US.
The trend draws inspiration from European gothic architecture seen in many of the old college buildings alongside a dark and shadowy colour palette combined with restored antiques and sombre artworks to complete the look.
How to recreate the look in your bedroom
Interested in bringing the trend home to transform your bedroom into a moody boudoir? Here's how…
Invest in some moody-toned paint
As the dark academia trend is grounded in gothic architecture and a limited colour palette, you need to be brave when it comes to painting your walls and ceilings. Blacks, charcoal greys, dark greens, and browns are all perfect colour choices to create a backdrop fit for Hogwarts. Even in a small bedroom, don't be scared to explore these deeper colours, which are essential for creating that all-important atmosphere.
Invest in some portraits
Just like the portraits that line the walls in the Balliol dining hall at The University of Oxford, you can emphasise the trend by hanging antique portraits in your dark academia bedroom. Nineteenth-century paintings can be picked up fairly easily at auctions or in antique shops and help to create a library feel.
Remember that this is your bedroom and it should be a place that still feels relaxing. Therefore, choose portraits that are dark in colour, but that are not too gloomy or oppressive in expression. You want to find something that you will be happy to sleep next to each night! When it comes to the frames, gilded edging will work best here.
Add some thrifty finds
It's not only art that you need to look out for at the antique store: more really is more when it comes to this theme. Ornate photo frames, elaborate candle holders and ceramic urns are all key pieces to look out for and are perfect for lining shelves and cabinets alongside antique books and scripts.
If you're looking for a slightly more contemporary twist on the trend, why not upcycle a piece of furniture to give it that modern edge? A vintage chaise longue reupholstered in rich rose velvet or an old dresser painted in a dark, gothic green could totally transform the vibe from dusty and old to stylish and new.
Add earthy, natural textures  
Natural materials and fabrics work best with this dark academia trend, so stay well clear of plastics and synthetics. Oak flooring and panelling will give your space warmth and depth, and when it comes to bedroom furniture, be sure to choose a complementary wooden finish that doesn't stray away from the earthy aesthetic. Large mirrors and mirrored wardrobes can also work well with this trend and will also help to reflect the light around the darker walls and ceilings too. 
Add storage that brings a sense of grandeur
Larger pieces of furniture work better in your dark academia-inspired bedroom, so if you have the space to do so, be sure to go as big and grand as possible. Large fitted wardrobes help to fill the space in a large bedroom and make the most of a very high ceiling. Not only will this type of wardrobe add to the sense of grandeur in your room, but it will also offer some essential storage space.   
Throw in some earthy tones for a sense of calm
Your dark walls, sombre artwork and wooden furniture are sure to be a great base to form your gothic college-inspired interior. However, in keeping with the relaxed and calming nature of your sleeping space, feel free to add a sprinkling of brighter colour in the form of earthy greens, burnt oranges and dusky pinks. These colours work well for throws, rugs, and other soft furnishings, which will soften the overall look to make it much cosier.
Create the perfect dark academia bedroom with Hammonds
We hope this article has helped you uncover a bit more information about the dark academia trend and has given you plenty of inspiration to work with. Our team at Hammonds would love to help you re-create a dark academia-inspired bedroom with ample storage space in your own home, so feel free to book in a complimentary design visit with one of our interior experts today.
You bring the space, we bring the inspiration
Whether you have an exact vision in tow, or are just at the beginning stage of your home renovation, we have heaps of inspiration for you to get stuck into. 
Find a wealth of design tips, trends and inspiration in the pages of our brochure, magazine and on our blog. Our experts are always ready to help you create dream home, pop in store or book your free design visit for experts to help on bringing your vision to life.