Design ideas for a bedroom that is good for your mental health
| Bedroom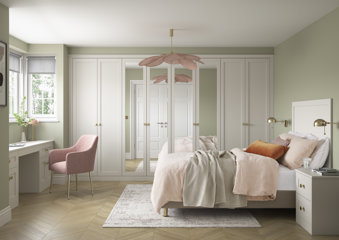 Design ideas for a bedroom that is good for your mental health
Your surroundings and mental health go hand in hand. This means you should make a conscious effort to turn your home into a sanctuary where you can fully relax and decompress every day.
The bedroom is the space that's dedicated to being one that's restful and calming. This makes it the ideal place to begin when revamping the décor with mental wellbeing in mind.
So, if you're feeling drained or stressed, then maybe it's time to switch up your design with peaceful and relaxing bedroom ideas. Design your way to better mindfulness using the following tips and you can create a great-looking bedroom that provides a positive boost to your mental health.
Light colour scheme 
Updating the colour scheme of your bedroom is a quick way to transform your space into one that supports your mental wellbeing. Lighter tones promote relaxation in a room, so consider painting your walls or changing your artwork to introduce lighter colour schemes.
If you want specific colours, then you could opt for blue for a soothing bedroom design. Alternatively, muted tones of green can create a sense of tranquillity and promote mindfulness in your bedroom. Take the time to choose a hue that will make you fall in love with your bedroom space.
Keep on top of the clutter
A cluttered room can contribute to a cluttered mind, which can increase your stress and anxiety levels. This means you'll need to keep your surroundings clear at all times, so you feel truly at home in your bedroom. A big clean up and removal of items that you no longer need is a great way to start.
To do this, begin with the biggest task first. This is usually clearing out your wardrobe. Be brutal here, dividing items into things to keep and the garments in good condition to give away to charity.
You might find that to keep the clothes you keep tidy, you need to update your wardrobe. A fitted wardrobe from Hammonds allows you to get the most out of your space while creating ample room for everything from clothing to accessories.
Once you've tidied up your wardrobe, you can focus on other areas, such as bedside tables and shelving. Freeing up floorspace by utilising clever storage solutions will keep your bedroom free from clutter.
Reduce artificial light 
Natural light is known to boost energy levels, create relaxing environments and increase happiness, which is why you must encourage as much as you can into your bedroom. This also means cutting out unnecessary artificial light.
Swapping out artificial light for natural light sources could also reduce your energy bills. With energy bills rising in the last year, money worries have impacted negatively on people's mental wellbeing. So, by reducing the need to turn the light on, there's an added benefit.
A good way to add natural light and boost your mental health is by adding reflective pieces, like a large mirror. This will reflect natural light from your windows to make the room appear lighter. What's more, this can also trick the eye into thinking your space is larger too.
Painting the walls in light, neutral tones also reflect the light well. So, if you have a dark feature wall, it could be worth changing this to a classic off-white tone.
Bring your garden indoors 
Plants and flowers can lift your mood and add freshness to your bedroom at the same time. This is because a lot of the colours we find most soothing appear in nature, so it's a wonderful idea to surround yourself with them. This added vibrance will make your room brighter and more relaxing, which can improve your mood.
Plus, bringing plants inside can also have a positive impact on your physical wellbeing as they can improve the air quality in your bedroom.
Make your bed irresistible 
Sleep is one of the most important things for good mental health. This means you'll want your bed to be as comfortable as possible to help you get to sleep easily at night. Introduce soft pillows, a mattress topper and comfortable bed linen to keep you cosy through the night. You may also wish to add snuggly blankets too for keeping warm through winter.
Book a design visit today  
If you want to create the ultimate bedroom sanctuary that boosts your mental health, we can help. Book a design visit today and we can incorporate these peaceful bedroom ideas into your space.
You bring the space, we bring the inspiration
Whether you have an exact vision in tow, or are just at the beginning stage of your home renovation, we have heaps of inspiration for you to get stuck into. 
Find a wealth of design tips, trends and inspiration in the pages of our brochure, magazine and on our blog. Our experts are always ready to help you create dream home, pop in store or book your free design visit for experts to help on bringing your vision to life.