Design the perfect bedroom space for two
| Bedroom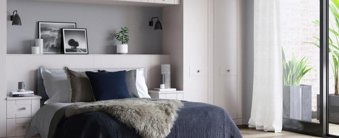 Stylish space-saving bedroom ideas for couples
Moving in as a couple is an exciting milestone in your relationship. However, when it comes to the logistics, sometimes things aren't quite so rosy!
Whether you are both moving into a new property together or one person is joining another in one of your existing properties, making the space accommodate both of your possessions can be tricky, especially when it comes to the bedroom.
You want a practical couples' bedroom design that gives you both equal space while keeping a sense of romance and personality in the room. Is that too much to ask? Not at all – here's how you can design the perfect bedroom space for two.
Personalise your lighting
Lighting is crucial in a bedroom to ensure that you have enough light to get ready in the morning but also the option to keep it low and relaxing before bedtime. When you share a bedroom with someone, it's likely that your sleep schedules won't be exactly the same, which is why personalised lighting arrangements are important to make sure that neither of you is impacted by the other's movements.
Bedside lighting with separate controls for each side of the bed is key if you are going to be going to bed and waking up at different times. This way, the lighting won't offer too much disturbance to the other person as it will be contained mostly in one area. Installing LED strip lighting in your wardrobes is also a great idea. That way, you have the option of further light to assist you as you get ready, whether individually or together.
Additional mood lighting is key for creating those special moments in your bedroom. Dimmed pendant lights, fairy lights and candles are all great for creating a perfect atmosphere for romance.
Invest in bespoke bedroom furniture
Sharing a single wardrobe between two is likely to be a source of conflict at some point, depending on how many clothes, shoes and accessories you both own. Investing in bespoke bedroom furniture means that you can maximise storage space when you combine all your clothing and accessories.
This way, your wardrobe will fit your bedroom perfectly, making the most out of awkward spaces and avoiding the wastage of any precious floor space. The two of you will have the space that you need - and mess and clutter will be completely at bay, something which can offer mental-health benefits.
Bespoke wardrobes can be tailored to the size and style of your bedroom interior - plus, when it comes to a shared fitted wardrobe, you can tailor the fittings to be personal to you both. Tie racks and trousers hanging in one half, but long dress space and cosmetic storage in the other? No problem! Nothing is impossible when you get a wardrobe space that is tailored just for you.
Position your bed to save space
When your partner moves in, you mind find yourselves wanting to invest in a bigger bed that can fit you both. However, this might leave you with less space as a result. Pushing your bed up against the back of the wall frees up a lot of floor space, and also helps to perfect the feng shui of the room.
If you're open to small bedroom ideas for couples that are little less common, then opting for an ottoman bed could give you even more storage underneath. Under-bed storage is a great idea to house things that you don't need as frequently, such as sports equipment, seasonal clothes and spare bed linen.
Fill the room with things you both love
Making sure that you both fit into the space physically is important but don't forget that it takes more than that to make a space in which you can be together, comfortable and happy. Filling your bedroom with personal accents and decorations that you both love can make a huge difference to how well you settle into the space as a couple and establish an equal connection to a place in which you'll be spending a lot of time.
Artwork, photo collages, aromatherapy candles and green plants can all help to transform a bedroom into a comforting and relaxing space that feels special to both of you.
Allow Hammonds to sort your storage
If you'd like a little further help with bedroom decorating ideas for couples and bespoke wardrobes and bedroom storage, then we can help! When you book a free design visit with a Hammonds expert, you are well on your way to creating your dream boudoir for two.
You bring the space, we bring the inspiration
Whether you have an exact vision in tow, or are just at the beginning stage of your home renovation, we have heaps of inspiration for you to get stuck into. 
Find a wealth of design tips, trends and inspiration in the pages of our brochure, magazine and on our blog. Our experts are always ready to help you create dream home, pop in store or book your free design visit for experts to help on bringing your vision to life.