Design the perfect playroom for your children
| Inspiration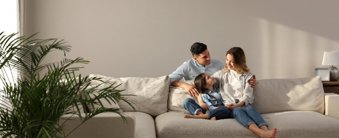 Design the perfect playroom for your children
Your kids' playroom is a room dedicated to fun and play, making it the perfect place in the house for your children to develop their creativity. So, don't be afraid to let your imagination and creativity run wild when it comes to decorating ideas for the playroom.
With that in mind, you'll also want to ensure that the room is equally functional and encourages other activities. Take a look at our playroom design ideas to help you create the perfect playful haven for your kids.
Keep it bright and fun
You want to encourage and motivate children to be as imaginative and creative as possible, so be sure to experiment with vibrant colours and fun artwork. These can be mentally stimulating for your young ones and provides an opportunity to display their own masterpieces.
Bold colours and bright artwork can inspire your children, making the entire room look beautiful and exciting. Remember that this room is dedicated to the kids, so your existing interior design aesthetic may go out the window!
Don't forget to experiment with patterns and textures, as children love to observe and explore their surroundings where possible.
Make it easy to tidy up
Keeping everything in order is not necessarily a priority in a playroom, but you can make the tidy-up sessions easier when you add plenty of storage. Placing this storage at eye-level can invite the children to get involved in the clearing away and helps them to understand what goes where.
If you're searching for playroom storage ideas, you're in luck. We have a wide range of expertly crafted solutions that are perfect for playrooms and media rooms alike. If your kids are lucky enough to have a TV in their playroom, our built-in media units offer additional storage space for all their toys and gadgets, ensuring everything has a home.
Add a chill-out area
Adding a zone that is dedicated to winding down after playtime is a great idea. A comfortable spot in the corner offers a calm and inviting atmosphere in a room that's typically full of excitement.
Pop an armchair or seating area full of soft cushions, cuddly toys, and blankets to encourage your little one to settle down and get involved in some much-needed downtime. You can also add a bookshelf nearby for easy access to your kids' favourite stories, helping them to relax after all the fun.
Open it up
Keeping things light and open in the playroom gives your little ones plenty of room for imaginative and physical play.
Whether they're playing with a friend from school or by themselves, there needs to be ample floor space that is covered with soft rugs or carpeting. This ensures the room looks welcoming, offering an appealing place for the kids to play as they please.
Ensure you have plenty of kids' playroom furniture around the room, leaving space in the middle for imaginations to run wild. This could include extra seating for socialising, perfect for when you and the other parents are catching up while supervising.
Include a homework nook
Just because it's homework-related doesn't mean it can't be fun. Providing a dedicated area for study makes the playroom multifunctional and offers a fun and bright space to help motivate your children when it comes to schoolwork. It shows the little ones that the room is both for play and concentration.
Set up an area with a small desk, drawers, and a comfortable chair so your child has a space to work if they want to. You could kit them out with their own personalised stationery and a whiteboard to write and draw on. That way, your child can associate both work and play in the same room and create a balance between the two.
Create and motivate with Hammonds
We have an array of storage ideas for your playroom, helping you to create a practical and stylish place for your kids to enjoy endless fun. Start your fitted furniture journey with Hammonds and book a design visit to have one of our experts help you create your child's dream playroom from the comfort of your own home.
You bring the space, we bring the inspiration
Whether you have an exact vision in tow, or are just at the beginning stage of your home renovation, we have heaps of inspiration for you to get stuck into. 
Find a wealth of design tips, trends and inspiration in the pages of our brochure, magazine and on our blog. Our experts are always ready to help you create dream home, pop in store or book your free design visit for experts to help on bringing your vision to life.