Dreaming of Copenhagen? Discover the best Danish interior design trends
| Inspiration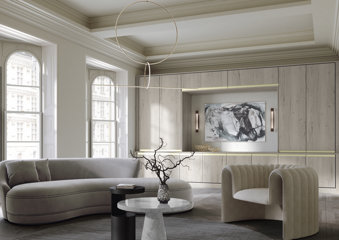 Dreaming of Copenhagen? Discover the best Danish interior design trends
Danish interior design is best known for its minimalist, functional and cosy aesthetic. Clean lines, simple forms and a neutral colour palette form the backbone of Scandi style, complemented with comfortable furnishings and warm lighting options to perfect that hygge vibe.
Whether you're refreshing your living room or renovating your entire interior, learning a little bit more about the Danish approach to interior design could be invaluable. Here are some of the most popular trends in Danish modern interior styling to give you some inspiration.
Use one dominant colour
Many Danish interiors follow a pattern of using one dominant colour throughout their living space. This colour is typically one from a neutral or pastel colour palette, with sage, beige and putty being popular shades. A Danish pastel interior can give a space a calming, positive energy – and rooms covered in just one shade are becoming even more popular, serving as a refuge from the busy, modern world outside. Focusing on one colour – with just a little bit of accent detail within the room – gives us clean, simple surroundings with an emphasis on effortless style and easy living.
Aim for sustainability
Sustainability is an important aspect of Danish interior design, with the discussion about environmentally friendly design and minimal impact on the planet having gone on for a very long time in Scandinavia. Now, with many British designers also taking sustainability to the next level here, it's easier than ever before to incorporate it into your interior. Think recycled wooden floors, low-VOC paints, hessian place mats, jute rugs, and bamboo kitchen shelves. These are all things that look visually attractive but are also minimally processed to reduce damage to the environment.
Incorporating natural light into interior spaces can also reduce the need for artificial lighting and improve energy-efficiency – therefore, consider positioning of windows and skylights when it comes to placing furniture and fittings.
Make it practical
Sure, Danish homes are very attractive but a home has to be highly functional as well. If you're trying to create a minimalist effect in your living room, large pieces of bulky furniture just won't fit the bill, so why not complete the look with bespoke under-stairs storage or discreet corner units to blend in discreetly? These clever, bespoke storage solutions give you a home for all your belongings, removing unsightly mess and clutter, while using space almost as camouflage to still leave you with a minimal, open-plan space in which to relax.
Keep the kitchen colourful
Even though a neutral or monochrome colour scheme is still a defining feature of a Danish home, unexpected colours can be used to mix things up, too. For example, if your kitchen uses a primarily white backdrop, adding three brightly coloured ceiling pendants could provide an intriguing contrast.
Houseplants also add a vibrant pop of green into a kitchen; they play a significant role in Danish design. Lush greenery not only splashes colour into a minimal kitchen but also contributes to that sense of calm and zen by connecting with nature and blurring the lines between the indoors and outdoors.
Contrast old and new
Danish interior design often incorporates a mix of vintage and modern elements, creating a unique and eclectic look. Keeping alive artisanal techniques is important to traditional Danish craftspeople, and there's a good chance that buying vintage Danish-style furniture could land you with some high-quality pieces that can be easily upcycled. When combined with a few of the convenient features found in a modern interior, such as stunning fitted wardrobes, the results can be both beautiful and functional.
Get the Scandi look with Hammonds bespoke furniture
We believe that your storage solutions should be just as beautiful as the rest of your home interior so, if you are looking to incorporate minimalist fitted furniture in keeping with a Danish style, our team will be happy to help.
Book a free design visit today to arrange a time for one of our experts to visit your home and we'll help you to make your dream space into a reality.
You bring the space, we bring the inspiration
Whether you have an exact vision in tow, or are just at the beginning stage of your home renovation, we have heaps of inspiration for you to get stuck into. 
Find a wealth of design tips, trends and inspiration in the pages of our brochure, magazine and on our blog. Our experts are always ready to help you create dream home, pop in store or book your free design visit for experts to help on bringing your vision to life.