Eco friendly bedroom ideas and style
| Bedroom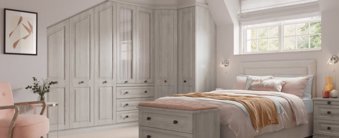 Eco-friendly bedroom ideas for a sustainable sleep space  
In today's culture, doing our bit for the environment is more important than ever. Sustainability is a word we hear regularly each day, and as well as businesses and brands making changes to their ways of working, so should we make a greater effort to ensure our homes and living spaces are as sustainable as they can be. 
When it comes to our bedroom, there are many practical ways that we can minimise waste and make more sensible choices that are less harmful to the planet. Here, we highlight some of the ways that you can make your sleep space into an eco-friendly bedroom haven.
Quality furniture
Investing in quality products and timeless design from the outset reduces the urge for regular revamps and the waste that comes with them. There is no point buying cheap, imitation furniture that will damage or break after a year or so, only to be dumped in the local tip and replaced by another product. It's not good for you, nor the environment.
Fitted bedroom furniture offers a robust solution to both your storage needs and your sustainable values. By installing top-quality bespoke wardrobes, dressing tables and cabinets to fit the exact dimensions of your bedroom, you reduce the likelihood of needing a replacement for many years to come. Bespoke furniture is handmade from the very best sustainable materials and can be customised to your exact requirements, so you are totally happy with your choices.  
Sustainable materials
One of the simplest ways to decorate your bedroom in a more eco-friendly style is to always opt for natural materials.
The environmental impact of materials stretches from how these are harvested to how they're discarded, so FSC-certified wood and bamboo are ideal for furniture and flooring, while organic cotton or linen are luxurious and sustainable choices for throws and bedding. Ceramic, marble and stone work wonderfully as table tops, lamp bases and en suite bathroom fixtures. 
Reuse or recycle
As well as investing in natural new products, sustainable living involves extending the lifespan of those products too.
Upcycling is a rewarding way to show off your creativity, while hunting for vintage and second-hand items will benefit your bank account and ensure you fill your bedroom with quirky and unique pieces.
Be creative by re-upholstering worn out bedroom armchairs with new fabrics or add a lick of paint to refresh a chipped mirror frame instead of replacing it with something new. Soon you will find the fun and challenge in creating something new out of something old!
Energy consumption
A cosy bedroom doesn't have to come at an environmental cost. Turning the central heating down even one degree makes a positive difference to the energy you are consuming, as well as helping to significantly reduce your monthly bills. Also checking your radiator is clean and that your boiler is on the correct settings can help to reduce your energy consumption.
Using double glazing, thermal curtains and draught-proofing materials in your bedroom can help to keep the cold out, as well as layering up your room with wool rugs, blankets and recycled hot water bottles for extra cosiness.
You can reduce your reliance on artificial electrical lighting by decorating your bedroom with lighter colour shades and making the most of natural light from windows and skylights. Adding large mirrors that reflect light can also reduce the need for additional forms of illumination. Use LED bulbs over standard halogen ones and, if necessary, opt for efficient appliances with sensors and timers.
Houseplants
Increased oxygen production is important for the health of your home as well as your own respiratory system, so houseplants make a great addition to your bedroom.
Not only do green plants act as mother nature's air purifiers, they also promote feelings of a connection to nature, which naturally helps you to feel calmer and less stressed when in your own sleep space.
Accessories and extras
There are many other small ways that you can organise your lifestyle to ensure you are adopting the most eco-friendly bedroom ideas. From sourcing non-toxic paint for the walls, to using non-toxic (or even homemade) cleaning products to wipe down your cabinets and dressing table, make it a challenge to see just how sustainable you can be!
Eco-friendly nightwear, bedding and towels are all simple ways to make a difference, as well as investing in natural-wax candles, essential-oil-based diffusers and room sprays that don't use harmful paraffins or sulphates.  
If you are interested in talking with our team about how to make your bedroom more sustainable and eco-friendly with the use of bespoke wooden furniture, then get in touch today for a free home design visit with a member of our experienced and friendly team.
You bring the space, we bring the inspiration
Whether you have an exact vision in tow, or are just at the beginning stage of your home renovation, we have heaps of inspiration for you to get stuck into. 
Find a wealth of design tips, trends and inspiration in the pages of our brochure, magazine and on our blog. Our experts are always ready to help you create dream home, pop in store or book your free design visit for experts to help on bringing your vision to life.