Farmhouse interior design principles
|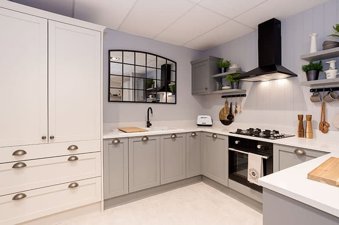 How to incorporate farmhouse design principles into your home
Farmhouse interior design is warm and comforting. It's simple and relaxed. And it's never out of style. Whether you live in the countryside or the city, it's easy to add elements of this rustic design trend to our homes.
What is farmhouse design?
As much as you may dream of moving to a wonderful farmhouse surrounded by acres of land, it's simply not possible for many of us. So, what can you do to create the modern farmhouse interior design look in your own home?
This trend is built upon principles of cosiness and warmth without being over the top or kitsch. Things are well made, solid and practical, but they're relaxed and comfortable too. There may be some muddy wellies at the door, but there is still plenty of space for luxury inside.
How to recreate the look
Use a neutral palette
This style is unpretentious. Farmhouses were traditionally painted in warm cream tones, along with beiges and taupe. These colours have stood the test of time. Neutrals are classic rather than trend-led, which is at the heart of this down-to-earth design style. If you want to update your look, though, go for painted woodwork that runs right along the skirting boards and around to cover the door frames and windows. Greys, pinks and deep blues all work well like this.
Bear in mind when picking your colour scheme that you're aiming for a cosy, tranquil space that you love spending time in. Delicate, patterned wallpapers are a beautiful option for a cosy bedroom, and warmer pinks like Farrow and Ball's Setting Plaster make for gorgeously cosy living rooms, especially in the winter with an open fire.
Layer with textures
Texture is key to achieving the farmhouse look, as it harks back to the heritage and soul of this style. Wools, wood, tiled floors and thick, comforting rugs are key elements. You could bring in some throws and cushions as a nod to these materials. Linens also work well, and they remain one of the key interior trends in bedding.
When it comes to wood, you can introduce it into your home in several ways. Our fitted furniture comes in a variety of shades and finishes, from light ash to warmer rural oak. Fitted cupboards are perfect because they look great and are practical by making use of any awkward spaces in your home. An under-the-stairs cupboard in a matte gardenia finish would make a gorgeous entrance to any farmhouse-style home.
Our fitted living furniture can also transform your family living space, giving you enough storage to keep all the toys and general paraphernalia out of sight.
Consult with nature
Rustic is one of the key words when farmhouse interior design is being described, but achieving the look effectively requires a fine balance – you don't want to end up looking twee or too staged. Mismatched dining chairs fit the classic shabby chic look, but you could go for a more sophisticated style and opt for a set of matching wooden chairs. Go vintage to get the original shapes and sturdiness but update them with a few coats of high gloss paint in dark green or navy.
Trawl some of your local flea markets for rustic accessories like wall clocks or old paintings. Vintage cushions or an heirloom armchair can finish the look nicely. And while ornate dried flower arrangements might have had their day, opt for some modern grasses or preserved eucalyptus to bring in the sense of nature and growth.
Consider wooden wall accents 
No farmhouse-style home would be complete without a nod to shiplap. You don't have to cover the entire home with it but using it as an accent can add a sense of softness and craftsmanship. We love it around the lower half of a downstairs toilet or bathroom, paired with some patterned wallpaper and a vintage mirror.
You could also incorporate it by making your own radiator cover. You can recreate the design by using MDF strips painted in a colour of your choice – no advanced carpentry skills are necessary.
Let Hammonds take care of your storage
For help designing your perfect farmhouse-inspired home, book a design visit with one of our experts. They can talk you through all your options and create a bespoke plan, perfect for your home
You bring the space, we bring the inspiration
Whether you have an exact vision in tow, or are just at the beginning stage of your home renovation, we have heaps of inspiration for you to get stuck into. 
Find a wealth of design tips, trends and inspiration in the pages of our brochure, magazine and on our blog. Our experts are always ready to help you create dream home, pop in store or book your free design visit for experts to help on bringing your vision to life.