Feng shui home office
| Office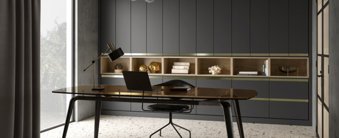 How to apply feng shui to your home office
Home working has boomed for obvious reasons in recent years. You might find yourself working remotely either part- or full-time but, while there are indeed many upsides of working in a home office, have you ever stopped to consider if your home working environment is having an effect on your business or career?
In this blog, we explore what feng shui is and how you can interpret the concept in in your home office to improve the balance and flow of the space, ensuring that you get the best out of your working environment.
What is feng shui?
Feng Shui is an ancient Chinese practice, which considers the interaction of humans with their living environments. Its concepts can be used to help to design your living spaces and position furniture so that energy flow is maximised, and a sense of peace and harmony is fostered throughout.
How to apply feng shui to your office
With its positive principles and supportive intentions, it seems like a great idea to incorporate feng shui into your home office. After all, couldn't we all do with a little more positive energy flow in our work lives? So where to start?
Invest in a sturdy desk and chair
In feng shui, your desk is heavily connected to your career – so, if you find yourself working from a makeshift area or even your sofa, then things aren't boding well for now! A dedicated desk represents a stable career, so invest in something sturdy and strong, with plenty of space to work around you. Ideally your desk will be in a separate room of the house, if space allows, so that all your working energy is contained to one area, from which you can step away each evening. However, if you don't have that luxury, then try to find a space that is separated from your sleeping or eating quarters at least.
When it comes to sourcing an office chair, again invest wisely. Choose a chair that has a high back to support you, even through challenging situations, and one that is comfortable enough for a full day's use. Make sure that your chair is sitting at the correct height in comparison to your desk so that your arms are bent 90 degrees when you sit down to work.
Position your desk for success
The desk itself is only the first step – positioning is key. Feng shui principles advise that your desk should be in a commanding position, which will help you to feel more in control of your life and your career.
Try to place your desk so that you can always see the door, without it being directly in front of you. This is so that nothing and nobody can come into the room without you noticing, elevating the feeling of control over your space. To that end, the best position is likely to be diagonally face-on to the door.
If the layout of your home office space means that it's not possible to place your desk in such a position, then you can strategically place some mirrors on the wall so that you can see the reflection of the door, even though you have your back to it.
Remove blockages
Feng shui home office design is predominantly about the flow of energy so, if you can't move freely around your space, you might want to consider a change of layout. You should be able to get to and from your desk with ease, without having to navigate piles of boxes or equipment to find your chair!
One way to remove these potential blockages is to invest in good home-office storage that keeps your essentials out of the way. Fitted office furniture can be tailored to fit your exact space, no matter how small it is, and will ensure that your working environment remains clear, uncluttered and minimalistic. With less distraction and better energy flow, you should feel a clearer focus on the tasks at hand, improving your productivity and creativity.
Add some houseplants
As well as having great air-purifying qualities, houseplants have an innate positive chi, so stock up on as much greenery as you can in your home office to benefit from these optimistic vibes. Your day-to-day tasks will keep you busy enough so opt for plants that rely on very little maintenance – for example peace lilies, cacti, spider plants or succulents – which don't need watering very often and are extremely easy to grow indoors. That said, be sure to regularly check in with your office plants, as dead or dying plants can cultivate draining energy, and you don't want to spoil all of your hard work at this stage after having come so far on your feng shui journey!
If you need help designing a home office that promotes productivity and energy flow, our Hammonds interior experts are here and waiting to assist. Be sure to book your free home design visit today and start to see a real boost in your productivity.
You bring the space, we bring the inspiration
Whether you have an exact vision in tow, or are just at the beginning stage of your home renovation, we have heaps of inspiration for you to get stuck into. 
Find a wealth of design tips, trends and inspiration in the pages of our brochure, magazine and on our blog. Our experts are always ready to help you create dream home, pop in store or book your free design visit for experts to help on bringing your vision to life.