Five colour palettes for a minimalist interior
| Inspiration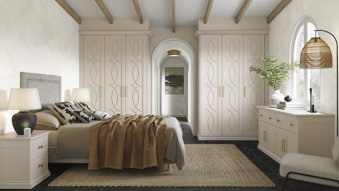 Five colour palettes for a minimalist interior
The cornerstones of minimalist living spaces are neutral tones and simplicity, which evoke feelings of calm and tranquillity. This may seem limiting but keeping things stripped back doesn't have to mean sticking to shades of white or cream.
With the right colour palette, you can live your minimalist dream while keeping your space fresh and exciting. Whether you're renovating or moving into a new home, read on to find out about our five favourite colour schemes for minimalist spaces.
Why is colour scheme important?
Whether you're minimalistic or a maximalist, having the right colours for your living space is essential. Your colour scheme sets the tone for the rest of your room and will influence everything from ambiance and mood to style and furniture.
Colour affects what we think so selecting the right palette can affect whether you feel calm, refreshed or invigorated when you're in a room.
Our five favourite minimalist colour palettes
Grey, cream, pink and off-pink
Reminiscent of spring blossoms, this gentle colour scheme is warm and inviting with a slight feminine touch. Pale and dusky pinks add a grown-up sophistication to your room, while the grey and cream work to accentuate warm hues.
Dark grey or off-pink furnishing set an elegant and soothing tone and help to create a tranquil atmosphere.
Beige, white, turquoise, merlot
Deep, rich colours can be a welcome addition to neutral and minimalist palettes. While not an obvious choice, the deepness of merlot is the perfect solution to adding depth and dimension to your living space and is complimented by the classic simplicity of beige and white tones.
Merlot and turquoise are an unexpected combination but the brightness of this blue shade complements the intensity of the rich red. Whether you opt for a plush merlot sofa or bold turquoise bold rug, these colours allow certain areas to become focal points in the room.
Layered shades
From cosy, welcoming greys to amber and sandy shades, never underestimate the power of layering colours in minimalistic homes. Instead of creating just one eye-catching feature or dominant theme, layered shades allow us to think about how the space flows from room to room.
When you layer shades of oranges, beiges and creams, it adds dimension to your living space and promotes feelings of relaxation and serenity.
Mixed earthy tones
Earthy colour palettes using beige, brown and terracotta are ideal for minimalist spaces, providing a warm and authentic ambiance. These timeless colours pair beautifully with minimalist staples like white and cream – and the Hammonds fitted furniture range offers bespoke storage solutions in earthy tones that emphasise that connection with the outside.
To make the most out of the natural colour scheme, introduce some texture to each room. From exposed wooden beams to cream linen armchairs, combining mid-colours with calming shades strikes the perfect balance.
Natural wood, green and red
Natural materials and colours like green are widely recognised as having soothing health benefits so they're great choices for incorporation into your minimalist aesthetic. A palette of natural wood, green and red is best suited to mountain chalets and Scandi-influenced homes.
If your living space backs onto a panoramic view, honouring the surrounding environment with a natural colour scheme is the most impactful way to mirror the outside landscape. Think exposed ash beams and plush green velvet chairs to maximise your chosen colour palette.
Create your minimalist haven with Hammonds
With the right colour palette and furniture, your dream minimalist living space can become a reality. At Hammonds, we provide bespoke fitted storage solutions for your home that make this transformation even easier. Book a design visit with our team of experts to discuss your ideas and we'll help you make the most of your chosen minimalist colours by examining the space that you have available and suggesting solutions.
You bring the space, we bring the inspiration
Whether you have an exact vision in tow, or are just at the beginning stage of your home renovation, we have heaps of inspiration for you to get stuck into. 
Find a wealth of design tips, trends and inspiration in the pages of our brochure, magazine and on our blog. Our experts are always ready to help you create dream home, pop in store or book your free design visit for experts to help on bringing your vision to life.