Five creative ways to weave green into your bedroom décor
| Bedroom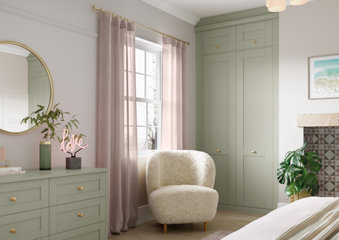 Five creative ways to weave green into your bedroom décor
Often overlooked in bedroom interiors, adding a touch of green is a wonderful way to breathe life into your safe-haven space. Believed to have a calming and relaxing effect, green is an ideal colour to provide a restful sleeping environment and it's also often associated with balance and stability, which are things that the majority of us try to improve in our day-to-day lives.
If you are thinking of weaving green into your bedroom interior, then you don't always have to do so with the walls and ceilings. There are plenty of other ways to incorporate green bedroom accessories to get a great effect. Here are five of our favourites:
1. Choose a green paint scheme
When it comes to a bedroom with green walls, there are two drastically different approaches to consider. The first uses an intense, darker shade of green such as forest green, jade or khaki. These deep shades are rich, earthy and very connected with nature. They can be used to make a bold and dramatic statement while giving a luxurious and sultry feel to a bedroom space, especially when complemented with brass or gold accessories.
Alternatively, a lighter, unassuming shade of green wall paint will create a calm, neutral feel for your bedroom space. Green comes in a wide variety of gentle shades and hues, so you can avoid something too bold or overwhelming. From pastel mint and pistachio to seafoam or duck egg, you can choose a green that is muted, soft and soothing. Rustic sage-green bedrooms are also currently a big trend, either as a full wall colour or over a panelled bed backdrop to create a real feature focus point.
2. Go for green wardrobes
Standalone furniture options can often throw off a colour scheme and leave you with a space that looks a little short of cohesive. However, if you install fitted wardrobes to solve your bedroom storage needs, you can choose a bespoke shade that blends perfectly.
Bespoke wardrobes like the Croft range by Hammonds give you the freedom to choose the best colour for your bedroom, as well as incorporate a timeless appeal into your sanctuary. French Grey is a very popular choice of finishes within the range as it offers a subtle grey/green hue and blends well with a whole range of other shades and accessories.
3. Focus on natural décor
Decorating with a green colour scheme naturally helps you to zone in on nature and the outside world. However, when you're decorating a green bedroom, there is more that you can do to focus on these natural elements.
From hanging plant baskets to forest prints, or botanical printed wallpaper, leafy details can help to make the space more immersive. Lighter shades of green work beautifully with natural decorative elements like pine bed frames, wicker accessories and skylights. Meanwhile, when it comes to flooring, natural wood or seagrass are the preferred choices.
4. Invite nature inside with plants
Adding a plant or two to your bedroom can really enhance your green colour scheme, as well as offering many benefits for your health and wellbeing.
Taller options like the rubber tree or bird-of-paradise plants sit beautifully near windows or armchairs, while smaller succulents suit bedside tables or bedroom ensuites.
5. Use sustainable materials
Test
Green is most definitely a colour favoured by the eco-conscious interior stylist so, while you're in the zone, why not complete the theme with a totally environmentally friendly bedroom? Try to look specifically for local and responsibly sourced materials when you're choosing décor and furniture for your green bedroom.
Hessian, jute, glass, bamboo and reclaimed wood are all fantastic materials that have minimal environmental impact. What's more, recycled metal can be used for lighting fixtures, door handles and other hardware in your bedroom. Linen is a durable and natural fibre made from the flax plant and looks super-stylish when made into curtains, upholstery and bedding.
Go green with Hammonds fitted furniture
Our team can help you to perfect your green bedroom interior by offering design inspiration for bespoke green wardrobes and bedroom storage. One of our experts can look at the space with which you're working and help you to pick out solutions that will deliver on what you can see in your mind's eye, so book a free design visit today and find out all the ways in which you can go green!
You bring the space, we bring the inspiration
Whether you have an exact vision in tow, or are just at the beginning stage of your home renovation, we have heaps of inspiration for you to get stuck into. 
Find a wealth of design tips, trends and inspiration in the pages of our brochure, magazine and on our blog. Our experts are always ready to help you create dream home, pop in store or book your free design visit for experts to help on bringing your vision to life.