Four design details that make a real statement in your bedroom
| Bedroom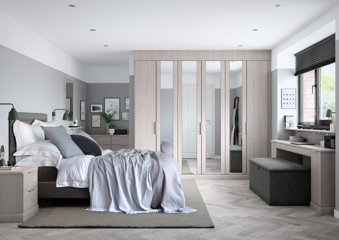 Four design details that make a real statement in your bedroom
If you're wanting to elevate your bedroom space, then maybe it's time to rethink some of the key details in the room. Changing things can turn your space into the relaxing sanctuary you've always dreamed of.
The modifications can be both small or large depending on your budget and which details you want to add. Some can even be done by yourself, which can make it a fun project to take on this spring.
These design ideas can make a real statement in your bedroom, so get started today. Read on to find out which details can enhance your bedroom.
Mirrors 
Mirrors are without doubt one of the most important features of any bedroom. Not only are they useful so you can see whether your outfit looks great, but they can also transform your bedroom's look and feel.
They have the power to trick people into thinking the room is bigger, as well as creating extra reflected light in your room. If you really want to get the most out of your space, then a mirrored, fitted wardrobe is the best way to achieve this. By installing full-length mirrors, you won't waste precious floor space.
Windows 
During spring and summer, get the most out of the longer days by inviting more light into your bedroom. Natural light has countless benefits for the human body that will boost mood and productivity. So, make changes to let extra sunlight in, increasing your absorption of vitamin D, the 'sunshine vitamin'.
We recommend installing larger windows or a skylight if you are able, so you can let as much light in as possible.
Paint 
Paint has the power to spectacularly manipulate your bedroom design. Wall spaces are one of the first things people will notice when they enter a room. That's why choosing the right colour and shade is an important detail for you to take advantage of.
If you want to make the room feel larger and more open, then choosing lighter paints is the way to go. However, if you want your decorative features like artwork to stand out then adding darker hues will help.
Paint can also change with the seasons too, which means your bedroom décor will be evolving. This will ensure your bedroom design constantly feels fresh, so you never grow tired of entering the room.
Hidden storage 
Hidden storage is a key feature of luxury bedroom design. It ensures your space isn't cluttered as you'll have plenty of places to store your clothes and other items. The hidden storage collection at Hammonds has many options, so you can carefully choose the right ones for your unique space. This includes fitted wardrobes, sliding wardrobes and other designs that are made bespoke for your very own bedroom.
The extra space created means you'll have more freedom to add new features to your bedroom too. This can include things like dressing tables or bookshelves which can help to elevate your room further.
Start creating your ideal bedroom with a Hammonds design visit
Get your bedroom design details right when you book a design visit with Hammonds. Our experts will take the time to understand your ideal bedroom vision. You'll be offered an intricate plan filled with fitted living options that will make you fall in love with your bedroom once again.
You bring the space, we bring the inspiration
Whether you have an exact vision in tow, or are just at the beginning stage of your home renovation, we have heaps of inspiration for you to get stuck into. 
Find a wealth of design tips, trends and inspiration in the pages of our brochure, magazine and on our blog. Our experts are always ready to help you create dream home, pop in store or book your free design visit for experts to help on bringing your vision to life.