French bedroom ideas
| Inspiration, Bedroom

French bedroom ideas
Looking for French-style bedroom ideas? Look no further than the design tips from Hammonds.
How to create a French-style bedroom
Let's face it, the French are famed for their effortless chic and timeless style. If you're looking to update your space and have a complete refresh, it's easy to bring France to you. At Hammonds, we want to help you create a bedroom with a certain je ne sais quoi, all without needing to hop on a plane. Take a look at our top tips and French bedroom ideas.
What is the French style?
From rustic country charm to elegant Parisian styling, French interior design spans a wealth of designs to suit individual tastes. Your bedroom is the ideal space to be able to bring a sense of grandeur to your life!
Often within the overall style you'll find curvaceous lines, natural materials like wood and hessian, and an air of sophistication quite like no other. The idea of French interior design is to make the simplest daily habits into a precious moment – what better way to do that than introduce some French bedroom décor and furniture to your bedroom.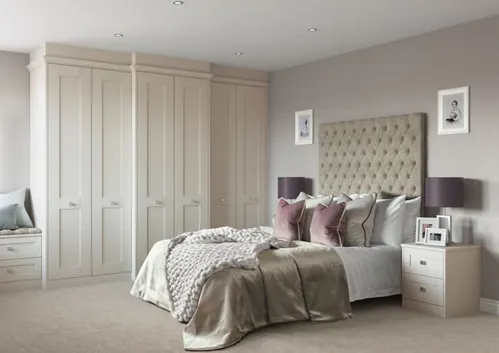 A neutral French colour palette
If you're a lover of neutral colours, you're in luck. The French style has it all! To create the perfect base to be able to transform your bedroom, paint walls and floors (if they're wooden) in white, cream or even soft pastels. These shades and colours will allow your furniture and soft furnishings to truly shine.
One of our top French-style bedroom ideas if you're looking to create an opulent space is to introduce ornate patterned wallpaper. Of course, this has to be done carefully and tastefully, but it can add a true sense of personality to your bedroom and inject a splash of colour.
Vintage furniture
Whether you need some new furniture or have pieces to upcycle, French furniture typically features dark wood and vintage-inspired curves. The rattan bed is, of course, an absolute classic piece of French furniture with its stunning woven headboard and smooth, bending lines.
To match your new pieces of French-inspired furniture, we have equally elegant fitted furniture ranges that are sure to complement each one. With a variety of styles and finishes available as well as the option to have your space designed bespoke, keep clutter at bay and make the most of your new French-style bedroom.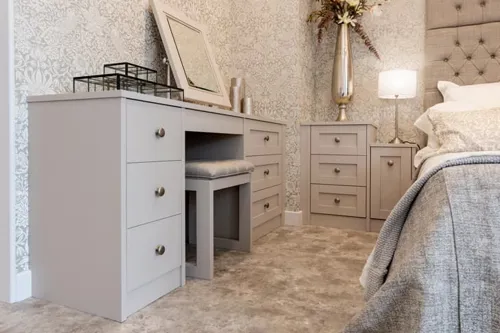 Boho accessories
Accessories can make or break any space. If you're looking for French bedroom ideas, the finishing touches are just as important as the bigger pieces of furniture. Introducing pretty textiles such as florals and satins will keep you right on trend. Complement your white- or neutral-coloured walls and floors with soft pastels.
In many French bedrooms across the country, you're likely to spy the glistening of chandeliers too. These set off the space and add an air of opulence. Finish off your bedroom with vases of real flowers dotted around and maybe even a trinket or two.
Don't forget about adding a mirror. Not only do they help reflect light around the room, but they'll also complete your look. Large mirrors with ornate frames are perfect. Whether you head to a local antique dealer to find one or choose to buy one that needs upcycling, the more ornate the better.  
Book your design visit with Hammonds
By following these tips, you can stop wondering how to create a French-style bedroom. Whether you have a wealth of existing ideas or need help designing your space, get in touch with our expert team to book a design visit. We'll talk you through the ranges we have available at Hammonds including colours, finishes and storage solutions.
You bring the space, we bring the inspiration
Whether you have an exact vision in tow, or are just at the beginning stage of your home renovation, we have heaps of inspiration for you to get stuck into. 
Find a wealth of design tips, trends and inspiration in the pages of our brochure, magazine and on our blog. Our experts are always ready to help you create dream home, pop in store or book your free design visit for experts to help on bringing your vision to life.