Gender neutral bedroom ideas
| Inspiration, Bedroom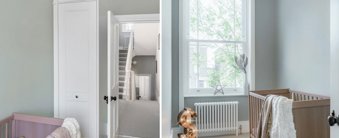 If you're looking for ideas about how to create a gender-neutral nursery, read our guide. We'll show you how to create a stylish space for your little one.
How to create a gender-neutral nursery
Are you about to have a baby? If so, it's likely you'll be thinking about how you want your little one's bedroom to look.
While pink or blue nurseries might have been the go-to colour palette in the past, it seems that parents-to-be are moving away from these traditional shades and heading towards gender-neutral bedroom designs. In fact, Pinterest's Top Trends revealed a 527% increase in searches for unisex nurseries.
If this sounds like you – whether you've decided not to find out the sex of your baby or you're planning for more children in the future and want to avoid redecorating – read on. Here, we look at how to create a stylish and inviting gender-neutral bedroom for your new addition to the family.
Start with a neutral base
When planning your little one's nursery, begin with the colour scheme. Gender-neutral bedroom colours can be built up from a neutral base, so start with light greys, warm creams and beige or white shades. This not only allows you to add your own theme through the furnishings you choose, but offers you the perfect base for the future.
Children's bedrooms evolve as they grow. They might like dinosaurs for a few years before switching to sharks. So, by choosing a neutral colour to start with, you can adapt to their changing interests without having to completely repaint every time. Instead, you can add curtains or choose bedding featuring their favourite characters. These can be more easily updated as time goes on.
Add creative design touches
Now that you have your neutral canvas, you can get creative with the gender-neutral bedroom designs you'd like to add. You could try adding pops of colour to break things up. A yellow nursing chair, purple curtains and an orange rug might sound like they'd clash, but set against the neutral base, you can weave in bursts of strong tones.
Alternatively, try adding a theme. Avoid stereotypical designs such as footballs and pink princesses and instead opt for animal-themed murals or wallpaper to add to one wall. This can feature fun, vibrant colours to offset the neutral base.
You could also add in some educational elements. Wall stickers featuring numbers and the letters of the alphabet can encourage your little one to get to know what these symbols look like and mean early on.
Invest in timeless furniture
Consider the furniture you want to include. This needs to be both safe and built to last so that you don't find you have to buy more drawers and wardrobes later on.
One way to avoid having to update things sooner than you'd like to is to buy a crib that can be turned into a toddler bed. This is an investment that will usually last you until your little one is around four years old and gives you time to think about the next bed they'll need. For instance, if you have another baby after this one, you might decide to buy a bunk bed, or you may decide to get them a single bed after they outgrow the toddler bed.
Wardrobes and drawers are also an important consideration. To maximise space, a fitted wardrobe can be the ideal solution as this can perfectly slot into the room and be tailored to suit your needs.
There are other pieces of furniture that you can invest in now and use in the future. For instance, you might want to add a chair so that you can easily nurse your little one. The type of chair you buy is down to personal preference. You might want a dedicated nursing chair or you may wish to buy a general seat that you can move to another room at a later date.
Mix textures
Now that you have your colour scheme in place and you know what furniture you'd like to introduce, you can make your gender-neutral bedroom calm and comfortable. To instantly add warmth to a room, incorporate a mixture of textures, from fluffy blankets and soft rugs to comfy pillows stacked on the floor.
As well as making the room feel soft and cosy, this mix of textures create a good surface and barriers when your baby starts rolling and crawling.
Tidy away clutter
Add clever furniture, such as a solid toy box. These can often double as additional seating and are perfect for stashing away cuddly toys.
Another ideal investment piece is a fitted wardrobe. This is a great way to keep the nursery tidy and free of clutter. There are plenty of ways to add bespoke rails and boxes that can neatly tuck inside these wardrobes. Our team is skilled in building this type of clever furniture. We can create matching sets too, so that the room's design flows throughout.
If you're thinking of introducing fitted furniture into a gender-neutral bedroom for your baby, speak to the Hammonds team today. Book a free design visit and we'll show you how we'd design the space.  
You can also find further guides on the Hammonds blog.   
You bring the space, we bring the inspiration
Whether you have an exact vision in tow, or are just at the beginning stage of your home renovation, we have heaps of inspiration for you to get stuck into. 
Find a wealth of design tips, trends and inspiration in the pages of our brochure, magazine and on our blog. Our experts are always ready to help you create dream home, pop in store or book your free design visit for experts to help on bringing your vision to life.