Get your bedroom spring-ready with these decorating tips | Hammonds
| Bedroom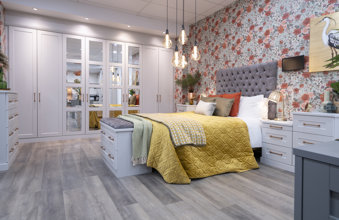 Get your bedroom spring-ready with these décor ideas
As the days get longer and the weather gets warmer, it's time to get rid of your cosy winter décor. Replace and refresh it with spring-themed designs that energise you whenever you step inside your bedroom.
Spring is all about new life as flowers begin to bloom and animals are born, and your bedroom should embrace that. So, if you're looking to update your bedroom décor with a stunning spring theme, then you can do so in a few simple steps.
These changes can be big or small, depending on your budget, but will go a long way towards brightening up your space. You'll soon fall back in love with your bedroom! Read on to find out what spring-themed décor ideas you should consider adding to your bedroom.
Start with a spring clean
A good spring clean is needed before adding any features to your bedroom. This will allow you to throw out items you don't need and make sure every surface is clear of dust. Once this has been done, you'll be clutter-free and will have a clean, blank canvas to work with. This will show you the areas of your bedroom that need TLC, as well as bits you actually love and don't want to change.
Let there be light 
Take advantage of the extra daylight and sunnier weather this spring. Natural light is known to make us happier and increase productivity, which is why you'll want as much of it in your bedroom as possible. One of the easiest ways to increase the light in your room is to add large mirrors that reflect it. This will also make the room appear bigger too. We recommend combining storage options by adding a mirrored wardrobe to your bedroom for extra benefits!
Colourful artwork 
If you've got wintery prints or paintings hung on your walls, then it's time to remove the gloominess and replace them with colourful, bright imagery. Artwork with flowers or bright outdoor spaces look great, and if you're looking for something contemporary, then mood-boosting modern art could be the way to go. Whatever you choose, opting for bright, bold hues will bring that spring feel to your bedroom.
Update your bedding 
Bedding is a must-change when spring rolls around. Your bed is the centrepiece of the room, which means you'll need the right bedding or risk causing a clash with your spring-themed décor. We recommend choosing colourful tones to lift the energy. Don't forget to change your cushions, pillows, and throws too, so that all the bedding matches the room's décor.
Add plants
Plants and flowers are one of the beauties of spring, so why not bring them inside and add fresh life to your room? The green plant tones combined with the stunning colours of spring flowers, like tulips and daffodils, offer vivid colour to your bedroom. These can be placed on bedside tables and dressers, or you can choose vining plants to drape down your wardrobe. And the best thing about plants and flowers is they can be bought on a budget.
Bring in colourful furniture
If you've grown tired of the furniture in your bedroom or need extra storage space, then now is a wonderful time to add something new. You can choose bold options like the ones in Hammonds colourful fitted wardrobes collection, which add breath-taking uniqueness to your bedroom. What's more, you'll increase your storage options and your bedroom's size as the collection is fitted to prevent wasted floor space.
Refresh your bedroom with Hammonds
Whether it's a mirrored wardrobe to increase the natural light in your room or you want colourful, fitted storage to match your spring aesthetic, we're here for you. Book a design visit with Hammonds today. We'll help you find the best fitted furniture to enhance your bedroom design this season.
You bring the space, we bring the inspiration
Whether you have an exact vision in tow, or are just at the beginning stage of your home renovation, we have heaps of inspiration for you to get stuck into. 
Find a wealth of design tips, trends and inspiration in the pages of our brochure, magazine and on our blog. Our experts are always ready to help you create dream home, pop in store or book your free design visit for experts to help on bringing your vision to life.