Give your bedroom the minimalist makeover you've always wanted
| Bedroom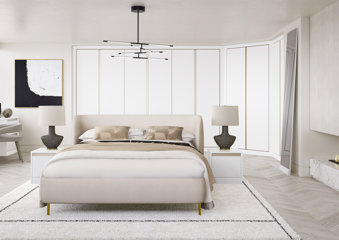 Give your bedroom the minimalist makeover you've always wanted
If it's time to give your bedroom a well-deserved makeover, then you may be looking for some inspiration to help you get the most out of your space. A minimalist bedroom design could be just the style you need to add something fresh to the décor.
Minimalism is all about keeping it simple and not overcrowding your bedroom with unnecessary items. If that sounds ideal to you, then say goodbye to clutter and embrace simplicity for a brighter and a more modern aesthetic in your bedroom. For advice on how you can do this, check out our design tips below.
Add texture to your space 
Don't mistake minimalist for dull and lifeless - it's quite the opposite. A minimalist bedroom design encourages you to experiment with different textures that can bring your space to life. This can be a wonderful way to show off your artistic flair and really make your bedroom tailored to your style.
Textures can come in all shapes and sizes, from a wicker bedframe to a faux-fur rug that creates a cosy feel in your minimalist bedroom. The combination of various texture types will help to create a stunning finish in your space.
Invest in matching bedroom furniture
Key characteristics of a minimalist room are clean lines and stripped-down simplicity, which makes choosing matching fitted bedroom furniture like wardrobes and drawers a must. This will create a sense of cohesion that will be incredibly satisfying to look at.
You can also add matching full-length mirrors to your bedroom to get the most out of your space. Mirrors can trick the eye into making the room appear larger and will also brighten up your bedroom. More natural light around the home is known to improve mood and boost productivity, so adding mirrors is a great idea for your minimalist bedroom.
Don't be afraid of adding bold colours
Although minimalist bedrooms usually consist of neutral tones like beige or monochromes, you could also mix things up by injecting a splash of colour, contrasting the muted tones with bold, striking hues. You might want to opt for bright tones in your bedding, rugs, or curtains. Picking out certain points will ensure these colours really stand out in the space.
Get rid of your junk 
Not only can clutter make us more anxious and impact the amount of sleep we get, but it can also interrupt the aesthetic of our minimalist bedroom. Before you begin redesigning your space, it's important to clear away unwanted items to give you a blank slate to start with.
There will likely be lots of items that you still want to keep. However, you might not want these on show at all times, so you'll need somewhere to store them. Fitted bedroom storage, available at Hammonds, could be ideal. These will help you get the most out of your space and promote the minimalist look at the same time.
Pick out a simple bedframe or go frameless
A large bedframe can really fill a room, which is why you should opt for a simple one or even try a frameless option. The bed is the centrepiece of a bedroom and this subtle touch will help to set the tone for the rest of the room, so achieving that minimalist style will be even more straightforward.
Book a design visit to create your cosy minimalist bedroom today
Think a minimalist bedroom design is the right style for you? Book a design visit and one of our experts can help create bespoke wardrobes and bedroom storage that matches the look you want.
You bring the space, we bring the inspiration
Whether you have an exact vision in tow, or are just at the beginning stage of your home renovation, we have heaps of inspiration for you to get stuck into. 
Find a wealth of design tips, trends and inspiration in the pages of our brochure, magazine and on our blog. Our experts are always ready to help you create dream home, pop in store or book your free design visit for experts to help on bringing your vision to life.