Guest room décor essentials
| Bedroom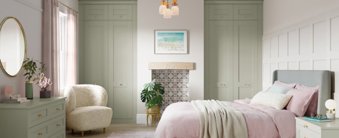 The guest room essentials you need
Your guest room may be unoccupied most of the time but that doesn't mean it should fall by the wayside in terms of aesthetics and comfort. Providing your guests with a comfortable space to stay while they are at your house will make them feel right at home – better still, like they are in a luxurious hotel!
Here, we explore some of the guest room décor essentials you need to give your guests that five-star feeling.
A comfortable bed and mattress
The right bed and mattress will significantly affect your guest's ability to enjoy a restful night's sleep, which can sometimes be difficult when away from home. Many people tend to put their old bedroom mattress into the spare room, mistakenly thinking that it will be okay in there. However, the lifespan of a mattress is only around seven years. Therefore, if it's no longer good enough for you, it's no longer good enough for your guests either.
Good mattresses can be expensive, as well as tricky to manoeuvre in and out of rooms. However, choosing a versatile roll-up mattress offers you a good quality option, without all the expense or heavy lifting. A little investment here will make a whole lot of difference in terms of the quality of sleep your guests will enjoy.
Cosy and comfortable bedding
Once the bed and mattress have been chosen, you will want to ensure you dress your guest bed with hotel-grade pillows and bedding. As far as guest room décor ideas go, the pillows are almost equally as important as the mattress.
Selecting good quality pillows will avoid your loved ones waking up with a stiff neck or shoulders in the morning! There are many types of pillow available on the market. However, memory foam pillows offer a flexible option, as they mould to the specific positioning of the sleeper every time they are used.
When it comes to bedding, 100% cotton sheets and covers will ensure a comfy night with good temperature control. Stick to neutral shades for your bed linen to retain that luxury feel, but accessorise with beautiful, patterned throws and blankets to personalise and add a touch of character to the room.
Storage space
Your guest room might well be a little smaller than the other bedrooms in your house. Therefore, there might not be loads of space for individual storage furniture, such as standalone wardrobes, dressing tables, or chests of drawers.
Fitted wardrobes work really well in a guest bedroom as they make use of even the most awkward of spaces, providing ample storage for your guests' clothing, shoes and accessories while you are hosting them. You might find that over-bed wardrobes work well in your guest room if the ceilings are high, or that a fitted corner wardrobe works better if the bed is located centrally in the room.
Optimal lighting
Choosing the right lighting will make a guest room feel cosy and welcoming. If your guest room benefits from access to natural light, then enhance this as much as possible with curtains or blinds left open when your guests arrive, as well as placing mirrors on the walls to reflect the rays around the room.
When it comes to additional lighting, bulbs that can be dimmed are ideal. This means that the lights can be turned higher when guests are getting dressed in the morning, and then lower at night time as they get ready to go to bed.
Adding bedside lamps can be handy choice as they give guests the option to read before bed. Plus, you could leave a selection of recent magazines by the bed just in case they've forgotten their book – a nice touch to show you've really thought about their arrival!
Toiletries and towels
Just like a hotel provides fresh towels upon check-in, be sure to pile a bath towel for each guest on the end of the bed, as well as face towel or flannel too. It's likely your guests may have forgotten a few of their beauty essentials while they're away from home, so it's always handy to have a supply of new toothbrushes, cotton pads and tissues in the drawer in case they need them.
If your guest room has an en-suite bathroom, then make sure you have shampoo and conditioner in the shower as well as hand wash and moisturiser by the sink. All these little extras don't take too much time or money to prepare but will make a big difference in terms of comfort when your guests arrive.
We know how to decorate a guest room to provide the best storage
We hope this article has provided you with plenty of essential guest bedroom décor ideas. Our team members are pros when it comes to optimising storage space in a spare room, so be sure to book in a free design visit to benefit from our expertise.
You bring the space, we bring the inspiration
Whether you have an exact vision in tow, or are just at the beginning stage of your home renovation, we have heaps of inspiration for you to get stuck into. 
Find a wealth of design tips, trends and inspiration in the pages of our brochure, magazine and on our blog. Our experts are always ready to help you create dream home, pop in store or book your free design visit for experts to help on bringing your vision to life.