Home office storage ideas that will upgrade your working-from-home setup
| Office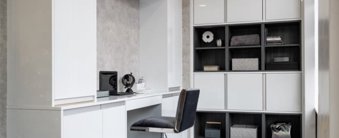 Upgrade your working-from-home setup
Working from home offers many benefits in terms of flexibility and finances. However, spending more time at home - and having more work stationery and equipment - means that our spaces can easily start to get cluttered.
If paperwork and work-related clutter has begun to overtake your home, then you might be interested in our home office storage ideas. Get reading for some straightforward ways to upgrade your working-from-home setup and bolster both your productivity and comfort in your own space.
Sort your paperwork storage
Paperwork and important documents have a way of multiplying and sneaking up on us over the space of even a couple of days. Before you know it, your desk is a mess, there's paper everywhere, and you can't find that one vital document that you need at that particular time.
Paperwork can be kept under control fairly easily, providing that you have the right storage accessories and stay on top of it daily. Folders help to keep papers together in one place, while dividers enable you to sort everything into categories depending on their content.
Once your paperwork is in folders, you can store those folders neatly on shelves, bookcases or in baskets to keep them out of the way but still accessible when you need them. Label your folders or colour-code them so that you always know exactly what's in each one.
Invest in bespoke fitted storage
For many of us, home office space comes at a premium, so free-standing furniture and storage cabinets are not always viable options. When you choose bespoke, built-in office furniture, you ensure that every piece of available space is utilised in your room. Even awkward corners and alcoves can be transformed into accommodating work storage, and everything from monitors and printers to pens and highlighters can be given a home.
Whether your working area is under the stairs or in a dedicated room, Hammonds' home office storage solutions create a space that looks sleek, stylish and smart, as well as being functional and useful.
Utilise moveable furniture
If your room is a home office by day and a living room by night, you can help to separate the two with the use of moveable office furniture and storage carts. During the day, you can keep the carts close to your desk for easy use but, when the time arrives to clock off, they can be moved under the stairs or into cupboards to keep them out of the way for when the family returns home.
Put things up high
When floor and wall space is tight, you're going to want to take advantage of the height of your room in order to maximise storage for your home office. Shelving above your desk is great for smaller stationery items, books and folders; otherwise, you can install cabinets to keep everything concealed and off-show.
Mounted wire racks are good for holding specialist objects or work items that you don't need to access every day and can be reached via a folding step ladder or sturdy stool.
Look out for alcoves
Many people think of alcoves as wasted space in their homes but, often, these nooks and crannies are just ideal for setting up a desk area or adding built-in storage. No corner is too tight or roof too slanted for Hammonds' team of designers to create a bespoke storage solution in your awkward space.
Let Hammonds help you create your stylish home office
Hopefully our home office storage ideas have given you some inspiration to kick-start your workplace revamp. As a next step, why not book a free design visit with one of our Hammonds experts to help you to create a stylish home office that has plenty of storage options?
You bring the space, we bring the inspiration
Whether you have an exact vision in tow, or are just at the beginning stage of your home renovation, we have heaps of inspiration for you to get stuck into. 
Find a wealth of design tips, trends and inspiration in the pages of our brochure, magazine and on our blog. Our experts are always ready to help you create dream home, pop in store or book your free design visit for experts to help on bringing your vision to life.