Home office storage ideas
| Inspiration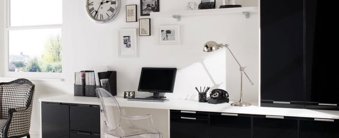 Home office storage ideas: 5 ways to organise your workspace
More and more people are spending time in their home offices than ever before but, for many, that environment which could once be used as something of a dumping ground now needs a little bit of TLC.
Of course, it can be a struggle to think of creative home office storage ideas, never mind put them into action. Don't worry, though; here are five ideas to get you started…

Add floating shelves
If you lack floor space in your home office, it's time to think about how you can utilise the space above. Floating shelves are a simple yet effective home office storage idea, extending the amount of room that you have for your office items - often more than you might expect.
Not only are floating shelves functional but they also give you an opportunity to showcase your most eye-catching items. Even the shelves themselves add an element of contemporary style by creating strong, sharp lines in your working area. From ash to oak finishes, you can colour-coordinate them with the rest of your office furniture to help to create a cohesive design across the board.


Get a mobile storage unit
When it comes to file storage ideas for your home office, mobile storage units or trolleys are a great solution. Having your paperwork and office supplies stashed away but portable allows for last-minute rejigging when you organise your space.
You can get all kinds of features, too. Some come with drawers, while others have open areas, giving you lots of options depending on the shape and size of the supplies that you need to stow away. You can even get lockable units, which come in handy for any important documents that need to be kept safely out of sight.


Store clutter in baskets and boxes
Baskets, boxes and containers in general - they all come in handy when you're in need of home office storage ideas. Condensing smaller items into categorised containers will not only help you to keep the area neat and tidy but also work wonders for when you need to find specific items that tend to get lost.
If you're looking for something a little more tasteful than plastic boxes, try wicker baskets or hamper-style containers. Some come with lids while others come lined with cloth - either way, you're bound to find a style that matches the rest of the details in your room. Who knew that containers could bring so many possibilities when it comes to decor?


Keep things behind closed doors
If you need home office storage solutions and you're struggling for ideas, sometimes the simplest fixes are the best. Keeping items, especially anything unsightly, behind closed doors is a convenient way to deal with excess clutter. This could be done with anything from a cabinet to a cupboard.
Out of sight means out of mind, so clearing away any work-related items at the end of the day and popping them into a dedicated space can help to create a clutter-free zone in which you'll be able to start work comfortably the next day.


Fitted office furniture
If you still feel stuck when it comes to home office storages solutions or ideas, another option is to go bespoke. Fitted home offices and office storage are adapted to suit the shape and style of a room. It's a great opportunity to get creative and you may have your own ideas, or you can rely on experts to suggest just the thing to bring together the room.
Fitted home offices open the door to endless possibilities. You can go all out with ceiling-high bookcases, as well as carefully considered cupboard and drawer placements, all intertwined with coordinating finishes and colours that match your room to a tee.


Let Hammonds help you out
Not sure where to start? You can book a free design visit, where our experts will talk you through some options and follow up with helpful 3D visuals to really bring to life your vision. Experienced in sophisticated yet practical design, we love helping others to find effective storage solutions for their homes.
You bring the space, we bring the inspiration
Whether you have an exact vision in tow, or are just at the beginning stage of your home renovation, we have heaps of inspiration for you to get stuck into. 
Find a wealth of design tips, trends and inspiration in the pages of our brochure, magazine and on our blog. Our experts are always ready to help you create dream home, pop in store or book your free design visit for experts to help on bringing your vision to life.