How to add colour to your living room
| Inspiration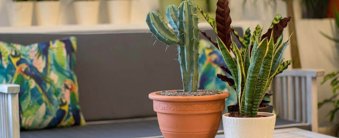 How to add colour to your living room: Ideas to freshen up your space
On the hunt for living room colour ideas and not sure how to get the ball rolling? With so many styles and trends to choose from, it can be easy to find it tricky to decide where you want to go with your home décor.
To help you make some decisions, we've gathered some ideas that are designed to give you the inspiration you need. Read on to see how you can transform your living room.
Choose a scheme
Start with the colour scheme for your living room. Try thinking about the effect different shades might have on your mood. People are paying more and more attention to how colour influences mood, and this could be the perfect jumping-off point for your living room update.
A living room is typically a space where you can unwind. Therefore, you might opt for calming neutrals or grounding earthy tones and warming shades. If you'd like to inject some of your personality, you could add a flash of your favourite colour. Maybe the violet-blue of Pantone's Colour of the Year 2022 is the perfect vibrant tone that reflects you in your colour palette. Or maybe a warming ochre will offset your neutrals perfectly?
Once you have a colour scheme pinned down, you can get to work on bringing it to life, with anything from furniture to smaller accessories, or even wall colours.
Use statement pieces
The purpose of a statement piece is to capture the attention of anyone who walks into a room. They're a great place to start if you need colour ideas for your living room and can even help determine the overall colour scheme of the room as a result.
Examples might include a state-of-the-art sofa, an exceptional rug, or a striking pendant light. Whatever statement piece you choose, you'll find it can help set the tone and spark inspiration for your colour palette.
Hang colourful art
Still stuck for living room colour ideas? When decorating a room, make sure you give the walls your full attention. Treat them as a blank canvas, ready to be transformed with colourful prints or wall art. This is a great opportunity to put your own stamp on the room, while incorporating more personal pieces that may have a deeper meaning behind them.
You might want to invest in one large piece or hang smaller prints. If you opt for the latter, play around with the order you want to hang them in on the floor before mounting them to the wall. This will help you to create a flow between the different pieces.  
Adding a dash of colour can do wonders. There's no better way to brighten up the place, especially if you've selected a neutral palette for the walls.
Paint an accent wall
Accent walls have a design that differs from the other walls in the room, and they're a fun element of interior design. They're also a fantastic opportunity to get creative if you're after ideas for colours in your living room.
There can be a fine balance, however. Experts recommend following the 60-30-10 rule, where 60% of the room should be the main colour, 30% should be a secondary colour and the final 10% should be an accent colour. Once in place, accent walls can allow you to create focal points that elevate the space, adding more depth to the room.
Use plants
Plants are an easy win when you're after living room colour ideas. A spot of greenery could be just what the doctor ordered, as nothing beats the addition of plants when you need to brighten up a dull-looking space.
They've even been associated with boosting your mental wellbeing, making them a welcome addition to your living space. Of course, you can get adventurous with all sorts of unique-looking plants or flowers. Purple leaves? Why not! The choice is yours. If you're worried about keeping them in top condition, artificial plants are a great alternative.
Reflect colours with mirrors
Mirrors are well-known for opening up a space and enhancing light in the space, but an added bonus is the fact that they can reflect colour too. Filling empty walls with mirrors can completely transform the room and you can take your pick from all shapes and sizes.
The frame itself gives you an opportunity to get creative as well, with various colours and designs to choose from, as well as tonal additions, whether that be gold, silver or something else. It's the ideal way to have fun with colour schemes for your living room.
Seek help from Hammonds
Fitted living room furniture can take your designs to a whole new level. You may use it as a base to elevate your colourful knick-knacks, or even integrate colour using the furniture itself. If you're wondering how to add colour to your living room, why not book a free design visit? You'll get a consultation from our expert team and the use of 3D design software to help turn your vision into a reality
You bring the space, we bring the inspiration
Whether you have an exact vision in tow, or are just at the beginning stage of your home renovation, we have heaps of inspiration for you to get stuck into. 
Find a wealth of design tips, trends and inspiration in the pages of our brochure, magazine and on our blog. Our experts are always ready to help you create dream home, pop in store or book your free design visit for experts to help on bringing your vision to life.