How to build the ultimate games room
| Inspiration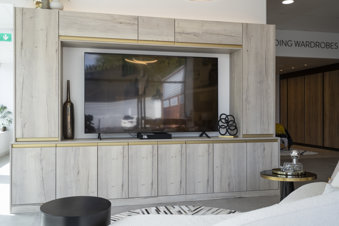 How to build the ultimate games room
Renovating a spare room into a games room? Video games are just as popular with adults as they are with kids, so a gaming room should be for the whole family. Having one in your home might feel like a luxury so, if you're putting in the time and effort to achieve it, creating a bespoke space with personalised gaming room décor is a no-brainer.
Whether you're new to gaming or have been playing for years, it's always worth knowing how to make the most out of your home setup. We've outlined a few of our own tips on achieving this - from finding the right sound system to the best ideas for gaming room lighting.
Find the right television
Most new games are produced to be played on high-definition screens, making 4K resolution a must-have to experience them at their best. Individual gaming setups feature smaller monitors that fit on desks but, if you're creating a purpose-built gaming room, you can go as big as you'd like.
Get ready to play action games on ultra-realistic, clean and sharp imagery by choosing the best television for your gaming room setup. If you're not going for a wall-mounted monitor, make sure that it's the right size to fit on top of your chosen entertainment unit.
Install surround sound
A surround-sound speaker system is essential if you're looking for an immersive gaming experience. This doesn't mean that you need a speaker in each corner of the room but simulating a 360-drgree sound effects is the best way to bring your games to life.
Furthermore, surround sound is encoded into the majority of games on the market. It's still possible to use stereo sound but it's certain that using surround sound provides a better experience for gamers. If you usually play combat games, a subwoofer could be just the right finishing touch for your setup.
Choose your games consoles
What's a games room without its consoles? While some gamers might only choose one model or the other, we recommend choosing either a PlayStation 5 or Xbox Series X and accompanying it with the Nintendo Switch. This will give you a large range of games, with something suitable to play either alone or with the entire family.
That said, you should always choose the consoles that allow you to play your favourite games with the most ease. Don't follow trends for the sake of it - focus instead on building a gaming room setup tailored specifically to your tastes.
Go for built-in storage
Of course, the more consoles that you buy, the more accessories that you'll need in order to complete your setup. Don't forget that, if you're going to be physically moving around while playing, you should install unobtrusive gaming room décor that won't get in the way.
Similarly, the games console itself might produce breathtaking images and hours of entertainment but could be an eyesore in the home. That's why placing fitted media units is a must. This sleek and stylish décor solution will cover up wires and the consoles themselves, keeping the room looking classy.
Choose comfortable seating
Let your family and friends kick back in style with a comfy sofa or beanbag chair. One gaming session can last for hours, so it's absolutely vital to choose seating that works. While the softest sofa possible can be a tempting prospect, you should make sure that your gaming setup is as accessible and versatile as it can be.
Some companies are proposing new rules for video games to enforce breaks for younger children so take care that it's easy to get up and take a quick break, with a clear and simple exit route. We recommend a U-shaped sofa for a family games room, which provides a much more sociable setting than separate chairs.
Get the lighting right
Games rooms need effective lighting to give a stylish edge. All of your decoration ideas for your gaming room should revolve around how and where the lighting is placed. We're big fans of LED strip lights, which can be cleverly installed behind your big screen and along the perimeters of the room.
If you'd like to elevate your gaming room lighting even more, sync smart lighting is an exceptional choice for video games. These LED lights are placed behind the TV and respond to colour and image changes on the screen, providing a truly immersive gaming experience.
Get more advice from the experts at Hammonds
Still looking for that perfect storage solution to house your games console and its accessories? You're in the right place. At Hammonds, we're experts in providing fitted furniture to complement your gaming room décor, no matter your style.
You bring the space, we bring the inspiration
Whether you have an exact vision in tow, or are just at the beginning stage of your home renovation, we have heaps of inspiration for you to get stuck into. 
Find a wealth of design tips, trends and inspiration in the pages of our brochure, magazine and on our blog. Our experts are always ready to help you create dream home, pop in store or book your free design visit for experts to help on bringing your vision to life.