How to choose a colour scheme for your bedroom
| Inspiration, Bedroom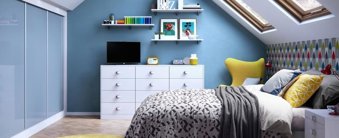 Knowing where to begin when choosing the colour scheme for your home can be tricky. Let us help you find your perfect palette! Read our guide and be inspired.
How to choose a colour scheme for your bedroom
Have you just moved in and want to make the place your own? Or maybe you've been in your home for a while and want to refresh the space? If the only thing you know at this point is that you want to revamp the current colour scheme in your bedroom, it can be tricky knowing where to begin.
There's a lot to think about before you commit to a colour, from finding tones that complement each other to making sure you're creating a space that you can comfortably sleep in. To help you know how to choose a colour scheme for your bedroom, take a look at our top shade-selecting tips.
Why is the colour scheme in the bedroom so important?
There have been many studies into colour psychology over the years. In the 1950s, Faber Birren, a consultant on colour theory, wrote about this in his book Colour Psychology and Colour Therapy. Since then, the link between our mood and the colours around us has been factored into everything from the design of traffic lights to how we decorate our home.
It's worth keeping this in mind when you're planning your colour scheme. Your bedroom is where you need to be able to settle into a deep sleep, but also somewhere you can feel energised in the morning. Therefore, to get the balance right, it's important to take your time planning out the colours that work in your space.
What do different colours mean?
Cooler colours are often used in bedrooms as these are soothing, so, blues and greens can create a feeling of calm. According to the Colour Affects theory, blue is classed as the colour of the mind, which means it's a colour that affects us mentally. Unlike red, which makes us react physically. Green is the colour of balance. It's a reassuring colour.  
However, the shade you choose can be just as important as the colour itself. For instance, vibrant blues can be energising, so a softer, lighter blue is more likely to create a serene feeling, making it a great choice for a bedroom.     
Similarly, bright reds can be over-stimulating for the mind, while deep reds can create a feeling of warmth. This can be a lovely alternative to the light blues and greens, which can make a room seem cold.
For the ultimate colour balance when working out how to choose a colour scheme for your bedroom, use warm neutrals, such as creams and oatmeal tones. These can then be perfectly matched with flashes of deep purple, dark blue, forest green or burgundy accents.
This contrast can help soothe you to sleep, while the neutrals can add some energy to the space.
Is the design cohesive?
Do you want the colour scheme of your bedroom to be different to other rooms in your home, or are you trying to connect the different spaces through the palette you choose? Even if you want your bedroom to have a standalone style, picking out one colour used in the rest of the house and using this as a theme is a good approach to building your colour scheme in your bedroom.
An easy way to bring the overall design of your home together in your bedroom is to add accessories in the colour that you've used elsewhere in the home. For example, if you've got a dark green kitchen, introduce green cushions and throws in the bedroom to connect everything.
You could even use this connecting colour in your furniture. Fitted wardrobes and dressing tables are the perfect pieces for this, as they can be the only item in the room that has this colour or they can be the furniture that leads the rest of the palette in the bedroom.   
The style of the room
As with linking the colours in with the rest of the home, it's worth thinking about the style of the room. Leading with the style of the room can be helpful as different themes tend to mean you'll have a colour palette to go with.
Are you thinking of incorporating a Scandinavian design or are you planning on creating an opulent space filled with gold accessories? The style you're going for will dictate the colours you introduce. Nordic interiors tend to feature neutrals whereas decadent designs lean towards rich, dark colours.
Do you want to follow the trends?
Another key influence on your scheme might be what's trending right now. This can be a great jumping-off point for the colours you bring into the bedroom.
Trends forecaster, WGSN, has revealed that colours like Oxy Fire and Lemon Sherbet will be everywhere for Spring/Summer 2021. While the vibrant yellow might be too stimulating for a bedroom, the rich, warm red could be a colour that we see in bedding and furniture in the coming months.   
If there are any colours that are trending that you think might work well in your bedroom, test them in small patches on the walls first to see if they're a good fit. If the colour is too much for the walls, you might find it's better suited to the furniture.
The choice is yours
Ultimately, the colours you use in your bedroom should make you happy. You are living in the space and the scheme you create needs to be something you can enjoy spending time in.
If you're planning to add a splash of colour in your home, we're here to help. We can build furniture that works beautifully in the space and seamlessly complements the colours you want to include. Book a free design visit and we'll work with you to create your dream bedroom.  
You can also find further guides on the Hammonds blog.
You bring the space, we bring the inspiration
Whether you have an exact vision in tow, or are just at the beginning stage of your home renovation, we have heaps of inspiration for you to get stuck into. 
Find a wealth of design tips, trends and inspiration in the pages of our brochure, magazine and on our blog. Our experts are always ready to help you create dream home, pop in store or book your free design visit for experts to help on bringing your vision to life.