How to choose the best houseplants for attic bedrooms
| Bedroom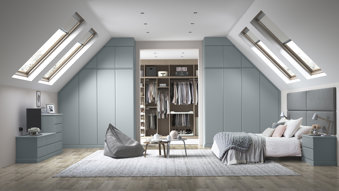 How to choose the best houseplants for attic bedrooms
There are so many reasons to include houseplants in your bedroom décor. But, if your bedroom is in the loft or only has a small, north-facing window, you'll need to choose your plants carefully.
Not all houseplants can survive without lots of light – it's important to do your research so you can achieve your ideal plant-themed bedroom. In this article, we've listed our favourite houseplants that thrive in shady spots.
Why should you have plants in your bedroom?
Houseplants are beautiful and add character to any room in your home. They can complement and enhance a range of interior styles and colour schemes. However, there's more to them than meets the eye.
Choosing to adopt a minimalist plant bedroom décor comes with many benefits. Houseplants are known for their mood-boosting properties – they're capable of enhancing creativity, increasing productivity, and reducing stress levels.
Plus, houseplants are excellent air purifiers. Various factors in the home, such as furniture, paint, and insulation can release toxins and pollute the indoor air. Plants can absorb these harmful gases, helping to filter and clean the air you breathe.
Which are the best houseplants for dark bedrooms?
If you have an attic bedroom or your room is naturally dark, worry not. Here's a list of houseplants that like shade:
Cast Iron Plant (Aspidistra)
First up, we have the Cast Iron Aspidistra. This seriously robust plant is almost indestructible – and can even handle long periods without watering. A member of the lily family and native to China and Japan, this houseplant was commonly found in Victorian hallways.
Easily recognisable for its glossy, dark green, waxy leaves, this plant will usually grow to no more than one metre in height. It prefers any level of low light and can deal with both warm and cold temperatures. Don't leave it in complete darkness, though, and try placing it in a pot by the windowsill or on a desk if you have one. You won't have to worry about space issues either, as slow growing Aspidistras don't tend to outgrow their homes.
String of Coins (Peperomia Pepperspot)
For a fresh, cheerful houseplant that adds ambience without stealing the show from your beautiful furniture or décor, the String of Coins makes a wonderful choice.
This delightful, easy-to-care-for hanging plant boasts thin, draping branches filled with a canopy of glossy, pastel-toned leaves. Ideally suited to growing in low light, it makes for a great houseplant for your attic bedroom.
It looks perfectly at home on shelves nestled between custom-built furniture for your bedroom. At Hammonds, we have fitted wardrobes for all shapes and sizes of rooms, including wardrobes for sloping ceilings. We'll help you design the storage space you need, regardless of how many plant-filled nooks and crannies you have! 
Peace Lily (Spathiphyllum)
Peace Lily plants are easy to care for and are typically found in lists of the most popular houseplants. With their dark green foliage and eye-catching white flowery hoods, they brighten bedrooms that don't see much light.  
These plants are great for beginners with easy-to-follow care instructions. However, even though they require little attention, be careful not to overwater them. Check them once a week and keep them in medium to low light.
Prayer Plant (Maranta)
Prayer Plants come in a variety of shapes, sizes and colours, and are known for their striking foliage. They have the name 'Prayer Plants' because they close their leaves at night, almost like hands in a prayer. When dawn comes, their leaves open back up again!
It's important not to place your Prayer Plant in direct sunlight, as this could scorch its leaves. That's why they're best suited in low-light, attic bedrooms where they can live a little more comfortably. Soil should be kept moist from spring to autumn with filtered, distilled or rainwater.
Display your houseplants with Hammonds
Choose Hammonds to create smart storage solutions that double up as the perfect display for your houseplants in your attic bedroom. Book a free design visit today to discuss your ideas with one of our experts – and watch your décor dreams come to life!
You bring the space, we bring the inspiration
Whether you have an exact vision in tow, or are just at the beginning stage of your home renovation, we have heaps of inspiration for you to get stuck into. 
Find a wealth of design tips, trends and inspiration in the pages of our brochure, magazine and on our blog. Our experts are always ready to help you create dream home, pop in store or book your free design visit for experts to help on bringing your vision to life.