How to choose the right furniture for an urban interior
| Inspiration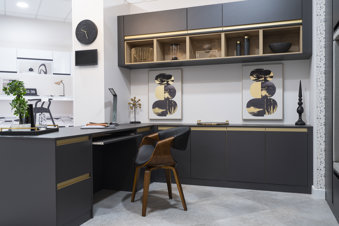 How to choose the right furniture for an urban interior
Urban interior design focuses on creating functional, stylish and innovative living spaces in environments such as cities and town centres. It involves designing apartments, condos, lofts, and other residential buildings, as well as commercial and public spaces.
Often working with small, awkwardly shaped spaces, designers must be creative in finding solutions for optimising functionality while still maintaining a stylish aesthetic. This type of interior design must also consider the unique challenges of urban living, such as noise, limited natural light, and a need for efficient use of space.
We've taken a look at some of the best ways to incorporate it into your home.
Make a distinct statement
Whereas the underlying design of an urban interior is usually minimal and discreet, the use of unexpected contrast is crucial to displaying some personality and individuality.
Try to incorporate at least one statement piece in each room, whether that's with a designer pendant light, an eye-catching piece of artwork, or a beautiful piece of chic urban furniture.
We're not saying your statement piece needs to be extravagant – it just needs to give the room a focal point or an element of differentiation.
Lead one room to the next
Continuity is key in your urban interior and the aim should be to keep a touch of individualism for every room with a natural flow between them. Whether this is the colour of your walls, the flooring or the material used in your furnishings, try to incorporate matching textures, patterns, and tones in different rooms.
Creating a cohesive and harmonious design in your home involves choosing a style that you love and sticking to it throughout. For example, if you prefer a modern minimalist look, use clean lines, simple shapes and a neutral colour palette. Just remember to pay attention to the layout and flow by using furniture and accessories to transition between spaces.
Keep things tidy with fitted storage
Modern urban interiors and minimalism go hand in hand, so it's important to keep things looking clean and clutter-free. Using bespoke furniture to fit seamlessly into each room could help ensure your interior is focused on the details you choose to incorporate. It will also maximise storage in even the most awkward of spaces.
Sliding wardrobes in the bedroom add subtlety without the need to compromise on storage and are perfect for smaller bedrooms with limited room for opening doors. Sliding wardrobe designs vary dramatically, with mirrored doors offering extra light and reflection while painted or high-gloss doors can blend in with existing colour schemes.
Experiment with scale
Another way to incorporate eye-catching elements in your modern urban interior is by experimenting with scale and contrasting furnishings of different sizes. Not only is this a great way to add visual interest and drama to a space, but it can also help with the balance and harmony.
Try to contrast smaller pieces with coordinating oversized ones ­– for example, you could pair a colourful lampshade with a larger matching ceiling pendant. Alternatively, a large statement piece of art could be supported with small accessories such as cushions and candles that highlight the same colours.
Accessories that focus on sustainability
In addition to aesthetics, urban interior design also focuses on sustainability This may include the use of energy-efficient lighting and appliances, sustainable building materials, and natural fabrics.
When it comes to sofas, rugs, throws and pillows, aim for thick, natural fabrics in neutral tones such as cream, grey or beige. Wooden flooring, ceramic tiles and glass work well with urban interior design aesthetics and combine to create beautiful and functional spaces.
Choose Hammonds' fitted furniture for your urban interior
We work with many clients living in urban areas and complete their modern interiors with fitted wardrobes and furniture. If you'd like our assistance, book a free design consultation and one of our experts will visit your home.
You bring the space, we bring the inspiration
Whether you have an exact vision in tow, or are just at the beginning stage of your home renovation, we have heaps of inspiration for you to get stuck into. 
Find a wealth of design tips, trends and inspiration in the pages of our brochure, magazine and on our blog. Our experts are always ready to help you create dream home, pop in store or book your free design visit for experts to help on bringing your vision to life.