How to create a beautiful dining room
| Inspiration, Dining Room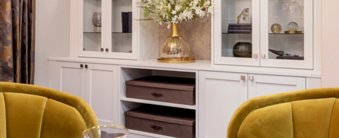 How to create a beautiful dining room
The dining room is one of the most sociable rooms in the house, so the way you style it is important.
There are many elements to consider such as table and chairs, wall colours, decoration and more, so it can often be hard to combine all of your ideas. If you want to know how to create a beautiful dining room then look no further.
This article will highlight key elements and features to consider when making the perfect dining room for you.
The tables and chairs 
The table and chairs are the focal points of your room, so your choice of material, shape, size, and colour is crucial.
Typically dining tables and chairs are placed in the centre of a room, so consider how you plan to use them.
Round tables are ideal for conversation. With everyone around the table an equal distance away, they are great if your main intention is to host your friends and family in small groups.
However, if you plan to host larger gatherings, a long table might be best for you. This allows you to fit more people around the table and make the most of your space.
Is your dining room is on the snug side? If it's just you and your partner that uses it, placing it in a corner or against a wall is still a great option. 
Lighting 
Highlight your table and chairs centrepiece by hanging a perfectly placed light in the middle of your space. Work to the existing style of your room and choose a light shade that suits.
If your home has a modern and contemporary feel, make a statement with a bold pendant light. You could pick out an accent colour within a wallpaper you have, or even pick a new colour to add to your colour scheme – the choice is yours.
Alternatively, if you prefer a more classic look, then a chandelier is a stunning option. The size of the chandelier you choose depends on how high your ceiling is and how much space you have to use. If you have high ceilings, then go big! Get a chandelier that will fill your room and catch the eye of your guests. Or, if you're lacking space, a small chandelier will still give you elegance, style and class. 
Beautiful storage         
When pondering how to create a beautiful dining room, we often forget to account for storage. However, dining room storage doesn't need to be bulky and intrusive.
Fitted dining room furniture is not only practical, but it can also be a stunning addition to your dining room space. Entertain your family and friends in style by keeping your best glassware and crockery close by in a cabinet. Plus, if you have some special pieces, highlight them behind a glass cabinet door.
If partying is your speciality, then why not add a mini bar into your dining room. By having your drinks on hand, you'll keep your guests happy and your kitchen mess-free.
Your new bespoke dining room cabinets don't need a fancy purpose, you could solely use them to store extra food or utensils when your kitchen is getting too full. Whatever your need for a new dining room cabinet, choosing a bespoke design allows you to find the perfect one for you. 
Table styling 
Typically, just thought of as a practical piece of furniture, a dining room table is often overlooked when styling your home.
As it is so large and a focal point for a dining room, it makes sense to use it for its grandeur. So, styling your dining room table as you would another large piece of furniture is a great way to highlight your personality and add flair to your room.
Firstly, decorate it with flowers or fruit. These items are bright and bold, which is a great and easy way to add a pop of colour to your room. Best of all, you can constantly change them, giving you a fresh perspective on your dining table décor as often as you want it.
You can also add vessels to bring extra character. Try wood, metal, glass according to your style. Matt ceramic vessels are currently extremely popular and come in different colours, shapes and sizes to suit your taste.
Finally, create a beautiful dining vignette. If the idea of switching up your dining table centrepiece seems a bit too much like hard work, then a vignette could be perfect for you. You can include items you always use on your dining tables, such as salt and pepper or napkins. You could place a tasteful fake plant next to them and arrange them all on a wooden board. Not only does this save you time redecorating your centrepiece, but it creates an eye-catching moment that you and your guests will love. 
Get the dining room of your dreams with Hammonds
If these ideas have grabbed your attention and wish to try them out, you can book a free design visit with Hammonds.
Our team of experts are on hand to advise on how to create a beautiful dining room. Contact us to see how we can help you today.
You bring the space, we bring the inspiration
Whether you have an exact vision in tow, or are just at the beginning stage of your home renovation, we have heaps of inspiration for you to get stuck into. 
Find a wealth of design tips, trends and inspiration in the pages of our brochure, magazine and on our blog. Our experts are always ready to help you create dream home, pop in store or book your free design visit for experts to help on bringing your vision to life.