How to create a bedroom gallery wall
| Inspiration, Bedroom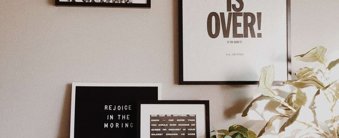 Looking to add a feature to your bedroom? Take a look at our top tips on how to create a gallery wall to transform your bedroom.
Whether you're looking to bring one into your bedroom, living space or in your hallway, a gallery wall is a great way to add a personal and artistic feature to your space. Gallery walls are simply a curated display of photos, posters and prints, creatively arranged on a wall in a mixture of frames. If you're interested in creating a bedroom gallery wall, here are our top tips on how you can achieve the look effortlessly.
How to choose art for your gallery wall
The first step on your journey to creating a bedroom gallery wall is choosing your artwork. Whether you opt for artwork and posters or a mixture that includes your own photos, the possibilities are endless!
It's important to think about what kind of style you're going for in your bedroom. Are you aiming to create a soothing and calm environment, or do you want to introduce a pop of colour and depth to your space? These factors will help you determine which artwork and photos you're going to choose.
A quick guide to framing
Once you've chosen the imagery you're going to hang on your bedroom gallery wall, it's time to think about frames. There are a couple of options when it comes to presenting your artwork or photos. You could opt for frames that blend in and match your existing décor or ones that stand out and add texture and contrast.
You could even buy different styles of frames if you want to go for a look and feel that's slightly different and a little bit quirky. At the end of the day, you're looking to create a feature out of your wall, so why not push the boundaries a little!
How to arrange a gallery wall
Now that you've finalised your prints, artwork and frames, it's time to start arranging how you want your bedroom wall gallery to look! Our top tip is to try out different layouts on the floor instead of putting them straight on the wall, that way you can step back and try a number of layouts and designs until you find the perfect one.
It can be difficult to know how to arrange a gallery wall, but when exploring all the different options, make sure you anchor your overall design with a large piece close to the centre. This can be a good point to start off with before adding medium and small pieces above, below and to each side.
How to hang a gallery wall straight
Now the real fun begins, hanging your bedroom gallery wall. It may seem like a daunting task but there are a few ways that you can make it easier for yourself. Consider lightly marking out in pencil where each frame will be hung, ensuring you use a spirit level to make sure each one is straight.
The weight of your frames and the type of wall you're hanging them onto will determine how you can hang each one. If they're relatively light, why not use hanging strips to keep the job quick and easy! If your frames are heavier or you're worried about them falling off, you may need to grab your DIY toolkit to help. You'll need an array of nails or picture hooks and a hammer.
Finally, all that's left to do is stand back and admire your new bedroom gallery wall! They're great for sprucing up your space or creating a standout feature for everyone to admire.
Come to the experts for all your bedroom furniture needs
If you've found the bedroom gallery wall ideas you're looking for but want to revamp the rest of your bedroom, come and speak to the experts at Hammonds.
We can help you to design your space, incorporating any built-in storage you may be longing for. Whether you have an abundance of shoes you'd like to pack neatly away, jewellery and accessories that needs its own space, or clothing that you'd love to organise seasonally, we can help.
Turn your dream bedroom into a reality today! Get in touch with our expert team to book your design visit or ask any questions you may have.
You bring the space, we bring the inspiration
Whether you have an exact vision in tow, or are just at the beginning stage of your home renovation, we have heaps of inspiration for you to get stuck into. 
Find a wealth of design tips, trends and inspiration in the pages of our brochure, magazine and on our blog. Our experts are always ready to help you create dream home, pop in store or book your free design visit for experts to help on bringing your vision to life.