How to create a bedroom reading corner
| Inspiration, Bedroom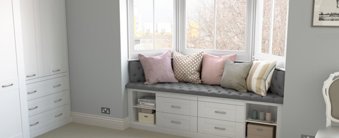 How to create a bedroom reading corner
Love reading but have nowhere to do it? Transform your space and create a bedroom reading nook with these tips.
How to create a relaxing bedroom reading corner
If you love reading and are longing for somewhere relaxing to enjoy your favourite novel or autobiography, look no further than our tips on how to create the perfect bedroom reading corner. No matter your budget, introducing a space where you can get away from it all in your bedroom can be just what many of us need to help us wind down and relax.
Whether you have a few thoughts of your own or need some inspiration, take a look at our bedroom reading corner ideas and let us help you transform your space.
Pick a location
The location of your new cosy spot is one of the most important elements. Does your bedroom have a particularly quiet corner you could transform? Could you use an area with a view or make the most of dead space under a sloped wall or in an alcove. Take a look around your bedroom and decide which spot is going to work best.
Don't forget, you know your space best and there's no right or wrong answer where the location is concerned. The main thing is that it's cosy and quiet so you can fully relax and make the most of it.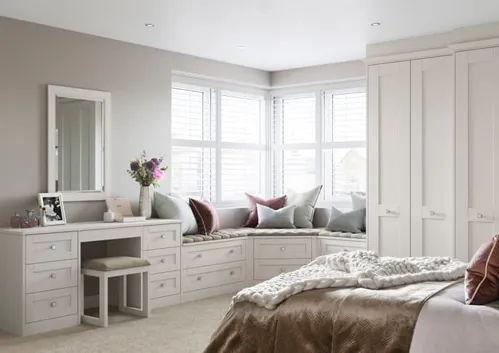 Choose your seating
Your new bedroom reading nook needs to be as comfortable as it is stylish. Depending on the location in your room you've chosen to be your dedicated reading space, consider introducing a window seat, lounge or rocking chair, or even a chaise longue if you're feeling super sophisticated.
Being comfortable while you read is more important than you might think. It allows you to relax completely and immerse yourself fully into the story, biography, self-help book or memoir.
Create the right lighting
All the best reading nooks need focused task lighting to avoid straining your eyes. If you can, try to maximise natural light where possible. Unfortunately, not every bedroom will have a wealth of natural light and bringing in supplementary reading lights may be necessary.
If your bedroom reading corner has enough space, why not add a small side table to pop a lamp onto. You could also use this piece of furniture to store all your favourite books too!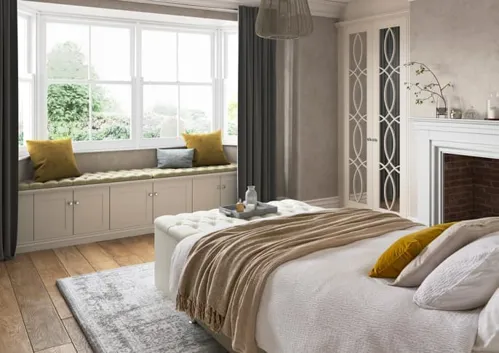 Surround yourself with soft materials
What's better than surrounding yourself with the softest materials when snuggling down with a good book? A selection of cushions and throws will help you ramp up the cosiness, while rugs will help you mark out a distinct area for your new bedroom reading corner.
It's important to consider your soft furnishings carefully to make sure they complement your seating. You won't want to overdo the cushions if you don't have the seating space for them all, for example.
Add accessories
A side table is ideal for everything from your reading lamp to drinks, snacks and even pieces of décor. You could even opt for one with open shelving so you can display all your favourite books too!
If you're thinking of more ways to bring a further sense of calm to your bedroom reading nook, why not add a couple of houseplants? With so many benefits such as improving your mood, reducing stress and anxiety, and even improving air quality, it's easy to see why so many introduce them to their reading spaces.
Remove distractions
Distractions are the worst when you're trying to get stuck into a gripping thriller or mind-blowing fantasy novel. Some of our top bedroom reading corner ideas are to remove clutter from your eyeline and switch off from technology. This will help you create the ultimate relaxing sanctuary.
Why not take a look at some of the fitted bedroom furniture here at Hammonds? Thanks to our beautiful designs and innovative storage options, you'll be able to keep clutter at bay and minimise distractions.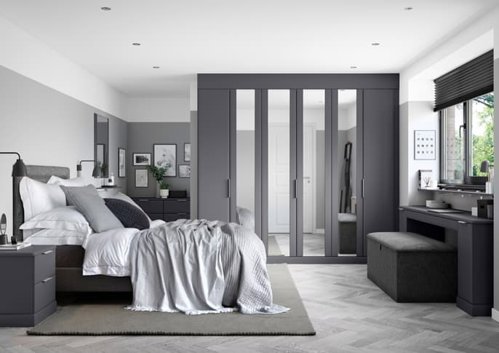 Book your design visit with Hammonds
Follow our simple tips to create the perfect bedroom reading corner in your space. No matter if you have a few ideas of your own already or need help with the plan, get in touch with our expert team today to book a design visit. We'll talk you through the ranges we have available including colours, finishes and storage solutions – all perfect for complementing your new bedroom reading nook.
You bring the space, we bring the inspiration
Whether you have an exact vision in tow, or are just at the beginning stage of your home renovation, we have heaps of inspiration for you to get stuck into. 
Find a wealth of design tips, trends and inspiration in the pages of our brochure, magazine and on our blog. Our experts are always ready to help you create dream home, pop in store or book your free design visit for experts to help on bringing your vision to life.