How to Create a Bedroom That's Suitable for Couples
| Bedroom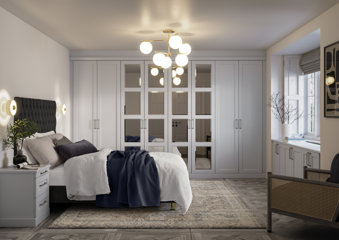 How to create a bedroom for couples
If you share a bedroom with your significant other, you may already have discussed how to decorate it in a way that suits both your tastes. It's important to create an inviting space where you can both feel comfortable.
So, let us walk you through the ways you can design a couple-friendly bedroom.
Choose a colour scheme you both love
Struggling to find a colour scheme on which you can mutually agree? Sit and look at an interior design magazine together so you can see which bedroom colour ideas look good in a couple's bedroom. This may be easier than simply trying to imagine how your room could look in various colours.
To make the process more fun, you could even think about which colours epitomise your two personalities. Then see if you can weave them into a colour scheme!
If your tastes are just too different, a neutral colour scheme might be something you can both agree on. Fresh whites and soft greys can look good in a bedroom. You could even think about having a bold chocolate brown feature wall with cream walls elsewhere.
You could also blend hints of an almost-neutral colour, like a dusky lavender, if you just want the vaguest hint of colour in your shared bedroom.
If you want to ensure the space is neutral but still cosy, soften the look with woollen throws and soft bedding that draws the eye inwards.
Add personal touches
Hopefully, you can both agree on adding a few personal touches to your bedroom. Photo frames holding your fondest memories could work, as could any items you've gifted each other.
If either of you is arty, you could even add a creation of your own to the walls!
Don't forget to minimise the presence of anything that makes your room feel impersonal as well. If you can keep your workspace separate from the bedroom, do so! And if you have trailing wires that don't exactly exude romance, see if you can hook them to the back of furniture so that they're tucked out of sight.
Ensure it's clutter-free
This one's sometimes a source of contention among couples, but make sure your space is clean and organised so you can both fully relax!
Over the years, various studies have linked living in a tidy home to better mental health. One such study at Princeton Neuroscience Institute found that having too many items in our field of vision distracts the brain's processing capacity, making it hard to focus on one thing at a time.
Getting a fitted wardrobe can give you more space to arrange your clothes and accessories, along with a better system of organisation. It's less intrusive, as you should still have ample floor space. At Hammonds, we specialise in creating and installing bespoke fitted wardrobes, so why not have a conversation with us about how we could make it work for you?
Add layers to your bedding
One of the quickest and most reliable ways to turn your bedroom into a space that looks more inviting is to add layers to your bedding.
Investing in a super-soft bedding set is a great place to start. A soft throw to drape over the bed's end and middle sections can then be used to cosy things up. Choose a classic faux fur, cashmere, or wool throw for the best results.
Don't be afraid to get a quilted headboard for your bed if you feel like there's still something lacking!
Be canny with lighting
When thinking about the ideal bedroom design for a couple, lighting is another important consideration. One of you may sometimes like to stay awake longer reading a good book, while the other prefers to go to sleep earlier.
To account for different night-time habits, look for lamps with dimmable switches to position at each side of your bed. This means you both have easy control over the lighting and if one of you wants to stay up a bit longer, you can just put your lamp down to a low setting.
There's another lighting solution that could solve this dilemma. Just get two pendant lights above each side of the bed and position them so that the one who wants to sit up late can get a direct, non-disruptive beam of light.
And look for lighting that emits a warm glow. This will give your room a romantic feel at night and it's less likely to interfere with your sleep than stark blue or white lighting.
Design your ideal couples' bedroom with Hammonds
If you need a helping hand with making your cosy bedroom ideas materialise into a couples' bedroom that you'll both love, we can help. Book a free design visit with our team of experts today to find out how we can help make your dream bedroom come to life.
You bring the space, we bring the inspiration
Whether you have an exact vision in tow, or are just at the beginning stage of your home renovation, we have heaps of inspiration for you to get stuck into. 
Find a wealth of design tips, trends and inspiration in the pages of our brochure, magazine and on our blog. Our experts are always ready to help you create dream home, pop in store or book your free design visit for experts to help on bringing your vision to life.