How to create a chic spare bedroom for Christmas
| Bedroom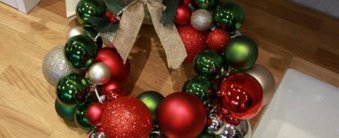 How to create a chic spare bedroom for Christmas
With Christmas just around the corner, many of us are sprucing up our homes ready for guests. One of the biggest jobs often involves the spare room. Bringing it back from the laundry/storage/playroom to a chic spare bedroom where guests will feel at home is no small task. But with our clever bedroom storage ideas and styling tips, it'll be well worth your effort.
Work with what you've got
There's often a reason why the spare bedroom is spare – maybe it's the smallest room in the house, on a different floor, or a bit of a funny shape. But that doesn't mean you should let it turn into a dumping ground.
Rather than giving in to the mess, use every inch of space to your advantage and create bedroom storage that will allow you to squirrel things away without your guests even noticing.
Often the best way to deal with awkward spaces like sloping ceilings or tiny alcoves is with built-in storage. Our bespoke wardrobes can be made to fit anywhere, offering you the hanging space or drawers to fit your needs.
Utilise under-bed storage
The most successful storage ideas for bedrooms involve maximising the unused spaces, like under the bed. Ottoman and divan beds with cavernous storage beneath the mattress can make a huge difference to the sense of space.
Hide bulky clothes, out-of-season things, and any of the clutter that you don't want on show. If you don't have integrated storage in your bed, roll-out boxes or baskets can also do the trick.
Don't forget the guests
Spare rooms are about more than just storage, though – there are the guests to think about. Creating a little sanctuary where your loved ones can settle in and feel at home can help keep festive visits calm and fun.
Wall hooks or folding clothes racks will give them a place to hang their things, while a vintage chest or a bench at the end of the bed offers the perfect place to put bags. It's the little touches that can often make the biggest difference.
Include a dressing table
Even if you're short on space, a dressing table is a lovely, welcoming touch in a guest room. It elevates it from being a tiny room that doesn't get used much to a full-on, hotel-style hideaway that is full of thought and care.
A simple table and chair with a mirror often does the trick. You could use a pretty tablecloth and some dried flowers to achieve a soft, boho-luxe look. Or keep the lines clean and sharp for more minimal or Scandi styling. Make sure you've got a bright desk lamp and some plug sockets nearby so your guests can see what they're doing.
Layer up neutrals
A neutral colour scheme works for most people and with every season, so it's a great choice for your guest bedroom décor.
Keep things looking interesting and luxurious by incorporating layers and textures. Sheepskin or Berber rugs are still on trend and add a gorgeous cosiness to a space. Similarly, chunky knitted or wool throws on the bed will help your guests to feel really cosy.
When you're using a neutral colour scheme, adding a surprising pop of colour somewhere in the room can help keep things fun and lively. Wall art is great for this, or you could opt for a couple of bright patterned cushions for the bed.
Provide a welcome pack
What a treat for your guests to have a few bottles of toiletries put out for them. It will show them just how much effort you have put into their stay. We're not suggesting you spend a fortune, but a bottle of shampoo and some soap adds a lovely touch.
Get help from Hammonds
For more help and advice on home styling and to talk through the fitted storage options for your home, book a free design visit with one of our experts.
You bring the space, we bring the inspiration
Whether you have an exact vision in tow, or are just at the beginning stage of your home renovation, we have heaps of inspiration for you to get stuck into. 
Find a wealth of design tips, trends and inspiration in the pages of our brochure, magazine and on our blog. Our experts are always ready to help you create dream home, pop in store or book your free design visit for experts to help on bringing your vision to life.