How to create a coastal children's bedroom
| Bedroom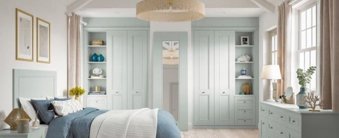 How to create a

coastal children's bedroom
As the sun shines, beach trips with the kids are imminent. If your child loves being by the sea (or has a fascination with pirates), why not create their very own coastal bedroom so they can feel like they're there all year round?
Let's dive into some tips about how you can turn your child's room into a seaside paradise.
Submerge in deep blue
Blue is the colour of choice for a coastal room, for obvious reasons! Let your child guide you as to the shade they prefer, as there are many variations of the colour that could create the effect you're going for.
One way you could nail this theme is by painting the walls in an airy shade of duck egg blue and then installing a cosy, sand-coloured carpet (or rug if you have laminate or wood flooring).
Blue is a universally well-loved colour, so there's a decent chance your child will continue to appreciate the decor for a while. It can also have a calming effect, making it the perfect choice for anyone's bedroom.
Hang some wall art
Bring the room to life by capturing the true spirit of the ocean with on-theme wall art. Try hanging up paintings of the beach, aquatic creatures, shells, and waves. Don't forget to search for wall decals and wall stickers that feature ships, anchors, and sailing boats. The main DIY shops often stock fun kids' products like this to liven up bedrooms.
If your child is keen to immerse themselves in the coastal bedroom project, why not fish out some ocean-themed crafts from the web and let them get to work? They could create some cute pom pom fish and cereal box aquariums to adorn their walls.
Decorate the bunk beds
There's something about bunk beds and cabin beds that make sleepovers even more exciting for kids. Thankfully, they also provide a great canvas for your coastal bedroom. You can dress up beds and other bedroom furniture with decorations that embrace the coastal style. Hanging shell and seaweed decorations will look amazing here.
If you feel your child is old enough for this to be safe, you could even have some seashell-themed fairy lights running along the upper bed frame.
Use wooden finishes
Wooden furniture will work effortlessly in your coastal-style bedroom. Use the shabby chic interior design style to add rustic character to your child's room. Shipwrecks, driftwood, and old beach huts from another time will never be far from their minds.
Here at Hammonds, we specialise in creating bespoke wooden-effect fitted wardrobes for any age group and style preference. Installing one of these could be the perfect way to achieve that rustic look in your child's bedroom. What's more, it's a practical storage solution that is safely attached to the wall, where small hands can't interfere with it.
Add some more nautical accessories
There's no limit to the coastal bedroom decor you can find to deck out your child's room. You could use lamps and light fixtures like ones that would have adorned a ship from bygone days. These are usually quite easy to find in shops, both online and in-person.
Getting a framed print of an old nautical map could be another seafaring touch, as could a similar print of the star constellations that were once used for ocean navigation.
You could also get a few sea-themed cushions to sit on top of the bed, and a rug embellished with nautical patterns or sea life prints.
Get a hanging chair
There's something undeniably fun about a hanging chair (for adults and kids alike). Free them from the burden of gravity and find a hanging rattan or hammock chair where they can read or colour in to their heart's content.
It will really complete that coastal style you're looking for!
Help your kids sail away to the seaside every day in their ideal coastal bedroom
At Hammonds, we know how to take an old room and overhaul it with a beautiful new look, starting with clever fitted storage solutions that complement your theme. Book a free design visit to discuss your ideas with our experts, who can help you create a coastal bedroom that will inspire your child's imagination.
You bring the space, we bring the inspiration
Whether you have an exact vision in tow, or are just at the beginning stage of your home renovation, we have heaps of inspiration for you to get stuck into. 
Find a wealth of design tips, trends and inspiration in the pages of our brochure, magazine and on our blog. Our experts are always ready to help you create dream home, pop in store or book your free design visit for experts to help on bringing your vision to life.