How to create a contemporary rustic-style dining room
| Inspiration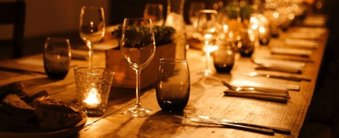 How to create a contemporary rustic-style dining room
The country-living interior aesthetic can be as impressive as it is welcoming, and lately the new rustic trend has been adopted by many UK homes. The idea of airy, welcoming spaces with open hearths, rustic wood-burning stoves and sociable dining rooms is charming in theory – but where do you get started? In this article, we'll explore the steps toward creating your dream dining area in a contemporary rustic style.
What is the new rustic style?
The new rustic style is an extension of the traditional farmhouse and country styles that combine classic aesthetics with Nordic designs. With a focus on neutral colour schemes and minimalist furniture, this style often incorporates natural materials, rugged textures and exposed brickwork. There is also a focus on maximising natural light and open-plan arrangements.
How to design a rustic style
Focus on natural materials
The new rustic style is heavily influenced by the need for a connection with nature. Any of your new rustic dining room ideas should incorporate natural materials like terracotta, wood, wicker and stone. There are many benefits to using natural materials, including investing in sustainable and responsible décor and fostering a calming ambiance.
You might want to extend the new rustic theme throughout the rest of your home but your dining room is one of the most sociable parts of the house, so it's one of the best places to experiment with it at first.
Use wooden floors
Traditional farmhouses typically use tiled flooring but the more contemporary approach leans towards beautiful hardwood floors. Wooden floors are highly durable and can tolerate a lot of wear when given the proper hardwood maintenance.
Whether you opt for the wood-on-wood look or a combination of sleek oak boards with contrasting white cabinets, wood provides an effortless aura for any rustic dining room. Depending on the type of wood, you could also match the colour with exposed beams or with matching furniture.
Add a bay window seat
As a separate space away from food preparation areas, it's essential that your rustic dining room offers peace and calm. Your seating area should be comfortable and inviting so you and any visiting guests can socialise and feel like your home is their own.
If your dining area already has a bay window and you're looking for some ideas, installing a window seat into the alcove could add a cosy element and complete the rustic effect. At Hammonds, we offer a wide range of fitted furniture for bay windows with bespoke storage underneath, making such features not just stylish but practical as well.
Include textiles
Weathered and unconventional surfaces add to the rustic charm, delivering an aesthetic that can be tricky to achieve in contemporary designs. To combine traditional and newer features effectively in your rustic dining room, you could introduce textiles and different textures to fill the gaps.
A room without texture can seem flat and uninviting so experimenting by adding throws, pillows, rugs and furniture upholstery can move you towards a polished, finished look.
Add a dash of blue
The right colour scheme can really bring together your dining area – and mid-blue tones make a warm and welcoming addition to rustic-style rooms. Whether you incorporate a navy-blue feature wall or duck-egg upholstery, this colour brightens up the space and prevents it from looking too dark or monotonous.
Blue also complements natural wooden tones wonderfully and goes a long way to creating a calming and relaxing atmosphere.
Create your

rustic dining room

with Hammonds
At Hammonds, we have fitted storage solutions for every kind of interior that can give your space the level-up that it needs. If you're struggling for inspiration, book a free design visit to discuss your rustic dining room ideas with our friendly experts. We'll help you turn your vision into a reality in no time by taking a closer look at the space with which you have to work and suggesting ways to take best advantage of it.
You bring the space, we bring the inspiration
Whether you have an exact vision in tow, or are just at the beginning stage of your home renovation, we have heaps of inspiration for you to get stuck into. 
Find a wealth of design tips, trends and inspiration in the pages of our brochure, magazine and on our blog. Our experts are always ready to help you create dream home, pop in store or book your free design visit for experts to help on bringing your vision to life.