How to create a DIY craft room
| Office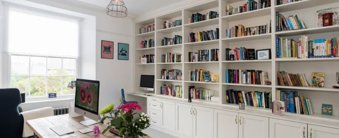 How to create a DIY craft room
Crafting is a huge trend, with more of us embracing our creative side than ever before! And whether you are crafting to make money as a side hustle or just doing it for therapeutic reasons, it's likely you will need a dedicated space to work, as well as somewhere to store all your equipment and resources. 
It may seem like a daunting task to set up a DIY craft room at home from scratch, but it doesn't have to be overwhelming. Here we offer helpful insights to assist you in making your crafting experience as seamless and relaxing as can be.
Select the right workstation
Your crafting work surface is likely to be the most important aspect of your home craft room. The amount of space you need will depend on what type of crafting you are doing and how much room you have available in your home. For example, if you are creating large canvases, you will need a lot more space than if you were making jewellery or greetings cards.
Regardless of how much space you need/have, it will be important to choose a table or worktop that's sturdy and stable. Pretty antique tables may look lovely, but the last thing you need is something too delicate and frail to hold all your equipment and materials. If you're limited for space, you might want to consider a fold-up table that can be cleared away when you've finished your crafting session.
Take advantage of natural light
Natural light will help brighten your DIY craft room and make it easier to see all the colours, beads, threads, and patterns that you might be working with. Be sure to position your workstation so that you receive ample light into your working area via a window or skylight. However, avoid letting the sun's rays shine directly onto your work as this might cause colours or materials to fade over time.
Good lighting will be especially helpful if the room is being used for painting or photography – a loft space or garden room might work especially well for these activities.
Add a pop of colour
A craft room should look and feel like a creative space, to increase your creativity levels and motivation. It's important you mould it into a place where you feel both stimulated and content. 
When you're deciding how to create your craft room, pick a colour theme that you love and that makes you feel happy. Yellows and oranges are thought to be linked to creativity, imagination, inspiration, and triggering positive emotional responses. And, although you might not want the whole space decorating in these colours, you might like to choose them for the upholstery, accent furniture, flooring, or accessories.
Splurge on shelving
Crafting often involves the use of many different types of materials and products, which you will need close to hand as you work. To avoid losing items, or things getting in a mess, you need to consider how best to store everything to keep it neat and safe. 
If you haven't already considered fitted storage space, then now might be a good time. Getting bespoke storage built in to your DIY craft room will mean that you can tailor things to meet your needs. You can choose how many shelves, drawers, and cupboards will work best.
Once you have the storage basics sorted, you might then want to consider smaller storage containers within your units or cupboards to house tiny objects, beads, and hooks that could easily be dropped on the floor or misplaced. Labelling your storage containers will also help to save time and ensure you always reach for the right items when you need them.
We can help create the perfect craft room
Here at Hammonds, we know how important it is for you to able to work creatively and effectively. Why not book in a free design visit with our experts to create the perfect craft room that works for you
You bring the space, we bring the inspiration
Whether you have an exact vision in tow, or are just at the beginning stage of your home renovation, we have heaps of inspiration for you to get stuck into. 
Find a wealth of design tips, trends and inspiration in the pages of our brochure, magazine and on our blog. Our experts are always ready to help you create dream home, pop in store or book your free design visit for experts to help on bringing your vision to life.