How to create a home cocktail bar
|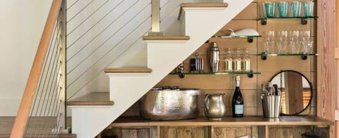 Create a home cocktail bar and entertain in style
This summer it's time to up your dinner party game! From impromptu BBQs to formal feasts, one thing's for sure: a home cocktail bar will make everything much more fun! 
There are many ways to set up a bar at home. Here, we bring you all the inspiration you need to make it happen.
Set up a home bar
It's important to find the right place in your house for your home cocktail bar. The space you choose should have enough room to fit a serving-top of some sort, as well as storage for all your drink essentials.     
Of course, the amount of space available will determine what kind of bar you choose, but luckily there are several options available:  
This is a standalone unit that's multifunctional in use. There are many options of console table available – whether you fancy something traditional and antique, or something sleek and modern. The beauty of this type of home bar is that it's flexible and can be moved around to wherever you need it in your home at any time. Also, if you choose a console table with cabinet drawers, then this will offer great storage for your drinks and glasses.
For something sturdier and more permanent, this is a great choice. Again, you can choose the design and style of your wet bar, including the colour, finish, and accessories. Built-in bars may be a slightly bigger investment, but they offer much more storage capacity and a slick, professional look.
Another flexible option, the bookshelf bar can be installed into almost any home, regardless of size. If you already have a built-in bookcase, then clear a few shelves of books to make space for your glasses, spirits, and mixers. You may need to opt for the taller shelves to ensure the bottles will fit, otherwise you may have to be selective when it comes to buying drinks with shorter bottles!
If you don't currently have a bookshelf to use, then you could mount a cabinet shelf onto the wall. This will hold glasses and drinks equally as well.
Ensure you have plenty of storage
Your home bar should include plenty of storage, so consider where you can safely stash alcohol, cocktail ingredients, and glassware together in the same area. If you opt for the standalone console or bookcase option then you might be more limited on storage, so you might only be able to allocate space for a certain number of glasses, for example.
If you go for a built-in option, you are likely to gain much more space for more drinks and bar equipment. Fitted dining room furniture offers endless potential, and you will have the option to customise your home bar area to suit your exact tastes and preferences. Not only that, but you are sure to wow your guests with your impressive cocktail bar next time they come over.
Upgrade your glassware and equipment
Different drinks require different styles of glasses, so if you really want to complete the home cocktail bar atmosphere, it would be worth buying a variety of glassware. For example, you might want to invest in a set of cocktail tumblers, wine glasses, champagne flutes, and a set of pint glasses. This way you will be ready, no matter what order your guests put in! You bar will also need a cocktail making set and measuring tools to ensure you pour the perfect tipple.
Stock your bar
Now to the really fun part – stocking your bar! Every person's bar is sure to be filled differently and to their own taste, but it's handy to always have the classics – gin, vodka, and whisky – in stock. If you like something a little more exotic you could include tequila, rum or sambuca.
The mixers are equally as important, so be sure to find space for some tonic, soda water, ginger ale, and a range of fruit juices. This always ensures you have non-alcoholic options available too.
If it's cocktails you like, then pick up a recipe book in your local book store, or print out your favourite cocktail recipes from the internet and file them neatly in a bar folder to keep in one of your drawers. You might also want to stock some flavoured syrups to use in the cocktails and fresh fruit to garnish.
If you have a fridge built into your home bar, then all the better, but if not, you can fill an ice tub with fresh ice from the freezer to keep your mixers chilled until they are served.
We can help you create your home bar storage
Now you are ready to set up a bar at home, we would love to hear from you to discuss your storage needs. We offer a free design visit to your home so that our experts can advise the best ways to use your space with ample storage space for all the necessary supplies.
You bring the space, we bring the inspiration
Whether you have an exact vision in tow, or are just at the beginning stage of your home renovation, we have heaps of inspiration for you to get stuck into. 
Find a wealth of design tips, trends and inspiration in the pages of our brochure, magazine and on our blog. Our experts are always ready to help you create dream home, pop in store or book your free design visit for experts to help on bringing your vision to life.