How to create a maximalist bedroom
| Bedroom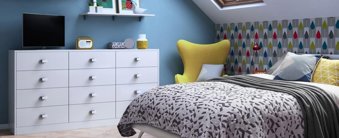 More is more: how to create a maximalist bedroom
Minimalistic style is giving way to maximalist design, a look that embraces excess and all that is fabulous. Bold colours, lush textures, and patterns that clash in the very best of ways, maximalism is about confidence and not taking "design" too seriously.
So how can you create your own maximalist bedroom? Here are our tips to get you started…
What is maximalist décor?
Maximalist décor is about having more – not more stuff exactly, just asking for more from each aspect of your room, whether it's the wallpaper, the rug, or the bedside lamp. Each piece needs to be exuberant (why have a simple lamp when you could have one shaped like a pineapple?).
It does require some thought, though. While maximalism looks carefree, there must be a bit of careful balance to make it work. It's not so much about rules, more about trusting your own aesthetic instincts and working out what you can live with in terms of pattern and colour. Bear that in mind and somehow, when the stripes, and the florals, and the velvety cushions are all put together they will blend and work cohesively.
A word of warning, however: there is no room for beige in a maximalist bedroom. Those Scandi style neutrals will need to find another home.
Throw out the colour rulebook
Bright, clashing colours are ideal for embracing maximalism. You thought red and pink don't go together? Wrong! They are brilliant, best friends. Add a bit of turquoise and some flashes of yellow and you are almost there. True maximalist design often relies on those rich jewel colours, as well as some of the brightest and most exotic shades found in nature.
This is your bedroom though, so before you open all the pots of paint, think about how you want your room to make you feel. Orange is a warm colour that conjures the feeling of hot Mediterranean nights, so it often looks great in a bedroom. Greens can bring balance and feel quite calming.
Play around with patterns
Floral curtains with a paisley rug and a duvet with a geometric design? Sounds like it might give you a headache, but, when it's all together, maximalist décor somehow works.
A lot of it is about attitude and your ability to feel and embrace the fabulousness of it all. Choose pieces that you find beautiful and it's likely that your natural instincts for design will lead you to a place that is totally 'you'.
Choose contrasting artwork
Clashing is encouraged with maximalism and that goes for artwork too. Hang pieces of varying sizes and styles alongside each other or create a gallery wall. Chose frames that are mismatched and patterned.
Flea markets often have piles of artwork to buy, and instead of looking at the image, try looking at the frame instead – you can always swap out the picture inside. You could get the paintbrushes out too, and revamp some of your existing frames with bold colours.
Opt for eye-catching accessories
Ornate mirrors and geometric sculptures will add to the maximalist feel of your space, while incorporating a modern touch. Lampshades are another great way to add some opulence. You could go for a statement size, or a chandelier-style with moving pieces that bounce the light around.
Neon is another fun addition. Whether it's a palm tree, a lightning bolt, or an inspirational phrase, there are lots of fluorescent accessories available on the high street right now. And to finish it all off, go for a group of disco balls artfully displayed in a corner. These will leave people in no doubt as to your design tastes.
Add open shelving
Want to enhance the maximalist style you've created? Open shelving and fitted wardrobes in dark colours can help the brightness of your accessories to really pop. Plus, they add valuable storage space and provide plenty of room to display ornaments or stacks of books.
Tying in your open shelves to fit, using the same materials and finishes, can add a level of coherence that will bring the whole design together. Think carefully about what you want to display on your shelves. You could put your favourite pair of shoes up there (the ones that remind you of dancing all night), or go for some plants, with foliage that tumbles over the side.
Get in touch for help designing your maximalist bedroom
For help honing your maximalist design skills and to talk through your ideas with one of our experts, browse our website and book your free design visit.
You bring the space, we bring the inspiration
Whether you have an exact vision in tow, or are just at the beginning stage of your home renovation, we have heaps of inspiration for you to get stuck into. 
Find a wealth of design tips, trends and inspiration in the pages of our brochure, magazine and on our blog. Our experts are always ready to help you create dream home, pop in store or book your free design visit for experts to help on bringing your vision to life.