How to create a nature-inspired children's room
| Bedroom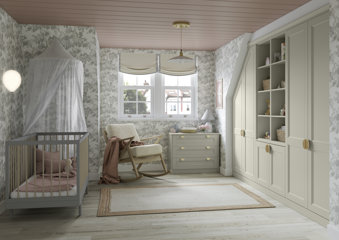 How to create a nature-inspired children's room
Many children love nothing more than venturing out into the great outdoors and experiencing nature. Whether that's exploring forests and woodlands or just wandering around in the garden, being among natural environments is certainly good for the soul.
So, perhaps it's time to use the outside as inspiration for your kids' bedrooms. In this article, we'll detail how readers can utilise nature-inspired interior design ideas for children's bedrooms.
Use wallpaper
Covering walls – and occasionally ceilings – in patterned wallpaper can help bring the outside in. Scenes and views of nature can create a sense of calm in our minds and bodies, so why not incorporate this into your child's bedroom?
By choosing green floral patterns, tropical scenes and jungle designs, you can create a cosy bedroom that gives a subtle nod to the outdoors while creating a beautiful bedroom aesthetic.
Use a muted colour palette
Although children's bedrooms can often be awash with bright and bold tones, you might want to use a more muted colour scheme to create a nature-inspired bedroom.
It's best to opt for greens, creams, browns and beiges to keep things coherent. Focus on a specific natural environment that you want to implement into the bedroom design, such as hills and mountains with various shades of green, or a sandy beach with gold and beige tones.
Colours can certainly have an impact on our mood. Try to pick a colour palette that your child will love. Perhaps you could opt for cream and beige tones which are both warm and welcoming. Or choose white for a clean and simple look, evoking purity and a breath of fresh air in the space.
Use wooden finishes
To bring a sense of much-needed calm into your child's bedroom, while sticking to the natural theme, use wooden furniture.
Natural wooden finishes help provide a rustic and minimal atmosphere in any room. Wood is incredibly versatile and is ideal for decorating, offering a great starting point for any bespoke tweaks.
Our wooden-effect fitted wardrobes are suitable for modern or traditional home interiors. Each of our storage solutions are designed to fit effortlessly into your space, no matter the size of the room.
Add some rattan accessories
To stick with the natural theme, add some interest with rattan accessories. Whether you choose a pendant lampshade or a toy basket, adding rattan to your design will give it the oh-so-natural feel.
Rattan bedroom accessories can also help provide a cosy and warm feel to any space. The charms and quirks of the rustic designs will add character to the room while making it feel relaxing and personal.
Invest in some botanical prints
Plants and flowers will naturally help to refresh your home, so why not consider botanical prints as one of the interior design ideas for your children's bedroom? Have one or two well-chosen prints hanging up or – if you're feeling brave – create a feature wall mixing different botanical and animal prints.
Botanical prints will add a splash of colour and fun to your space. They'll also evoke a sense of calmness and can help connect your child with nature. Create a stunning focal point and make a statement by choosing to hang botanical artwork in natural wooden frames.
Add a well-chosen rug
Children like to spend a lot of time playing on the floor. So, it's a clever idea to make the space cosy and comfortable with a rug.
Rugs can add depth to the bedroom and fill up the space. Plus, they help protect your floor in the event of any accidents.
Jute rugs work well in nature-inspired bedrooms as they're both practical and stylish. They're also durable, sustainable and easy to maintain.
Create a natural space with Hammonds
At Hammonds, we have fitted storage solutions to suit a range of interiors. Book a free design visit to discuss your ideas with our experts, who can help you design the nature-inspired children's room that your kids will love.
You bring the space, we bring the inspiration
Whether you have an exact vision in tow, or are just at the beginning stage of your home renovation, we have heaps of inspiration for you to get stuck into. 
Find a wealth of design tips, trends and inspiration in the pages of our brochure, magazine and on our blog. Our experts are always ready to help you create dream home, pop in store or book your free design visit for experts to help on bringing your vision to life.