How to create a romantic bedroom
| Bedroom, Inspiration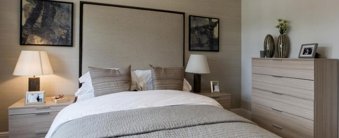 Are you looking to add a romantic flair to your master bedroom? Our latest blog offers tips on how to achieve an overall luxurious vibe.
7 ways to create a romantic bedroom
A master bedroom should exude romantic vibes. Having a tranquil, comfortable space that both you and your partner feel relaxed in is very important, as this room should be your getaway from the worries of the world.
The two of you need a place to reconnect, a place to talk about all the important issues, and a place to escape to after a hectic day. If your bedroom currently isn't your sanctuary, there are things you can do to help to change this, such as adding soft textures and opulent touches here and there. In order to create an overall luxurious vibe, here are seven tips on how to create a romantic bedroom.
Create moody vibes
What colour is the paint in your bedroom at the moment? If it's not a sleek and sexy shade, it could be time to redecorate. Dark colours such as red, navy or an earthy brown will not only help to make your bedroom feel a lot more intimate, but they will also help to create a more soothing tone.
Clear away any clutter
In this room, your bed should be the main feature. If you have lots of clutter scattered about, it'll simply distract you. If you're guilty of having a 'floordrobe', leaving items on bedside tables, or forgetting to file away important paperwork, now is the time to put everything in its place. If you're lacking storage space in your bedroom, it could be worth your while to invest in smart storage solutions. Fitted wardrobes, pull-out shoe racks, cosmetic units, hanging rails and over-bed storage will all help to create a sense of calm.
Incorporate romantic lighting
Overhead lights, bright colours and blinking bulbs should always be avoided in the master bedroom. Instead, opt for soft glow lamps on bedside tables, or a pretty string of white lights against the back wall. For something a little bit different, you could even weave fairy lights over the curtain rod, around the headboard or across the door frame.
Find your favourite relaxing scent
Romance is linked to your sense of smell, so consider lighting scented tealights, popping in a fragrance plug-in or spraying a pillow mist before getting into bed. Lavender, vanilla, sandalwood, juniper and camomile are all scents that can help you to relax, which is ideal for this setting.
Personalise your space
Your master bedroom is all about you and your other half, so make that obvious. Hang beautiful, happy photos of the two of you on the wall, and place sentimental gifts on display to remind you of the special times that you have shared over the years.
Treat yourself to soft bedding
A thick duvet, soft sheets and plush pillows will not only help to make your bed look inviting but will help to make it feel amazing too. Create a romantic paradise for two with luxurious accessories and snuggle up together at nighttime.
Add a fireplace
For the ultimate romantic bedroom setting, why not add a fireplace? This new focal point will ignite a passion like no other and will bring warmth and cosiness to this space.
If you're rethinking the setup of your bedroom, allow us to help. We'll assist you with some romantic bedroom ideas for couples, and neatly fit your new smart storage solutions. Book a free design visit to see how your dream bedroom can become a reality.
For more romantic bedroom inspiration, as well as other handy home tips, you can also find further guides on the Hammonds blog.   
You bring the space, we bring the inspiration
Whether you have an exact vision in tow, or are just at the beginning stage of your home renovation, we have heaps of inspiration for you to get stuck into. 
Find a wealth of design tips, trends and inspiration in the pages of our brochure, magazine and on our blog. Our experts are always ready to help you create dream home, pop in store or book your free design visit for experts to help on bringing your vision to life.