How to create a Scandinavian-style home office
| Office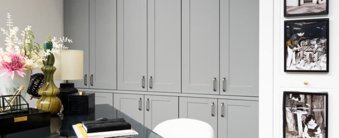 How to create a Scandinavian-style home office
As style trends go, Scandi chic has had real staying power. It's hard to go wrong if you stick to the core Scandinavian staples of clean lines, natural materials and light-filled rooms, and we have all come to embrace the cosy ethos of Hygge after a series of winter lockdowns.
As home working remains part of everyday life, we are taking a look at Scandinavian home office design and exploring some of the ways in which you can harness the laid-back Nordic living principles to create an office that oozes productivity and calm.
Choose your colour scheme
Scandinavian countries get some of the least sunlight of anywhere in the world. This means that colour schemes are often based around neutrals or whites, to maximise the light that they do get. You could get lost in the world of white paint tones – choosing whether you want a warm white or a cool one, a white with grey notes or one with pink undertones.
In truth, it's best not to worry too much and just go with the paint that most appeals to you, whether that's down to budget, availability or taste. What is good about a white base colour is that you can go for bright or statement accessories and know that they will stand out. A colourful desk chair or a few bright pictures are useful ways to inject your personality into the room.
Add house plants
There are so many reasons why house plants are brilliant. Firstly, they look good. The delicate fronds of a fern or the architectural leaves of a Monstera can add shape and movement to a room, and they cast lovely shadows when the sun is out (making the most of that light again). A few choice plants will also ensure that your home office doesn't feel too cold or clinical.
Scandi-style décor also focuses on plants and greenery as a way to keep us mindful of nature and growth. Plants have been shown to have a positive impact on wellbeing, creativity and physical health, as well as having air-purifying qualities, so you could argue that they are an essential component of any home office.
Introduce some texture
When your colour scheme is kept simple, it's important to add interest in other ways. Incorporating different textures is an easy way to do this and, by choosing natural finishes such as wood or wool, you can nail the Scandinavian office look.
Our home-office solutions come in a range of styles and finishes but we think that our Linje range might be the perfect option for a Scandi-style office. Clean, modern lines, wood textures and a choice of soft, warm hues make achieving this look easy. You could opt for a natural wood finish like Driftwood or Tuscan Oak, or a painted finish, like the aptly named Fjord.
Our Marden office is another great option. Marden has a smooth painted finish, with elegant contemporary shapes and some classic panelling. We like it best with some contrastingly coloured handles.
Once the core furniture is decided, you can create even more texture by adding a cosy rug beneath your feet – sheepskin or a deep wool pile would work well – and a chunky blanket to drape over your shoulders when it gets cold (or if you feel like you need a hug).
Add some clever storage
Scandinavian design is minimal by nature – so, to truly achieve this trend, you'll need to ensure that your clutter is packed neatly away. Nothing ruins the Scandi aesthetic more than some unruly papers and files. Hammonds' office furniture is designed to keep you feeling and looking tidy and organised. Our wall shelves can stretch the length of your room and can be open (for those with nice-looking work paraphernalia) or come with doors and separate units, for people who want to hide some things away.
We can also build shelving into any awkward places, like under the stairs or in shallow alcoves. If you don't have a lot of clutter then the classic desk with deep drawers might be all that you need. We can tailor-make your office storage so that it is exactly the right size to fit your work files and ensure that you have enough space.
Invest in some artwork
Wall art in a home office needs to feel energising and, if possible, inspirational. The most successful Scandi style schemes feel relaxed and personal so, whether you want family photographs, bright abstract paintings or on-trend posters, it's completely your call. But while the subject matter is flexible, the simple aesthetic is still key so, whatever you choose, go sparingly. Fewer but larger pieces should be your mantra.
For help planning a Scandinavian-style built-in home office, browse our website or order a brochure. You can also arrange a free design visit, where one of our experts will visit your home and create a bespoke plan to suit your space and lifestyle.
You bring the space, we bring the inspiration
Whether you have an exact vision in tow, or are just at the beginning stage of your home renovation, we have heaps of inspiration for you to get stuck into. 
Find a wealth of design tips, trends and inspiration in the pages of our brochure, magazine and on our blog. Our experts are always ready to help you create dream home, pop in store or book your free design visit for experts to help on bringing your vision to life.