How to create a Soho-loft-inspired bedroom
| Bedroom, Loft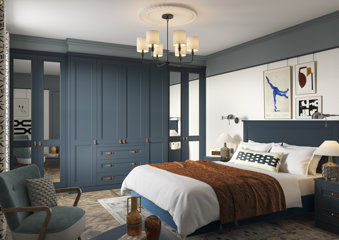 How to create a Soho-loft-inspired bedroom
One of the biggest trends of 2023 is Soho-inspired design. A desirable blend of minimalism and classic interior design can often be tricky to get right – but worry not, we're here to help!
In this article, we explore what exactly Soho style is and how you can incorporate it into your loft bedroom design.
What is Soho-style interior design?
The Soho style is an interior design style that blends minimalist, modern furniture with natural and industrial elements. It offers a unique look to your home, creating a warm and cosy aesthetic while still looking contemporary and chic.
Using deep, warm tones and bright accent colours, the Soho style is an elegant scheme with a rustic edge. Often implementing layers, patterns and textures, the combination allows for freedom of expression. This interior design style is known for using a bold approach to create an element of comfort in the home.
How to get the look
Carefully select your textiles
If you're intrigued by Soho-inspired loft bedroom design ideas, our tips can help you achieve just that. Soho styles are renowned for using sleek and durable fabrics such as velvet, cotton, silk and leather against daring wooden backgrounds.
When designing your bedroom, think about pairing a rustic, wooden headboard with rich velvet cushions to provide drama and juxtaposition. It's all about finding the balance between luxury and comfort. Mix up those textures and make a statement!
Add a pop of colour
The base of any Soho-inspired bedroom is neutral. But that doesn't mean they're devoid of colour. Although your scheme should be made up of black, white and grey tones, adding accent colours (such as reds, blues and yellows) will bring it to life.
Capture the mood of your bedroom and choose a colour palette to reflect it. Adding a pop of colour can help enhance the natural light of your room, completely bringing your space to life.
Add in some industrial touches
It's common to find industrialism in Soho-inspired design as this nods to the city's edginess.
Industrial interiors are commonly known for their wooden beams, revealed pipes and concrete floors. Try incorporating some exposed brick walls and vintage light fixtures into your bedroom loft design too.
As loft bedrooms tend to follow an open floor plan, it's worth adding large-scale furnishings to fill the room, ensuring it doesn't feel cold or sparse. Whether that be a super-king bed, freestanding shelving units or oversized consoles, carefully position these to make your room look stylish and on-trend.
Keep clutter at bay
Although Soho design uses colour clashing and textures aplenty, let's not forget its minimalist roots. To keep your scheme from looking chaotic, make sure to keep the space free of unnecessary clutter.
There are also several benefits to keeping clutter at a minimum in your bedroom. They say a tidy space means a tidy mind – and we couldn't agree more. Having a room that is overflowing and disorganised can harm your mood and could cause restless sleep. A clean, clutter-free room immediately exudes tranquillity and can make you feel more relaxed.
Our fitted storage solutions ensure all your belongings have a place to call home. No matter the size of your room – whether it's a loft space or a small box room – our wardrobes for awkward spaces will certainly come in handy. We embrace all tight spaces and alcoves alike to bring cleverly fitted furniture to your home.
Don't forget the floor
Statement rugs can elevate a room by adding different patterns and textures. To create a cosy boudoir, add a vibrant rug to support your design scheme.
Rugs are designed to add character and create a sense of warmth. Whether they're laid in an entrance hall, lounge area or your new loft bedroom, they can truly transform the desired area. Ensure your rug sits under your furniture so it doesn't look lost. Larger rugs work well under double, queen or king-sized beds.
When choosing the colour and pattern of your rug, try to contrast it with the colour of your walls so it adds personality. Traditional artisan-style rugs can create an eye-catching focal point and are a great place to start when it comes to decorating.
Stay on-trend with Hammonds
Our list of bedroom loft design ideas wouldn't be complete without our innovative fitted furniture solutions. Book a free design visit with our team of experts today to learn more about how to design your dream Soho-inspired loft bedroom.
You bring the space, we bring the inspiration
Whether you have an exact vision in tow, or are just at the beginning stage of your home renovation, we have heaps of inspiration for you to get stuck into. 
Find a wealth of design tips, trends and inspiration in the pages of our brochure, magazine and on our blog. Our experts are always ready to help you create dream home, pop in store or book your free design visit for experts to help on bringing your vision to life.