How to create a tablescape
| Inspiration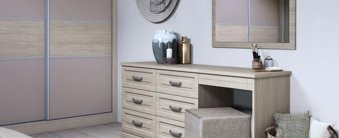 Ever wondered how to create a tablescape at home? Decorate in style with these top tips from Hammonds.
Whether you're hosting your nearest and dearest or are indulging as a household, decorating your table is a trend that's set to stay with us for a very long time. Tablescaping offers a creative way to make mealtimes feel incredibly special. If sitting down together has become a little monotonous, spice things up with a dreamy tablescape to set the scene!
What is a tablescape?
Simply put, tablescaping is the trendy name for dressing a table, but there's really nothing simple about it. Inspired by social media, fashion and interior design, it's an innovative way of elevating any dining experience and showing your creativity.
In the same way you might choose an outfit from head to toe, including accessories, handbag and shoes, tablescaping involves choosing everything (and we mean everything). From the tablecloths and napkins to candles and different coloured cutlery, there really are no limits when it comes to creating the table of your dreams.
Pick a theme
If you're looking for tablescape ideas, picking a theme is a good place to start. When devising your plan, take inspiration from an event, season or meal theme. It might be coming up to Easter or transitioning into autumn. Or, you might want to take inspiration from a recent colour trend or even make someone's birthday even more special.
Whatever your reasons for wanting to try your hand at tablescaping, picking a theme can help you to devise a plan and get all of the props and accessories you might want or need.
Set your backdrop
Don't worry, we don't mean a big fancy backdrop to drape around your dining room. A backdrop in tablescaping terms is your base materials, so your tablecloths, placemats and napkins. These are the things that will set the undertone for your table.
When devising your tablescape ideas, consider the theme and/or colour scheme for your linen and place settings. Are you going to opt for the same colour but in different shades, or are you going to go bold and offer up contrasting colours instead?
If you have an open plan kitchen and dining space, you could even add complementary touches of your linen in and around your kitchen area. The possibilities really are endless.
Choose your tableware
Once you've chosen and laid your linen, now is the time to plan your tableware. When thinking about your plates, serving dishes, glasses and cutlery, choose ones that will complement your overall design. For example, if you're going for an on-trend blush pink theme, why not opt for gold cutlery and gold rimmed glasses to really add a wow factor!
If you want to go one step further, you could even hire or buy charger plates. These sit under your regular plates for the whole dinner and add an additional decorative layer to your tablescape.
Style with decorations
If you love decorating and getting creative, this part is for you! Before you begin decorating, step back and take stock of what you've already created. If this is your first time learning how to create a tablescape, taking a moment to soak up your design so far can be very rewarding.
Common tablescaping decorations include candles and flowers – whether they're natural or dried – in vases at different heights. Use tall hurricane or stem vases to sit candles in to create height and decorate the table top with fresh greenery and even fairy lights if your design suits it. Of course, if your overall plan doesn't include these items then there are a variety of other options to consider.
Add finishing touches
When it comes to tablescape ideas, your finishing touches can make or break your design, so think about them carefully.
If you're having guests over, why not add name place cards so everyone knows where they're sitting. You could even add menus to let people know what's in store for the evening. These are just two simple ways to add that last touch of personality to your table and create a memorable experience for your guests.
Create your dream kitchen-diner with Hammonds
If you're looking to create the ultimate kitchen-diner space to host the best-dressed dinner parties, then come to the experts. We can help you develop your kitchen layout ideas, whether it's a galley, L-shape or U-shape, as well as inspire you with the overall design and finish of your space. Our team will take you through all of the luxury and bespoke options we have available, including everything from handles and worktops to innovative storage solutions.
Ready to start turning your kitchen-diner dreams into a reality? Get in touch with our expert team today to book a design visit.
You bring the space, we bring the inspiration
Whether you have an exact vision in tow, or are just at the beginning stage of your home renovation, we have heaps of inspiration for you to get stuck into. 
Find a wealth of design tips, trends and inspiration in the pages of our brochure, magazine and on our blog. Our experts are always ready to help you create dream home, pop in store or book your free design visit for experts to help on bringing your vision to life.