How to create a transitional wardrobe
| Inspiration, Wardrobes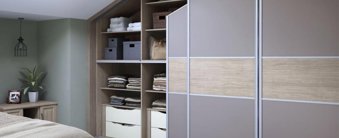 The key pieces you need to build a transitional wardrobe that will see you through those tricky midseason months.
As the nights begin to get lighter, and the birds begin to chirp in the morning, it's a sure sign that spring is on the way. And while this often means warmer weather, sadly it doesn't mean we can relinquish the winter essentials just yet. If you're unsure how to navigate the tricky transition between winter and summer, we've got the essential items you need to create the perfect transitional wardrobe.
Tailoring
Well-tailored pieces can see you through every season. And for a transitional wardrobe, where one day could see temperatures soar and the following arrive with a definite chill in the air, investing in outfits that are made from softer deconstructed pieces are key. Choosing lighter and more natural fabrics will help keep you cool, and the mixed nature will allow room for extra layers on colder days. Oversized blazers and tailored culottes are the ideal shape for a transitional wardrobe and will effortlessly see you through to balmier days.
Knitwear
Lightweight knitwear is king come transitional wardrobe time. And over the last few seasons we've seen lightweight, sports-influenced knits in simple monochrome or neutral shades leading the charge. Looking both effortless and chic, the quarter zip detailing on these sporty knits means they can be dressed up or down. If you're looking for something more classical, you can't go wrong with a round-neck cashmere jumper. Investing in premium fabrics will ensure maximum cost-per-wear.
Denim
Jeans are a year-round wardrobe classic that don't necessarily require seasonal upgrades, especially as the key is to find the fit that suits you best. However, there are subtle tweaks that can keep your look on-trend. For a transitional wardrobe, you want to invest in denim that will keep you warm on cooler days, but cool on warmer days – there's nothing worse than wearing black skinny jeans when the sun is blazing!
Instead, look for a more relaxed fit on a straighter leg and choose one that grazes the ankle. This is the perfect length for ankle boots, trainers, and sandals.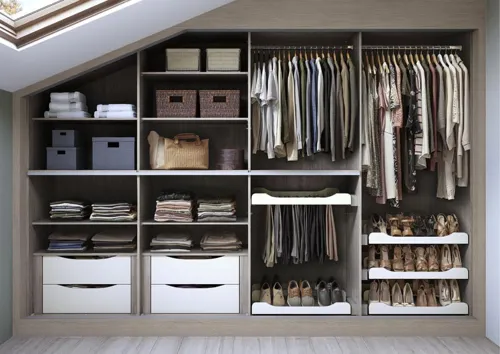 Breton top
Nothing says Riviera chic quite like a Breton stripe. Long-sleeve Breton shirts are the ultimate springtime piece – combining timeless nautical cool with a laid-back contemporary edge, the classic staple is simultaneously athletic and classic. While there are plenty of Breton styles available, you can't beat a navy and white round-neck relaxed fit. On cooler days, layer over a fine-knit rollneck, and on warmer days, roll the sleeves above the elbows.
Paired with relaxed denim jeans and crisp white espadrille trainers, you've got the perfect relaxed weekend look.
Bags
Your black bag might be your usual go to, but for a transitional wardrobe you should look for bags that are lighter and brighter. Tote bags are ideal for everyday wear as they're big enough to fit all the essentials – and then some – without adding weight or bulk. And to brighten up those days when April showers hit, opt for a pop of colour like a coral or yellow.
Footwear
The right footwear can be the difference between a good transitional wardrobe and a great one. Come spring, it's time to ditch the ankle boots and instead opt for loafers and crisp white trainers. Unpredictable weather can make choosing footwear more difficult, but it's wise to hold off on sandals until we're guaranteed no showers.
Single leather is the most natural and breathable, but a lightweight rubber or wedge sole is also good. If you're a vegan, there are plenty of fashion-forward leather-free trainers from both high-street brands like Marks and Spencer, as well as more high-end options such as Veja.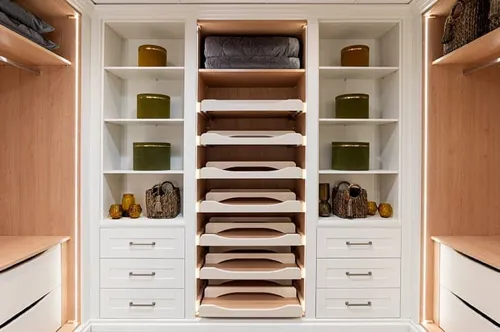 Jackets and outerwear
Ditching warm wool and padded Puffas can be painful, but there's a whole range of lighter cover-ups that will keep you warm this spring. The obvious choice is the trench coat. A classic style that makes an appearance every year – and for good reason. A stone colour, knee-skimming, belted, waterproof coat ticks all the boxes and is flattering on every figure.
And for dry spring days, a shacket or bomber jacket should be your choice. Shackets are like oversized shirts made from thicker materials and are a great thrown-on piece, while bombers can be made from a variety of materials, including cotton, wool, silk and satin. They're a great layering piece and look just as good thrown over t-shirts and jeans, as they do over tea dresses and midi-skirts.
Sunglasses
Even if it's still crisp outside, chances are the sun will be shining (we hope!), which makes sunglasses an essential transitional wardrobe accessory. Not only will you look fashionable, but they prevent premature ageing and wrinkles. Look for a pair that blocks 100 per cent of both UVA and UVB rays. You should look for a style that will work well with your clothes – sadly, you're not always going to be lounging by a pool!
Of course, once you've got your transitional wardrobe sorted, you'll need to ensure you can see all these key pieces – and see any gaps, which is why a tailored fitted wardrobe is perfect. Allowing you to display all your items, whilst providing you with plenty of storage to stowaway those winter pieces you no longer need.
If you want to see how Hammonds can help create your perfect transitional wardrobe, get in touch today to arrange a free design visit.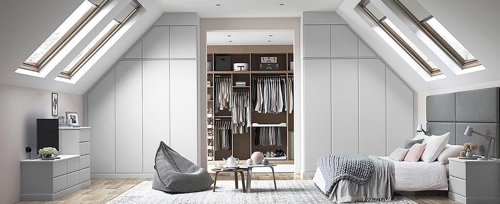 You bring the space, we bring the inspiration
Whether you have an exact vision in tow, or are just at the beginning stage of your home renovation, we have heaps of inspiration for you to get stuck into. 
Find a wealth of design tips, trends and inspiration in the pages of our brochure, magazine and on our blog. Our experts are always ready to help you create dream home, pop in store or book your free design visit for experts to help on bringing your vision to life.