How to create a vintage style bedroom
| Bedroom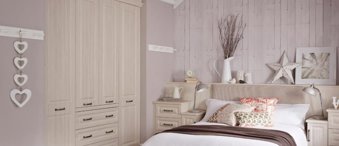 How to create a vintage style bedroom
A bedroom is the most important room in the house. It's the haven where you relax and unwind after the hustle and bustle of a busy day, so it needs to look and feel good. Whether it's shabby-chic or effortlessly antique, vintage decor does just that. 
It celebrates the best of eras gone by and gives pride of place to unique, quality pieces that are easy to achieve – and surprisingly cheap to create. We have outlined key elements to consider for anyone looking to harness vintage ideas in their bedroom.
Secure the style
When it comes to creating a bedroom space that is coordinated and cohesive, it's a good idea to have an overall theme to tie everything together. Depending on your tastes and preferences, you might like to consider one of these suggested themes:
French vintage: Soft and rustic with French-style furniture, including grand chandeliers and swag pelmet curtains, painted floorboards and soft pastel tones on the walls.
Country vintage: Think pastel blues and pinks, lots of florals, weathered floorboards and rustic accessories.
Scandinavian vintage: Stylised repeat floral wallpaper, white painted floorboards and a retro cane bed.
American farmhouse vintage: More florals, this time with folky artworks, patchwork textiles and classic checked quilts.
Mid-century vintage: Use teakwood furniture combined with bright vivid colours.
Find quality furniture
Second-hand shops are goldmines for quality, eye-catching vintage furniture that can totally change the feel of a room. Heavy wooden sideboards and wrought iron bed frames are two classic options if you're wondering how to start creating a vintage-style bedroom.
A vanity table will add some glamour to your daily routine (and could double up as a desk), and a fitted wardrobe or armoire won't just provide extra storage (which is always welcome) but will also help keep your boudoir looking elegant and stylish.
Fill with unique extras and accessories
In addition to your basic furniture, other ideas for vintage bedroom pieces include chaise lounges, chandeliers, grandfather clocks, and mannequins for jewellery and scarves.  
Ornate mirrors (the larger the better) and mix-matched china evoke that quintessential antique look that is perfect for any vintage-themed space, while a wooden stool is a simple addition that could also be used as a plant stand. A tea tray is another great vintage investment piece for those relaxing weekend mornings in bed.
Consider upcycling
Re-purpose your existing furniture or other items you own to give them a new lease of life. Whether it be new handles, a fresh lick of paint or decoupage with wallpaper, upcycling is super easy.
Even the simplest thing can work, like stacking packing crates to make a side table or fixing a wooden ladder to a wall to make a shelf.
Get arty
Scattering your art so it's not in a uniform row adds so much personality to a room. When it comes to selecting prints, landscape paintings and drawings are long-time classics, plus there are many digital downloads available online that are easy and cheap to access. Whether it's that, a map, a muted floral or some other art piece, pick a print that complements the furnishings and a frame that pops against the wallpaper.
You could also fill a wall with old-fashioned photographs, kitsch prints and ornate frames and mirrors for an alternative feel.
Pick pastel colours and loud patterns
Beiges, ice blues and dusty pinks are classic choices for creating a vintage-style bedroom. Patterns on floral cushions and crocheted blankets are a great way to add simple yet soft romantic touches too. Also, don't worry if patterns clash – this just adds to the eclectic vintage feel.
Dress up a table
Add a touch of vintage glamour with a dressing table, part of Hammonds' matching bedroom furniture range. Let it shine in your sleep space and neatly arrange jewellery, perfumes and other knick-knacks on it. 
Prep the bed
Thick throws and lace-trimmed pillowcases will help create a traditional aesthetic. Choose cushions, quilts and bed linen in soft pastel colours or with vintage-inspired prints. Opting for delicate florals and ditsy designs will help keep the theme relaxing.
Rock a rug
A patterned rug brings colourful and casual vibes to your aesthetic. There are lots of second-hand ones available on shopping sites like Etsy and eBay, and they bring an instantly timeless feel.
Let Hammonds help bring your vintage bedroom ideas to life
If the thought of a vintage-style bedroom sounds up your street, Hammonds can show you how to create one with a simple, stress-free design visit.
Our years of experience will help develop a design that suits your needs, taste and budget.
You bring the space, we bring the inspiration
Whether you have an exact vision in tow, or are just at the beginning stage of your home renovation, we have heaps of inspiration for you to get stuck into. 
Find a wealth of design tips, trends and inspiration in the pages of our brochure, magazine and on our blog. Our experts are always ready to help you create dream home, pop in store or book your free design visit for experts to help on bringing your vision to life.