How to create a welcoming guest bedroom
| Bedroom, Inspiration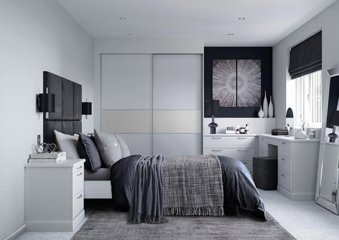 Creating the ideal guest bedroom décor presents a different challenge to designing the rest of your home. Our latest blog will help you get the balance right.
When you come to overhaul your home interior design, one of the things you're likely to have at the forefront of your mind is how your décor will present itself to future guests. After all, what's the point of having a beautifully crafted home if you're not going to show it off to anybody!
If you are welcoming friends and family, one of the most important areas of focus will be your guest bedroom. Why? Well, no matter how well you know someone, it's always a little unfamiliar staying in their home for the night. You want to make the space as welcoming, cosy and comfortable as possible to make sure your guests leave refreshed and, more importantly, wanting to come again!
Here's how to nail your guest bedroom décor.
Keep it simple
They say your home is an extension of your personality, and so it should be. However, if that means your household is a collection of bright colours and bold prints, it's perhaps best left out of your guest bedroom décor. Consider the guest bedroom a separate entity from the rest of the house – a place designed for the comfort of others rather than yourself.
With that in mind, take a simple and clean approach to the décor. Stick to calm, cool colours with minimalistic touches, using a fitted wardrobe to keep the space clutter-free. Feature only key furniture pieces and utilise as much natural light as possible. The goal is to make your guests feel "at home" – going bold and brash in your design might well do the opposite.
Provide a comfortable bed
For most people, the defining feature of a stay over is whether or not they had a good night's sleep. So, make sure you've invested in a comfortable bed to ensure your guest gets just that.
The issue is what defines a comfortable bed? After all, everyone has different tastes – some people want the firmness of memory foam while others would love to sink into springier option. Your safest bet is to find a mattress that offers a healthy middle ground, but you can always do some research to find out what you think might suit best. Size matters, too, so consider getting the biggest bed appropriate for the room you have.
Upgrade your bedding
Now you've got a good mattress, the rest of your bed linen needs to be up to the same standard as well. You need a comfy duvet, aesthetically pleasing sheets that are soft to the touch, and a throw that fits the rest of your guest bedroom décor, plus there's another soft versus firm debate to be had on the pillows. Your choice of bedding will help your bed to pass the eye test as well the comfort one.
Just think – you wouldn't want dirty or old sheets on your bed. Your guest bed should be no different.
Make room in the wardrobe and drawers
If your guests are sticking around for more than a fleeting visit and staying for a few nights, don't have them living out of a suitcase. Instead, offer them the necessary storage to make the room their own for the duration of their stay. Take advantage of clever storage options or install a sliding wardrobe – just make sure you don't end up using it as another place for you to hide a few bits!
Using tasteful but useful storage options should allow your guest bedroom to retain its spacing and styling while offering the practical elements required.
Provide privacy
While you might be happy to sleep with the curtains wide open to let the sun pour in on a morning, your guests might be a little different. Especially for making things like showering and getting changed a comfortable experience, ensure you've got fully closing blinds or curtains available for use. Then your guests can decide for themselves how much they want to connect with the outside world.
Provide the little extras
Take yourself into 5-star hotel territory with your own version of a chocolate on the pillow. Adding a personal touch or two in anticipation of your guests' visit will immediately put them at ease once they arrive. The best bit is you know your guests and what they like, so you can be confident whatever you leave them will go down a treat.
A few nibbles, some useful toiletries, perhaps even a little bit of the bubbly! Give them the VIP treatment from the off.
Creating a welcoming guest bedroom décor is all about moderation. However, just because you're not going big on colour and flamboyance, it doesn't mean you can't make a spectacularly understated room for your visitors to stay in.
Take care with your colours, prioritise comfort and calm with your furniture and provide practical yet stylish storage options. Using those three key points will help you build a space that'll have your guests wondering when they can stay again.
For more bedroom inspiration, take a look at the Hammonds blog.   
You bring the space, we bring the inspiration
Whether you have an exact vision in tow, or are just at the beginning stage of your home renovation, we have heaps of inspiration for you to get stuck into. 
Find a wealth of design tips, trends and inspiration in the pages of our brochure, magazine and on our blog. Our experts are always ready to help you create dream home, pop in store or book your free design visit for experts to help on bringing your vision to life.