How to create the perfect teen girl bedroom
| Bedroom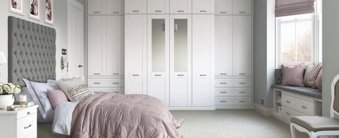 How to create the perfect teen girl bedroom
Teenage girls' bedrooms come with a complicated set of criteria. They need to be stylish while staying neutral enough to allow for regular transformations and changes in taste. They need to be a sanctuary for the tough times and a fun palace for friends. Sometimes it will need to be a place for homework too.
It's a big ask, but by keeping the basics clean and simple and allowing some freedom in the accessorising, you can achieve perfect teen girl bedroom décor.
Choose a funky headboard
Sometimes simple things can make a big difference, so if your teenager is asking for a bedroom revamp, you could start by changing her headboard. For something grown up, a velvet upholstered headboard can feel sophisticated and cosy. And they have the bonus of being really comfortable to lean against when reading.
If your teen is into bohemian design, opt for rattan or painted wood in a neutral beige or grey tone. You could twist some fairy lights around it too. For something more playful, curved headboards in bright colours can be an excellent option.
Invest in a statement chandelier
Lighting can make a huge difference to the feeling and style of a room. If your daughter is a fan of boho, why not opt for a macrame chandelier? They look great and she could even make it herself – there are numerous online tutorials. Jewelled lampshades can feel a bit more glamourous, while origami versions are brilliantly versatile.
Bedroom ideas for teen girls often involve some secondary lighting – and it feels like there are infinite options. Salt lamps are popular, particularly for the boho luxe look, while fairy lights and battery-operated candles can add a soft cosiness that will make the room feel like their own little haven. Then there's neon, of course – that trend shows no signs of abating.
Go bold with the curtains
Patterned feature walls are still popular and can look great with bright florals or foliage designs. But teen girl bedroom ideas are often prone to change, so you could choose something less long term to add some colour and character. Curtains are a good way to bring in something extra.
Geometric patterns often withstand a few style changes and stripes are a classic that everyone seems to love. If you have existing curtains, you could always update them by adding tassels along the edges.
Add some storage
Teenagers accumulate lots of things. School books alone can create vast piles, and when you add clothes, shoes and all the little bits that get collected, we need to give them a helping hand to look after it all.
There are a lot of small-scale storage solutions. Stackable plastic crates are good for toiletries or stationery, and baskets hung on hooks can help keep accessories off the floor. But your teenager will likely need some larger-scale options too.
Built-in wardrobes are perfect as they're designed to fit the existing shape of the room, taking advantage of alcoves and eaves. Choose one with a mix of hanging rails and shelves for flexibility, and you could even opt for some pull-out drawers or shoe racks.
Consider the desk 
It might not feel like a priority for your teenager, but they're going to need some sort of desk space where they can do their homework away from the hustle and bustle of the rest of the house.
Make sure any desk is near to a power socket and that there's space for a lamp for those darker evenings. If you're short on space, consider a folding desk that can pack flat against the wall when not being used.
Add a gallery wall
If there's one thing teenagers love, it's photographs. Create space for a gallery wall so they can stick up pictures of friends and family, as well as any images they love. You could use wall-mounted clips so the pictures can be easily changed and updated or go for simple sticky tape – washi tapes come in fun patterns and colours and are gentle enough to not damage your wall.
Choose Hammonds for your storage
Getting the teen girl bedroom décor right for your daughter doesn't have to be a tall order. Book a design visit from one of our experts for help creating a bedroom that's too cool for school.  
You bring the space, we bring the inspiration
Whether you have an exact vision in tow, or are just at the beginning stage of your home renovation, we have heaps of inspiration for you to get stuck into. 
Find a wealth of design tips, trends and inspiration in the pages of our brochure, magazine and on our blog. Our experts are always ready to help you create dream home, pop in store or book your free design visit for experts to help on bringing your vision to life.