How to declutter a teenager's bedroom
| Bedroom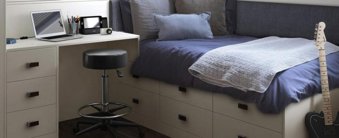 How to declutter your teenager's bedroom
Teenagers need their own space, which is private and secluded, but they also need a room to share with friends (and even their parents sometimes). It's likely that their bedroom will have to serve both functions, so how do you sort through their mysterious piles of 'stuff' to create an organised space that they will be proud of? Here's our advice on how to declutter a teenager's bedroom.
Decide what you can keep, donate or toss
First things first, you'll need to go through all the things in the room and decide which items you're keeping and which you'd rather see the back of. This is obviously a task to do with your teenager, so ask them to organise their things into three piles – the stuff they want to keep, those they have grown out of but are still good quality (these can go to a charity shop), and the rubbish pile that is destined for your local recycling centre.
Encourage them to be ruthless, but also prepare yourself for some surprising sentimentality when it comes to their childhood toys. By doing it together you can quickly and easily sort through it all, so your teenager can get back to napping.
Think about your storage
We all know that teenagers are clutter-magnets, so it's best to give them somewhere to put it away tidily (or at least out of sight). By adding more storage, you can help keep their bedrooms neat and tidy and give them a space to hide things away from prying eyes.
Our fitted wardrobes are bespoke and designed for your needs, so they will fill any alcove, eaves space or wall that you might have available. Plus, they come in a range of designs and finishes, so even the pickiest teenager can find something that they like. You could go for deep and dark Graphite for a gothic feel, or Driftwood for the boho luxe look that's all over Pinterest.
Keep their closet clean
Most teenage bedrooms become a dumping ground for clothes. Sad, crumpled piles on the floor, socks under the bed – sometimes putting things away is just too much effort. To help keep a teen's bedroom tidy, it's important to make life easy for them.
Putting a laundry basket in their room is an excellent hint. The same goes with a shoe rack – if they have somewhere obvious to put their trainers, boots and heels then they might not be left in the middle of the room anymore.
An easy way to declutter a bedroom is to bring in some labelled boxes that can be stacked and put out of sight into a wardrobe. You could have one for accessories, one for schoolwork and you always need the miscellaneous one (for all the odds and ends left over).
Consider 'zoning'
Creating specific areas for working and relaxing can be hugely beneficial for teenagers. It's probably easiest broken down into two separate zones – one for work and one for relaxation. The working zone would have a desk or table, the schoolbooks (organised into boxes, of course) and perhaps some shelves for other books or trinkets. You could use a rug or different paint colours to section it off. Areas with wall posters and photographs of friends are another way to subtly divide the room.
The relaxation zone is the space for the bed, a bean bag if there's room, and some cosy throws or blankets for when they want to hide away for a while. You could even try to include a house plant here, such as a peace lily, which is great for cleaning the surrounding air.
Get creative with the space
If your teenager has a bijoux bedroom, that doesn't mean it needs to be a mess. In fact, it's even more reason to keep it as tidy and organised as possible. You just need to be creative. Consider adding hooks to the backs of doors or on the wall and hang baskets off them. These are the perfect places to store things like sports accessories such as shin pads or balls, or technology, so all the many cables can be tucked out of view.
Another great way to maximise space is by investing in an ottoman-style bed, which comes with what feels like acres of storage underneath. To avoid it becoming a horrible dumping ground, use storage boxes to divide up the space.
Create a tidy space with Hammonds
For more ideas about how to de-clutter your bedroom and maximise your space with fitted storage, browse our website and book a design visit to speak with one of our experts.
You bring the space, we bring the inspiration
Whether you have an exact vision in tow, or are just at the beginning stage of your home renovation, we have heaps of inspiration for you to get stuck into. 
Find a wealth of design tips, trends and inspiration in the pages of our brochure, magazine and on our blog. Our experts are always ready to help you create dream home, pop in store or book your free design visit for experts to help on bringing your vision to life.