How to declutter and organise your way to your dream wardrobe
| Bedroom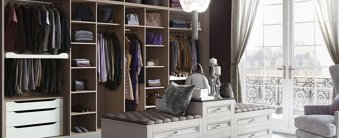 How to declutter and organise your way to your dream wardrobe
We teamed up with Organised Life to hear their advice on how to declutter and organise your clothes to give you a dream wardrobe.
Everyone's perfect wardrobe is different, isn't it? Well yes and no. Whilst details vary in our experience at Organised Life many peoples' visions are remarkably similar.  They tend to centre on these things:
• Contain lovely clothes and accessories that make you feel fabulous when you wear them;
• Organised so everything is easy to find and ready to wear; and
• Look attractive and suit your space.

How To Organise Your Wardrobe
Simple really is better!
The first step in planning a fabulous new wardrobe is to declutter your clothes and accessories so you know what you need to store. For many people decluttering your clothes sounds like quite a scary process. It can feel like it will leave you with nothing to wear. In fact, whilst it will leave you with a less in your wardrobe you'll have more that you actually use.
• Rather than wasting time every day looking at lots of clothes and feeling like you have nothing to wear and you will be able to choose anything. If everything fits and you enjoy wearing it picking your outfit becomes a pleasure as well as quick, easy and stress-free.
• You'll be able to put together new outfits using the pieces you can now clearly see and match. You'll also find it easier to see if a potential new item will mix and match with your existing pieces.
• Your clothes will look better and last longer. Clothes that are crammed in wrinkle and get damaged more easily.  That means unnecessary washing and ironing and repairs. Clothes that can breathe feel and look good and cost you less. 
• You will spend less on new clothes. Having less makes you pickier about adding items. You become more discerning about choosing pieces that fit well and suit you. After all, why add something that isn't at least as good as what you already have?
Space Hoggers
Our experience is that people spend most of the time reaching for the same 20% of clothes in their wardrobes. So how many of these are taking up your space? 
• Items that don't fit because your body has changed. Unless you are realistically going to be able to wear these again within in a reasonable period then donate them. 
• Clothes, shoes, and accessories you spent a lot of money on but just don't wear and feel guilty about. If you are worried about wearing and them being damaged then now is the time to jump in and do it anyway! After all, why not enjoy them? If you don't wear the item because it doesn't make you feel great then donate or sell it. The money you spent on it was gone when it was purchased so ditch the item and the guilt!
• Outfits that don't suit you, you now are bored with or are past their best. Don't you deserve to look and feel fabulous?
Whilst that's the major decluttering finished with it's a great idea to consolidate your efforts. Wear everything in your wardrobe that is season appropriate over the following few weeks. Turn the hangers round as you use them so you can see what is left and commit to choosing something new every day.  If you wear something and don't enjoy doing so then donate it. Unless it's a piece that's very occasion specific like an evening dress then if you haven't wanted to put it on after a month it is probably time to get rid of it.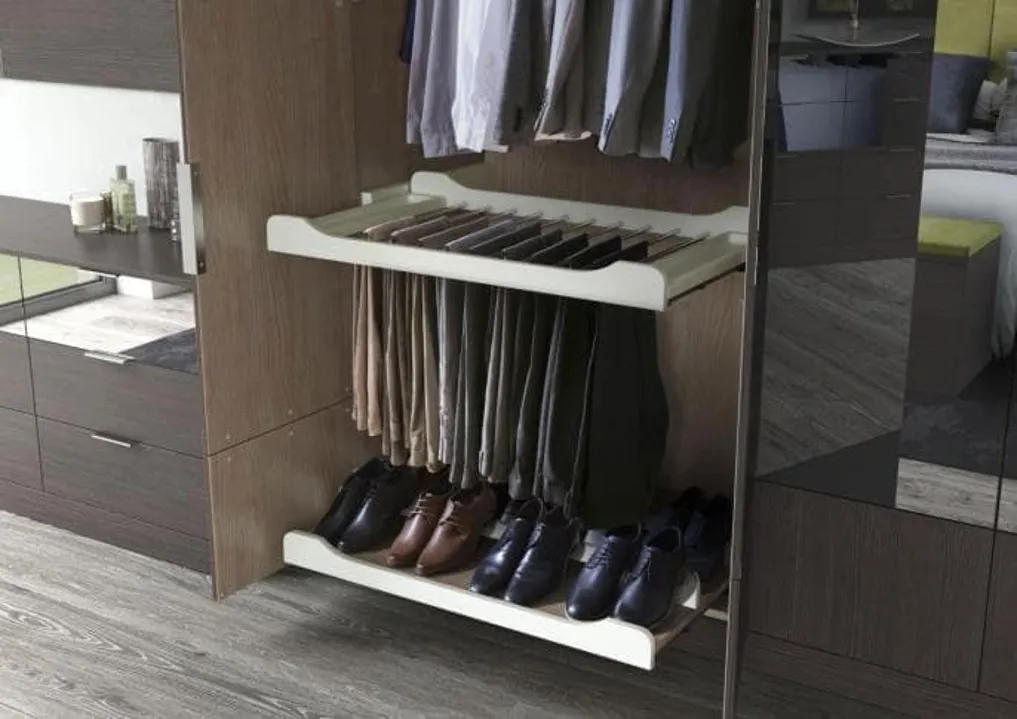 Planning Your Wardrobe Space
Once you know what you need to store it's time to start planning the space. You'll probably find that the amount of space you thought you needed before you decluttered is still about right if your clothes are going to have space to breathe. Plus you need to leave space for any pieces you intend to add. Plan to keep like items together which means you can see everything you have of each item type easily. This makes for speedier choices and less chance of inadvertently buying things that are like those you already have. 
At Organised Life we love to pull out storage, drawers, trouser hangers, shoe racks and accessory hangers, they all work well. Being able to clearly see and easily access your clothes and accessories is the key to stress-free dressing. It also makes it simple to put things away which helps you stay organised. 
Consider how you want to store your clothes; what can be folded and what do you prefer hung? Folding can make the best use of your space so think about soft items like T-shirts and sportswear. Always plan to hang those items that will crease easily like suits and dresses to keep them looking good. 
There are lots of wonderful specialist storage options for different types of clothing but we particularly like trouser hangers. If you have a lot of structured trousers then these can be more practical than a hanging rail as its easier see what you have and keep them looking their best.
Don't Forget Your Accessories
Accessories should be stored with clothes where possible, after all they make up a key part of any outfit. Keeping everything together will help you put together a look more quickly and easily.
Handbags are the item that seems to be most often forgotten when planning wardrobe space. Keep them in clear view and instead of using one for days at a time, mix and match with your outfits. Use a bag organiser for your everyday items to make switching handbags a matter of seconds!    
If you have space then keep your shoes with your clothes. Like handbags, if you can see them whilst putting your outfit together you'll stop sticking to the same one or two pairs all the time.  Shoe storage is also a great use for the bottom of your wardrobe.
Formal and shaped hats sit well on a shelf and if they aren't in regular use can be a useful way to use a high space. Belts, lightweight scarves and necklaces are great hung with clothing.  Look at options to make use of the inside of your doors if they open or add specialist pull out hangers to the ends of your wardrobes.
The best option for bulkier accessories like heavyweight scarfs and gloves is to fold them. Don't forget to plan some space in for these. Smaller drawers work well or organise them in boxes or accessory trays so you can clearly see your options.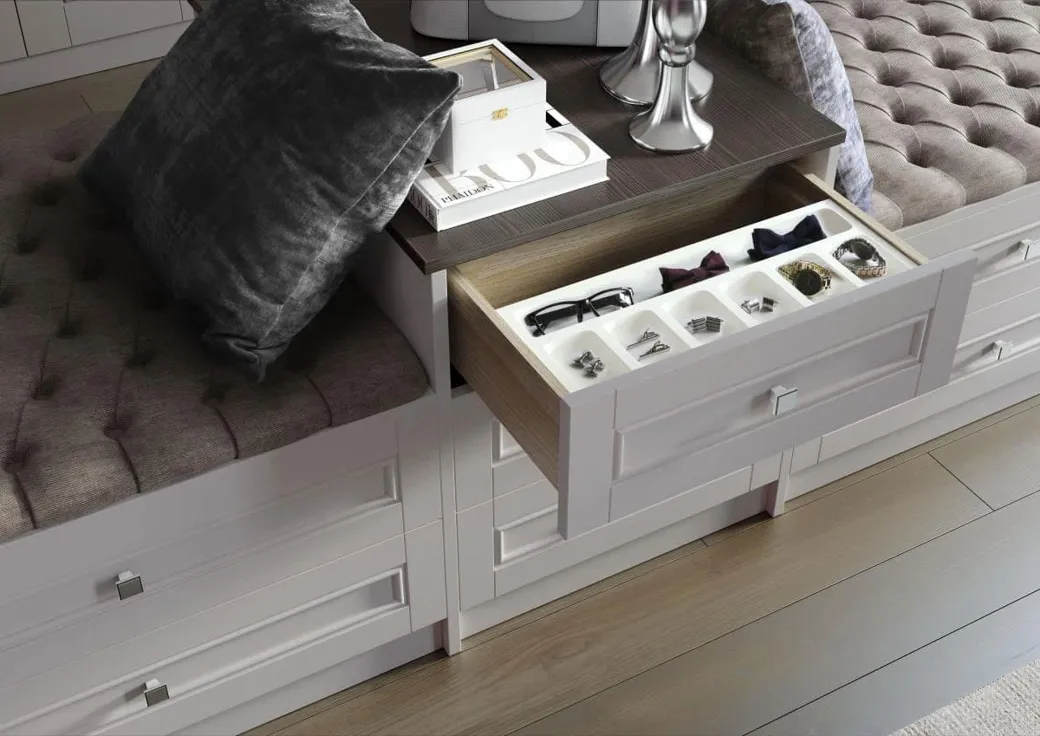 Organising Your New Wardrobe
The most exciting part of the process is getting to put all your items into your new space. First, invest in some good hangers. Matching hangers are essential for a fabulous wardrobe. Velvet hangers are a great option for holding clothes in place and giving that luxurious feel. 
Workwear and casual wear crossover so at Organised Life we generally arrange by item type and then by colour. So, each group of items, tops, jackets, trousers all hang together starting with black and working through each colour.  This makes it quick and easy to pick out your outfit. Shoes and accessories also get organised by type then colour.
In your drawers fold each item so it fills the space from bottom to top and similar items are all on view in rows. This works better than stacking them on top of each other. It avoids having to move everything to see what is underneath and so forgetting or misplacing items and that inevitable tidying up when you've dug down to the bottom! Adding boxes can be a useful way to organise smaller folded items like socks and underwear.
Personalise
For many people wardrobes are often one of the few private spaces they have.  So, they are a great place to have a few sentimental items on display. Think about putting a photo on the inside of the door, a keepsake on a shelf or having a piece of heirloom jewellery hanging prominently. Whilst a well-organised wardrobe is a joy in itself, it is also nice to have a special item that will make you smile every time you open the door.
Organised Life support people in the Midlands and surrounding areas to declutter, organise and simplify their homes and lives.  They are an accredited member of the Association of Professional Declutterers and Organisers whose members work with people across the UK.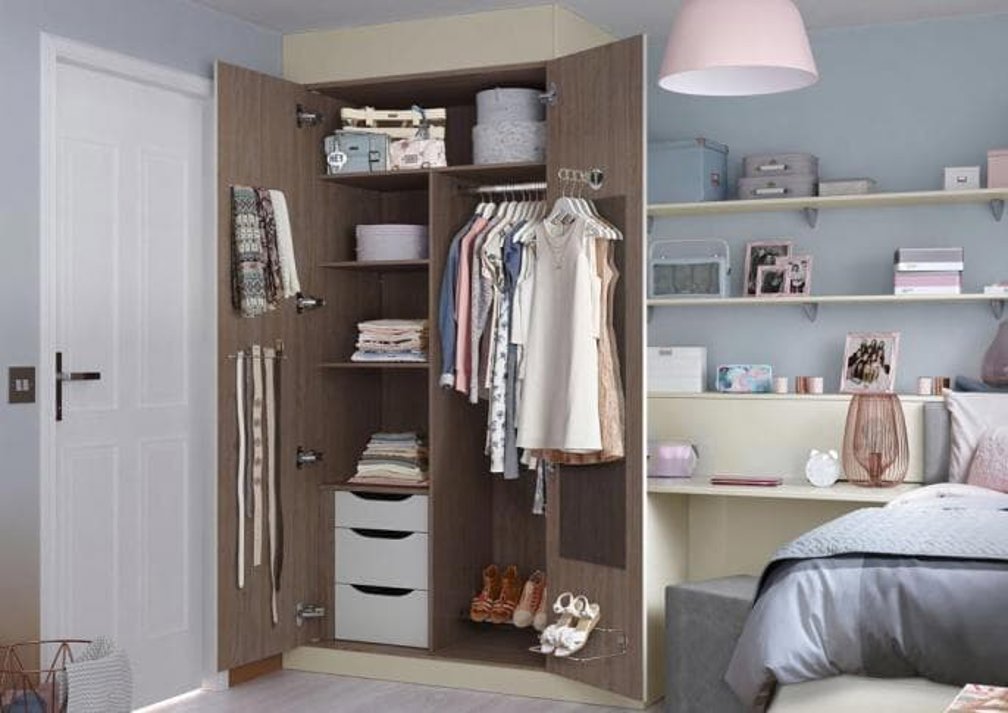 https://twitter.com/OrganisedUK
https://www.facebook.com/OrganisedLifeUK/
You bring the space, we bring the inspiration
Whether you have an exact vision in tow, or are just at the beginning stage of your home renovation, we have heaps of inspiration for you to get stuck into. 
Find a wealth of design tips, trends and inspiration in the pages of our brochure, magazine and on our blog. Our experts are always ready to help you create dream home, pop in store or book your free design visit for experts to help on bringing your vision to life.