How to decorate a bay window
| Inspiration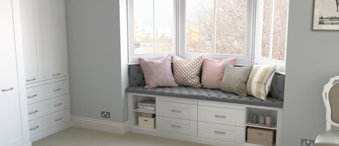 How to decorate a bay window
If you're lucky enough to have a bright and spacious bay window in your home, we understand that you'll want to make the most of it. While it's easy to get caught up with the latest trends, we think that the best ideas for decorating bay windows blend thoughtful, personal décor with plenty of practical touches too.
Whether you're renovating an older space or starting from scratch, your bay window area should become a real focal point in your interior. In this blog, we'll share our top tips on dressing a bay window to enhance your home.
Dress the windowsill
Why not make your bay window stand out from the inside and the outside alike? Whether you display your favourite decorations or use soothing scented candles, there are plenty of ways to fill the windowsill with characterful and personal touches.
Bookshelves filled with novels and photo frames work well, while soft toys and cushions could be better suited to a family home. Maybe you'll be inspired by the Italian Nonna-Chic trend and surround your bay window with decorative lace, dainty tea sets and colourful vases.
Use a little bit of greenery
Thanks to their guaranteed sunlight, bay windows make an ideal spot for plants.
You could easily add some succulents in hanging woven baskets to make things look a little bit chic. From aloe vera to agave plants, just make sure you find something that should thrive while soaking up the sunshine all day long.
If the aesthetic value isn't enough, plants have been proven to reduce our stress levels and help us feel more productive so, along with helping your bay window seat to look naturally more inviting, decorating bay windows with plants could boost your mood and creativity.
Fit a bay window seat
Out of all the styles of bay window, those with a built-in window seat are among the most inviting. Along with providing a comfortable place to sit, window seats offer ample storage for your magazines, board games and all those useful items that still need to be kept tidy.
Investing in bespoke fitted bay window furniture could help you to create a practical yet effortlessly stylish feature. Along with matching the colour scheme of your interior, fitted storage underneath your bay window seat could help you to maximise the scale and shape of your space.
Add an oversized armchair
Dreaming of a cosy corner? Adding a comfortable, oversized armchair in front of your bay window could work wonders. Cuddle seats make an extremely popular choice, mostly because they're big enough to comfortably fit two people – without the need to squeeze!
Furthermore, if your bar window sits too high or too low to fit a window seat, finding a suitably sized armchair could be almost like the missing puzzle piece.
No matter the shape and size of your window, it's likely that you'll find an armchair to fit the gap perfectly. Whether you'd like to settle down with a book or watch a film with a loved one, sometimes a simple armchair is better than any other approach to dressing a bay window.
Showcase a vintage piece
Bay windows are a great location for showcasing a special piece of furniture. If you have a treasured vintage favourite in your collection, why not put it in front of the window so you can admire it every day? Decorating a bay window doesn't need to mean changing its shape.
If your bay window stretches across the aspect of your dining room, adding a vintage oak table and chairs could be the most natural choice. With a few matching repurposed chairs and cushions, you could create an impressive and regal-looking space.
Set up a conversation nook
Ready for afternoon tea or a game of cards with friends? Simply purchase two armchairs, a dainty side-table and a handy table lamp or floor lamp to create the perfect conversation nook in front of your bay windows.
This space can be incorporated away from the main area of your living room, so you'll never miss the chance to enjoy a good chin-wag. Don't forget to finish the look with a soft but durable rug to contrast beautifully with the upholstery on the chairs.
Create the perfect bay window with Hammonds
At Hammonds, we're experts in fitted furniture. Our innovative design solutions could help you to create a comfortable, stylish and practical space for the whole family to enjoy.
Simply book a free design visit today to enjoy a hassle-free service from our team. We'll work with you to think of the best ideas for decorating bay windows in your home interior.
You bring the space, we bring the inspiration
Whether you have an exact vision in tow, or are just at the beginning stage of your home renovation, we have heaps of inspiration for you to get stuck into. 
Find a wealth of design tips, trends and inspiration in the pages of our brochure, magazine and on our blog. Our experts are always ready to help you create dream home, pop in store or book your free design visit for experts to help on bringing your vision to life.