How to decorate a beautiful blue bedroom
| Bedroom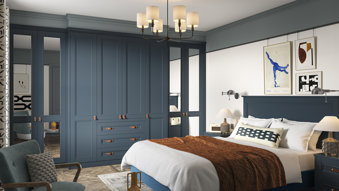 How to decorate a beautiful blue bedroom
Using blue for your home interior promises a delicate and tranquil aesthetic. Perhaps you'd like to add a feature wall or are considering painting the furniture to complement your modern royal blue bedroom. If so, it's important to choose shades that appear balanced and create a cosy and calming atmosphere.
In this article, we'll highlight the best shades of blue to choose or lose for your bedroom, as well as how to incorporate this distinctive colour into your home.
Avoid bright blues
The wrong shade of blue could create the wrong effect. Fluorescent and saturated shades of blue can look harsh and emit sharp light.
Try to choose a soothing, softer blue hue that won't fade. A slightly grey, denim-tone blue is one of the most relaxing colours you can choose for a bedroom. This darker shade appears more sophisticated and is suitable for the more intimate ideas for a grey-and-blue bedroom.
Cornflower and lupin blues are gentle shades that can be used in conjunction with creams and whites or unexpected colour contrasts with your soft furnishings. Pair these shades with textured wooden fittings for a comfortable and rustic look.
Layer with fabrics
Creating a blue bedroom with a plush and luxurious feel relies on patterns and layers. Fabric accessories are perfect for introducing both visual and textural interest to your sleeping space. Clever combinations of fabrics can help to create a space of sanctuary and retreat, ensuring that your room always looks cosy and inviting.
Dress the room with soft furnishings to add a quality contrast to your blue haven. Whether that's piling cushions, draping throws or layering blankets across plush linen, this can certainly play a part in bringing together a luxurious blue bedroom.
Consider matching fitted storage
Traditional wardrobes are normally found in neutral and unassuming colours. Why not add a unique and personal touch to your bedroom with a blue fitted wardrobe instead?
Along with helping you to keep your clothes and belongings tidy and organised, blue wardrobes offer a brilliant way to enhance your colour scheme and maximise the floor space in your bedroom.
At Hammonds, we have a beautiful range of blue fitted wardrobes in a variety of light tones and dark shades, depending on your exact preferences. Designed to promote an organised and clear headspace, our fitted furniture keeps your space clutter-free and helps you to relax and unwind.
Colour combos and natural textures
Blue and white is a classic colour combination that creates an illusion of both the sea and the sky. Perfect for soothing the mind, this pairing can make you feel both energised and zen. Alternatively, if you're leaning towards duck egg blue bedroom ideas but would like to add a splash of colour, soft-mid blue makes a superb choice.
Add a bit of character to the space by incorporating some natural materials for your surfaces and décor, which creates a wonderful sense of balance. Think along the lines of hessian baskets, jute lampshades and oak bedside tables. This is a great way of adding depth, dimension and comfort to your blue bedroom.
Contrast with orange
If you're someone that has a bright and bubbly personality that you want to reflect in your home, why not consider a playful and modern interior to do just that?
Matching blue with orange creates a striking high contrast, making for an incredibly stylish colour combination. Make a statement by adding vibrant orange cushions, lampshades or armchairs as a simple way to add depth and versatility to your blue bedroom – particularly if you have mid-to-dark blue shades on the walls.
Whether you're thinking timeless teal and tangerine or electric blue and terracotta, you'll be sure to capture the attention of your guests with this unique pairing.
Think blue bedroom bliss with Hammonds
Feeling inspired? Get ready to bring your blue bedroom dreams to life. Our fitted furniture is perfect for storing away your belongings, ensuring that you have plenty of space to decorate your new room just how you like it.
Book a free design visit with one of our experts today and they'll take a closer look at your space, offering insight and suggestions on how to decorate a tasteful blue bedroom.
You bring the space, we bring the inspiration
Whether you have an exact vision in tow, or are just at the beginning stage of your home renovation, we have heaps of inspiration for you to get stuck into. 
Find a wealth of design tips, trends and inspiration in the pages of our brochure, magazine and on our blog. Our experts are always ready to help you create dream home, pop in store or book your free design visit for experts to help on bringing your vision to life.