How to decorate a bookcase or bookshelves in your living room
| Inspiration, Living Room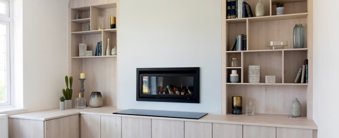 How to decorate a bookcase or bookshelves in your living room
Bookshelves double up as storage and display space, especially in communal areas, such as the living room.
Styling your bookshelves is a great way to add personality to your space with smaller intricate pieces. Living room bookcase décor can be styled on either integral bookshelves or freestanding bookshelves, depending on the space your room can offer.
If you don't want a generic bookcase, design a custom bookcase to make it work perfectly for your room. If you want inspiration on how to decorate a bookcase in a living room, look no further, as we have the styling ideas for you. 
Mix things up 
When you're thinking about how to decorate a bookshelf, you may feel you need to keep it orderly and thematic. However, this is not the case. The key to creating a visually appealing and interesting bookcase is variety.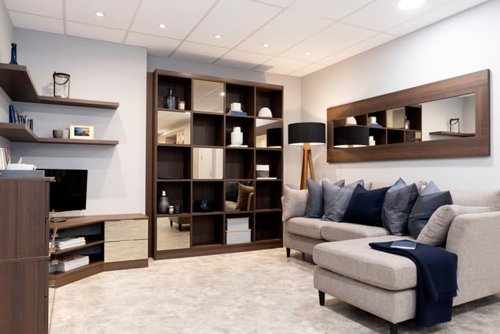 Rather than just using books for decoration, play around with different items of varied sizes and shapes. This instantly creates a visually intriguing image and gives the eye lots to look at.
Take this one step further and create a different theme or look for each shelf or take inspiration from styles already present in your room, merging your current design with your new feature.
Book colours and themes 
If you are a bookworm and have an abundance of books in your home, use your new shelving as an opportunity to get these arranged. Often, books are left disorganised and looking messy when stored, so sorting them to fit on your shelves could be satisfying.
Organise your books in colour order. This is very pleasing to the eye, making it a lovely feature in your room. Secondly, consider creating a library of books by placing them in alphabetical order by title or author. Not only is this visually pleasant, but it means you can access the books you want with ease.
Finally, why not order your books by theme. For example, place all cookbooks on one shelf and fiction on another. 
Accessories 
Whether you are styling a freestanding bookcase or a bespoke fitted bookcase, they are all perfect for displaying a wide range of accessories. Depending on the depth and width of your bookcases, how you decorate a bookshelf is your choice entirely. Small sculptures will typically fit on most bookcases, meaning you can put as many or as few on as you wish.
If you are using your bookcase to house your book collection, why not add some character with a decorative bookend? This takes up minimal space whilst being extremely practical. Finally, if space allows, you could place a vase on one of your shelves.
This may be solely decorative, a vase with fake flowers such as pampas grass, or real flowers for a look that changes with the season. 
Plants 
Plants are a fashionable item to bring into your home and are becoming increasingly popular. Bringing the outside in is a great way to brighten your space and create a natural look.
The type of plants you choose for your bookshelf will vary according to their size and the amount of upkeep they require. You could style some flowers in a vase, use small potted plants, or try hanging plants.
Plants with trailing foliage, such as a string of pearls, create an interesting effect that is low maintenance. Alternatively, if you love the natural effect of plants but don't want the maintenance, buying fake plants is a great way to get the same impact with even less work. 
Art and photography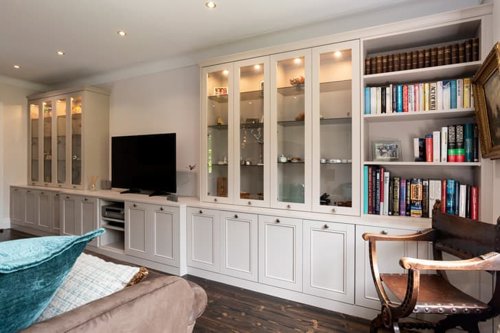 Using art and photography on your bookshelves adds a personal touch. You can use photography and art to showcase your personality and draw the eye to the stories behind each piece.
Include pictures of yourself, your family or important moments in your life, such as a wedding.
Or, if art is your thing, why not choose a picture from your favourite artist and position it on your bookshelf in pride of place? Alternatively, if you have a feature wall in your room, you could take a small piece of wallpaper and frame it. Not only does this look classy, it also helps to merge your current design into your new bookcase aesthetic.
Bookcases to lift any space
Want to incorporate these bookcase decorating ideas into your living room? Book a free design visit with Hammonds.
Our team of experts are on hand to give you advice on creating a living space with seamless storage for books and more. Contact us to see how we can help you today.
You bring the space, we bring the inspiration
Whether you have an exact vision in tow, or are just at the beginning stage of your home renovation, we have heaps of inspiration for you to get stuck into. 
Find a wealth of design tips, trends and inspiration in the pages of our brochure, magazine and on our blog. Our experts are always ready to help you create dream home, pop in store or book your free design visit for experts to help on bringing your vision to life.