How to decorate a boring bedroom
| Inspiration, Bedroom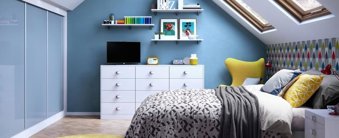 How to decorate a boring bedroom
If you're fed up with your space, take a look at our top tips on how to decorate a boring bedroom.
How to decorate a boring bedroom
Do you often walk into your space and feel underwhelmed? There's a fine line between neutral and boring. If you're ready to give your bedroom a new lease of life, whether it's the master or the spare, we've pulled together our top tips on how to decorate a boring bedroom. Liven up your décor, inject some colour and create a space to be proud of!
Go bold with colour
Colour helps bring vibrancy to any space. It creates an instant visual impact and can be added to fit your taste and style. If neutral walls are the problem, why not get creative and consider painting a bright accent wall or experiment with an eye-catching patterned wallpaper.
If painting or adding wallpaper is too much, think about other ways you can add colour. From prints and paintings to throws, cushions and décor, there are a whole host of other ways you can go bold with colour.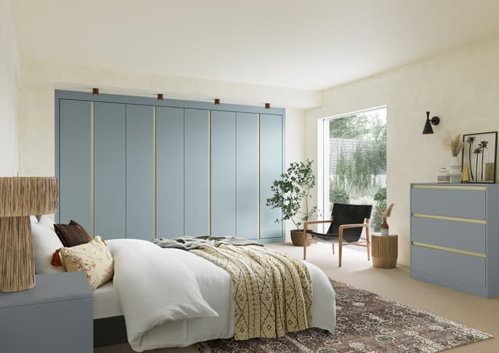 Add statement furniture
If it's the tired furniture that's bringing down the overall vibe of your bedroom, don't worry. There are several pieces you can introduce that will help lift the space and breathe new life into it.
Why not invest in an eye-catching bed – you could opt for a grand statement piece or even one adorned in a vibrant pattern. If you're short on storage, consider a walk-in wardrobe if you have the space or bespoke built-in options. Both will give you all the space you need to store your clothes, shoes and accessories!
Looking beyond your usual bedroom furniture, if you're searching for more unique ways to introduce statement furniture, why not add quirky pieces like a chaise longue or a fancy end-of-the-bed upholstered bench.
Accessorise
Accessories can make or break a bedroom. From statement artwork and photographs to vibrant houseplants and curated open shelving, there are so many ways you can inject your personality.
Think about what means the most to you. Would you like to walk into your bedroom and be reminded of past holidays and adventures? Or would you much prefer to have soothing but beautiful plants dotted around the space? The choice really is yours!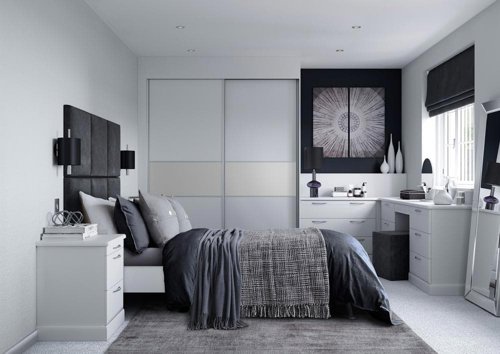 Mix textures
When it comes to thinking about how to decorate a boring bedroom, having a wealth of different textures and materials is another great way to add visual and sensory interest. With rich cottons, soothing linens and sultry velvets, giving your space a new lease of life is easier than you might think.
Introducing different textures is simple. Whether you use rugs and bedding, cushions or throws, soft furnishings are available at so many different shops, meaning you're sure to find the perfect ones for you.
Update the lighting
Lighting can often dictate the ambience of a room, so increasing your options will always help brighten and liven up your space. Think about adding a desk or floor lamp to create the right ambience in the evening and explore designs for your ceiling lights.
If you have an existing pendant light, swap it up for something a little different. Bring an air of opulence and sophistication with a chandelier or channel the industrial vibe with filament bulbs and quirky pendants.
Create new possibilities
Your bedroom can be so much more than just somewhere you go to sleep. If you have space, why not create some different areas within it. You could fashion a reading corner out of comfy throws and cushions, a workout zone with some dumbbells and a yoga mat or even a mini office to add an extra layer of functionality. The possibilities are endless!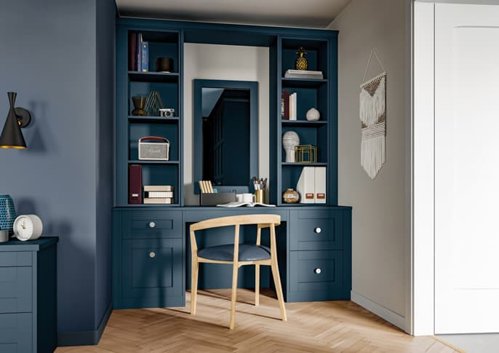 Book your design visit with Hammonds
With our top tips, you'll have to wonder no more about how to decorate a boring bedroom! Why not book a design visit with our team today for expert help with devising a vibrant, personal bedroom? Whether you have your own ideas or not, we'll talk you through all the options you have available with Hammonds, including fitted wardrobes and innovative storage.
You bring the space, we bring the inspiration
Whether you have an exact vision in tow, or are just at the beginning stage of your home renovation, we have heaps of inspiration for you to get stuck into. 
Find a wealth of design tips, trends and inspiration in the pages of our brochure, magazine and on our blog. Our experts are always ready to help you create dream home, pop in store or book your free design visit for experts to help on bringing your vision to life.