How to decorate a dark bedroom
| Bedroom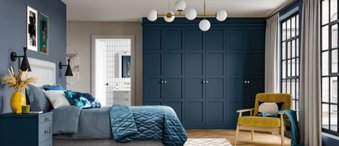 Having a bedroom that is dark can often make your space feel rather cramped and restricted. Whether the room is located in a basement or in an area with very little natural light, the lack of brightness can affect both your mood and your energy levels.
That's why knowing how to decorate a dark bedroom can make all the difference to improving your sleeping quarters.
Hopefully, this article will provide you with a series of dark bedroom décor ideas and tips to help lighten up your space and lift your mood. 
Choose your colour scheme wisely
If the area you are decorating is dark to begin with, then the ideal colour choice for the walls is sure to be light. Whites, creams and pastel shades are all going to make the space feel instantly brighter, despite a lack of natural light flooding in.
The walls and ceilings can be lifted using light shades of paint or wallpaper and the floors can be complemented with paler colours too. Pale flooring will offset dark features and help to bounce light around the room. Painted or varnished floorboards will be most effective, although white-washed wood and soft-coloured carpets can also work.
Bed linen, throws, rugs and blankets can all be matched to suit this calming colourway. Laying different shades of white and cream with multiple fabrics can also help to add more texture to the space.
Add multiple lighting options
When you're lacking in natural light, it's logical to add as much artificial light as possible. Therefore, choosing the right lighting for the room is a key consideration here.
LED spotlights in the ceiling can add instant light to a dark space and can often be used with a dimmer to help control the light levels from day to night.
You can also mix in a selection of floor lamps, bedside table lamps and even headboard or wardrobe lighting to help you navigate through the darker winter mornings.
Reflect light with mirrors
Mirrors help to reflect light in a space, instead of absorbing it, making a room feel larger and airier. Therefore, consider placing a large wall mirror on one side of your bedroom, preferably in the path of a natural light source, if there is one.
Mirrors don't always have to be hung on walls either. You can brighten up your bedroom by placing various sized mirrors throughout the room in different places. For example, you could line the back of a bookshelf with a long, thin mirror or hang several mirrors on one wall to form a collage.
You could also choose wardrobes, dressing tables or storage cabinets with reflective glass or chrome accents to give those extra touches of light. Every little helps when it comes to adding light to a room.
Offset dark furniture with light elements
Furniture can often hold deep emotional meaning. Therefore, you may have furniture in your bedroom which you are reluctant to part with. This might include dark wood wardrobes or an antique dressing table, for example.
The good news is that you don't have to part with these items to create a lighter space. You can offset the impact of darker furniture with brighter touches such as lighter blinds, curtains and soft furnishings.
If, however, you are open to the option of new furniture, then selecting a set of contemporary fitted wardrobes could make all the difference to your bedroom.
You could opt for wardrobes in a light-coloured finish, or even ones with mirrored doors to make a statement and help with that light reflection. What's more, fitted wardrobes are custom designed to suit your exact space, meaning that your bedroom is guaranteed to feel more spacious than it would with free-standing wardrobes.
Brighten your bedroom with Hammonds
As you can see, there are many interior ideas for dark bedrooms, and by using a few tips from each section, you are sure to make a big difference.
If you are interested in speaking to one of our team to talk about our in-home design service, then you can book a free visit today to discuss your requirements.
With a little help, you could transform your dark interior into a relaxing, bright space to relax and enjoy. 
You bring the space, we bring the inspiration
Whether you have an exact vision in tow, or are just at the beginning stage of your home renovation, we have heaps of inspiration for you to get stuck into. 
Find a wealth of design tips, trends and inspiration in the pages of our brochure, magazine and on our blog. Our experts are always ready to help you create dream home, pop in store or book your free design visit for experts to help on bringing your vision to life.