How to decorate a home office
| Office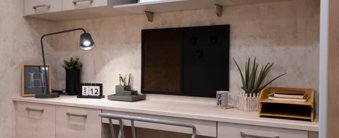 Simple ways to transform your home office in 2022
Many of us had to swap our office for the kitchen table overnight when we rushed into full-scale home working. But a couple of years on and working from home is one routine that looks set to stay. So, whether your desk space is in the corner of a bedroom or you have a room all to yourself, it's probably time to make some improvements. But where should you start?
Here are our tips on how to decorate a home office on a budget.
Go green
When you're swamped with deadlines or trying to think creatively, adding a touch of nature to your workplace can bring in some much-needed calm and serenity. Pot plants are brilliant for softening the look of a room and adding life and movement. Go large with a monstera or a yucca, and plant them in big terracotta pots or baskets to add natural tones. If you're limited on space, our favourite for spring is a big pot of elegant blue hyacinths due to their long-lasting scent.
It's been proven that nature boosts your mental health and happiness, and growing and nurturing plants can be both fun and rewarding. You could also get some seedlings growing on your office windowsill, so you can look forward to some summer blooms.
Make your office a multi-sensory experience
When you're planning how to decorate a home office, it's important to think about all your senses. Colour and pattern obviously play a huge role in the overall design, but so do texture and scent. Natural wood can add warmth and softness, while gloss surfaces bounce light around and feel energising.
Think carefully about your soft furnishings too. Cushions and throws will keep you cosy, while a plush rug beneath your feet can add a luxurious feel. Experiment with fragrances: room diffusers, scented candles, and that big bowl of hyacinths will make your home office your favourite room in the house.
Think about lighting
Lighting is crucial in any home office design. And thanks to endless video calls, it's taken on a whole new level of importance. Obviously, there's a main light needed so that you can actually see your paperwork later on in the day. Whether you opt for a pendant light or spotlights is largely dependent on your personal style and the room in question.
But don't overlook the secondary lighting. Desk or floor standing lamps are good for softening the mood and they add warmth to your face when you have to turn your camera on.
Add clever storage to keep clutter at bay
An overloaded desk can lead to an overloaded mind, so keeping the clutter tidy and out of sight is important in home office design planning. Think about what you need for your job. Maybe it's paperwork and box files, perhaps you have to store products, or you may have piles of reading material. Wires and technology also take up lots of space and are almost impossible to make neat.
Once you know exactly what you need to store and have access to, consider fitted home office furniture designed to suit your individual needs. With a variety of styles and finishes, you can tailor it to your specific professional demands. Use built-in shelves to display your books and any inspirational curios, then opt for cupboards and drawers to hide away the unseemly necessities.
Add some energising prints
Get your work energy buzzing by adding the right artwork to your walls. Bright colours, pictures of nature, and images that focus on movement can make a real difference to your feeling of get up and go. Images of dancers are great for invoking this, so too are Henri Cartier-Bresson-style reportage photos of people going about their busy lives. Pick images that make you feel happy and think about using green tones and citrusy yellows and oranges to create a sense of vitality.
Add the finishing touches
A home office doesn't have to be sterile or formal; part of the joy of working from home is that it feels comfortable and personal. Family photos on your desk can help you to smile when you need it, inspiring books should always be within reach, and a vase of fresh flowers on the windowsill can remind you to look outside once in a while.
Upgrade your home office with Hammonds
For inspiration and advice about how to decorate a home office that is both stylish and productive, browse our website for our latest ranges. Book a free design visit, so our experts can create the perfect set-up to suit your taste and needs.
You bring the space, we bring the inspiration
Whether you have an exact vision in tow, or are just at the beginning stage of your home renovation, we have heaps of inspiration for you to get stuck into. 
Find a wealth of design tips, trends and inspiration in the pages of our brochure, magazine and on our blog. Our experts are always ready to help you create dream home, pop in store or book your free design visit for experts to help on bringing your vision to life.